Millikin Introduces New Athletic Building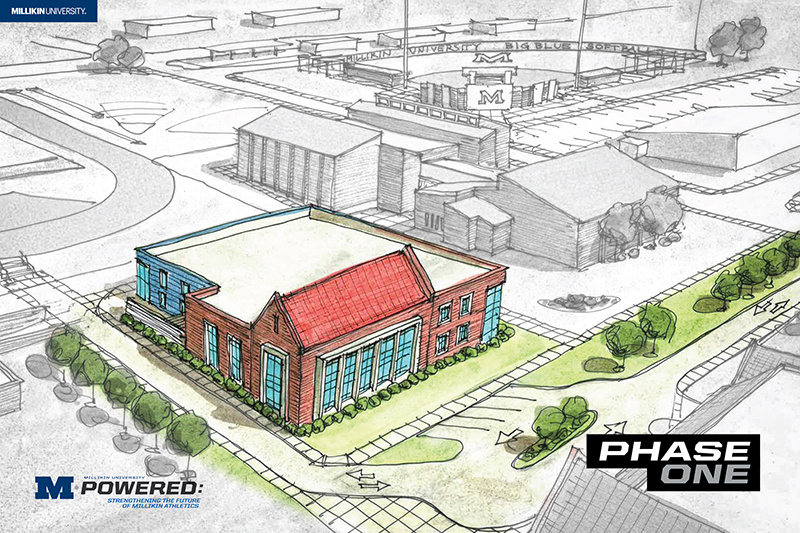 A new athletic building is in the works, starting with phase one of four, which starts with fundraising. The fundraising started last year, and already there is half a million dollars invested in this new building. 
The new building will be the where the Old Gym is. It's coming because there are 23 athletic sports and Griswold can't support all 23 sports on its own. Griswold is almost 50 years old. It was here when there were six sports that were all male sports. 
This new building will have six new locker rooms for the outside sports, football, soccer (men and women), cross country (men and women), and track and field (men and women). The building will also have a fitness center with free weights for the campus, meeting spaces for the teams in the evening, and classroom space during the day.
"We just had a need, Griswold wasn't fulfilling our needs as a physical education center, so this is our first step in satisfying what we need," said Gina Bianchi, Vice President for Alumni & Development. "Well, there are four phases in this athletic expansion and renovation plan. The first phase will be a self-standing facility and will sit where the old gym currently is, so we will not touch Griswold initially, but it eventually will when we get to phase two, three, and four. We will renovate and add on to the existing Griswold space. Phase one won't touch Griswold, phase two will then connect to Griswold."
This project will give the campus an athletic center that supports not only the athletic side but also the education side. This is a university with many sports, and this center will help add support towards those sports. 
According to Bianchi, this has been a conversation for three or four years. It was officially approved by the board of trustees in November of 2018. They started fundraising after that, and they are sitting with a half a million committed to this extensive project. 
It's a long-term plan that has no real completion date as of right now because the first phase will cost about 12 million dollars. It will take a lot of time before it will be finished. Depending on the fundraiser and breaking ground, it could take between eight and ten years before it's done or even before they break ground.
"We're not really talking construction just yet even for the first phase. What we announced was a fundraising campaign, and we need to raise at least 12 million, and that's a chunk of change," Bianchi said. "To do all four phases, we're talking maybe 75 million, and that's an even larger chunk of change. So, I can't tell you when we're going to break ground for the first phase to even know when we'll be able to complete the fourth phase. So, it's a long-term plan to have all phases in completion, but it can be as many as eight to ten years. I can't speak to that necessarily."
It's a fundraising campaign right now, but there are some architectural renderings that they've had in hand for a little over a year. They have been showing these renderings to prospective donors, which is how there are roughly half a million dollars that are committed to the project. This overall project can cost maybe 75 million dollars, but phase one has several things that it will impact right away.
They made an announcement a few weeks ago in order to go public with the fundraiser. Breaking ground isn't in discussion right now because there is still a lot of fundraising to be done. Anyone can give online or by calling the Alumni & Development office at 217-424-3967 to get more information.