DAYSHIFT Brings Crowds to Local Gallery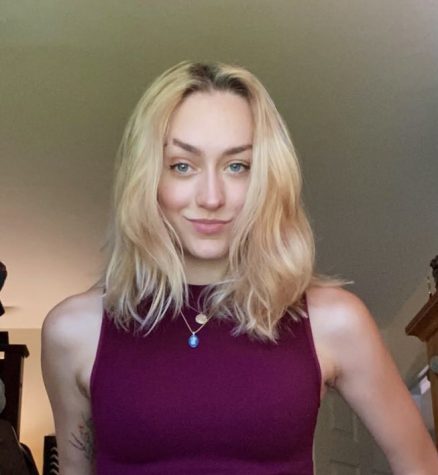 More stories from Page Shields
Millikin's own Syd Wilson started off their senior year this past Friday with a major professional accomplishment: hosting a public art show in downtown Decatur.
Wilson's DAYSHIFT was held at the Millikin Blue Connection Gallery in conjunction with the Decatur Area Arts Council's "First Friday Gallery Walk" tradition. Guests were invited to browse Wilson's collection, purchase pieces for later pickup, and enjoy complimentary beverages.
"It was really cool being able to see in action, like, what my art does for people," says Wilson. "I've posted on social media pretty frequently about my art, but you don't really get to see that face-to-face interaction."
Wilson is a studio art major at Millikin with a minor in marketing, and became the gallery's artist-in-residence through their connections at school—they enrolled in the Blue Connection class for three semesters as a student, manager, and intern before applying.
"It was kind of like working my way up," they say, "just learning how it really works."
The Robert Crowder Residency program, named after a Millikin graduate from the class of 1933, selects one student each year to utilize the Blue Connection space during the summer term. The resident then spends the season developing their portfolio for the future—senior projects and graduate school applications, for some—and sharing their art with the Decatur community.
"It was really cool to see the excitement on their faces when I would talk about my dreams and talk about what I'm gonna do," Wilson says of community members who visited this summer. "Their eyes would just light up."
By the final week of their residency, Wilson was putting out 5-10 completed pieces each day.
Together, these pieces make DAYSHIFT—a raw snapshot of queerness in the modern world.
"I wanted it to be about the beauty behind being in the community and the bravery it takes to do so," says Wilson.
Students and locals alike flocked to the gallery to support Wilson, and as these visitors wandered through the exhibit, clear cups of sparkling drinks in hand, many stopped to speak to the artist individually. Wilson was warm and enthusiastic, greeting each patron and taking the time to share their story.
One of these patrons was Maggie Albrecht, a former Millikin student who knew Wilson from her time at the school. Visiting the St. Louis area at the time, Albrecht saw a poster for the show and knew she had to make the trip to Decatur.
"It was so wacky in the way that we all are wacky, but Syd's just doing it publicly," she says about the exhibit.
As a member of the LGBTQ+ community herself, Albrecht found the work in DAYSHIFT particularly relatable.
"The representation of what Syd has been through felt so familiar to me, specifically as a queer person," she says.
Though the gallery's focus was this celebration of queer identity, the DAYSHIFT theme allowed guests from all backgrounds and of all identities to connect with the art.
"Any huge, like, paradigm shift in your life is a shift in identity," says Albrecht, "and that can be taken through culture shock or change in religion or spirituality. It is all of those big moments in life."
Though they have now moved on from Blue Connection, Wilson is by no means finished working. This weekend, they will head on to Liverpool to spend the semester studying abroad. Upon their return, Millikin students can look forward to viewing the progress they've made on their senior project.
Addressing the crowd that flocked to their show, Wilson expressed only high hopes for the future.
"This really does feel like the start of my art career," they said.
Wilson's art can be found at artmonzter.etsy.com, or on their Instagram page, @artmonzter.
View Comments (2)
About the Contributor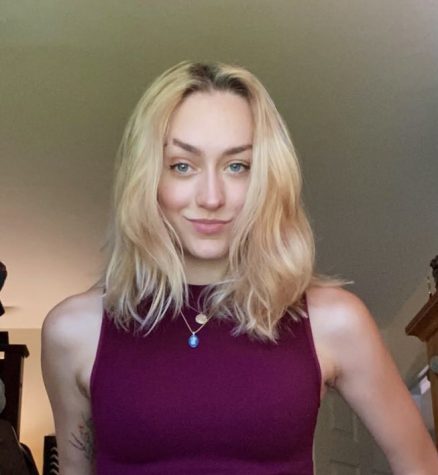 Page Shields, Webmaster
Page Shields is a junior at Millikin University studying English professional writing, publishing & editing, and math. Decaturian writer and editor-in-chief...