Immense Impact: Morgan Vogels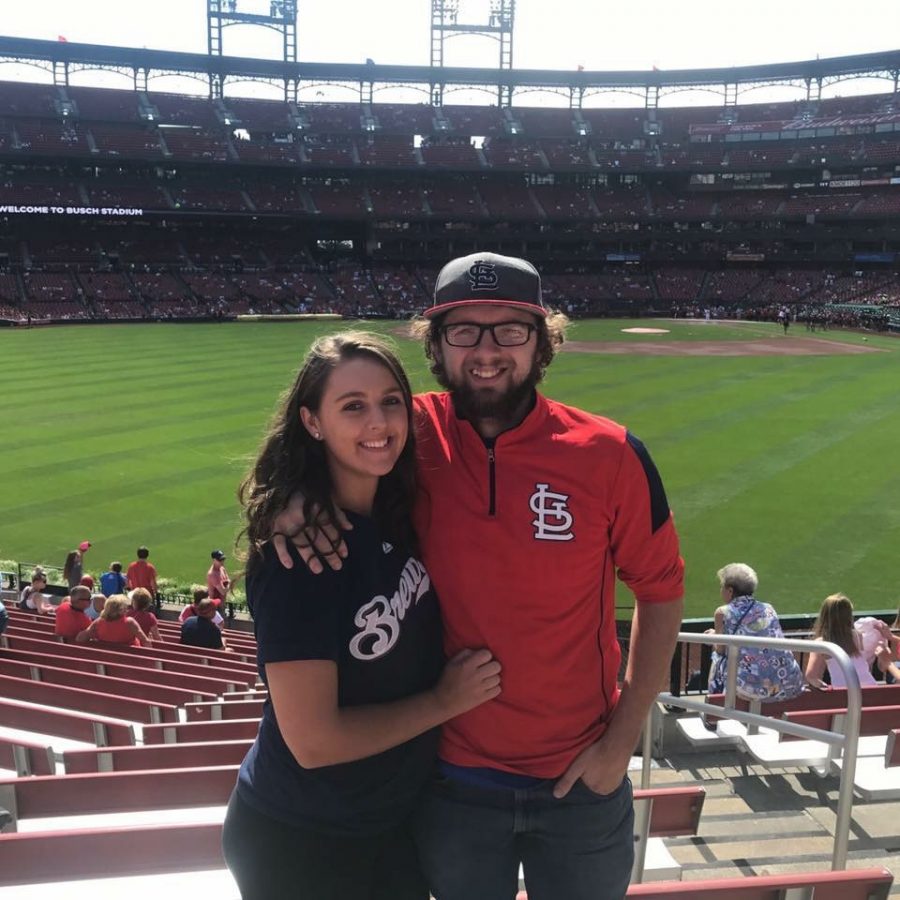 Advertisement
Hang on for a minute...we're trying to find some more stories you might like.
As the Fall semester graduation approaches, it's important to acknowledge those who have made an important impact on our campus, looking back at their accomplishments while remembering them as they move forward from Millikin. Through the course of the last four years, there probably hasn't been a student as accomplished as our very own Morgan Vogels. Vogels, set to graduate early, has been involved in almost every realm of campus life, showing the endless opportunities for students who have chosen to attend Millikin.  
I was first introduced to Morgan through a number of writing courses, where her ambition to succeed was second to none, and her love for the Minnesota Vikings struck a friendly rivalry between us. While my Chicago Bears might currently have her Vikings beat, Vogels has me beat in pretty much everything else. Not only is she a double major in English Writing (with a journalism concentration) and Communication, but she's also held an incredibly widespread resume:
"I played women's basketball for three years here. With early graduation, it didn't make sense to play for just a semester, so I called it quits a little early," says Vogels, "I also had two part-time jobs on campus, in both the admissions office and with the athletic department. I worked with Sports Information Director, Bryan Marshall, for three years helping out with statistics at games and filming for the livestream. For admissions, I was a campus tour guide and I helped with some of the inner workings of the admissions process as well."
Additionally, Vogels served as the Sports Editor for The Decaturian for two years and was the Co-Editor-in-Chief for one. She also served a short stint as a social media chair for the English Club, as well as serving as an editor for Collage and Millikin Premier Writers.  
In terms of her communication focus, Vogels was also involved with radio, co-hosting a show on WJMU alongside Trevor Hooth for a semester while also working as a producer for ESPNDecatur. Most recently, she took on the responsibility of being a Student Development Leader, where she attends events and mingles with community members and friends of the university.
Through all of this involvement, Vogels sees graduating early as her biggest accomplishment:
"I think being able to graduate early is my biggest accomplishment. Especially for how busy I was, I'm pretty proud of it. I know my parents are proud of me too, which is always a bonus, and I think everything I was able to accomplish here considering how much I had going on is impressive."  
With so much responsibility, this amount of pressure can weigh down on an individual, but in Vogels' case, she thrived. Through this mountain of work, Vogels gained a number of awards which she duly deserves including the prestigious Scovill Award, which is the highest regarded award at Millikin.  
"I also won the Outstanding Journalism Award and was a recipient of the Dr. Grace Patten Conant Society Achievement Award," Vogels continues, "I was inducted into the Honor Societies Alpha Lambda Delta, Phi Kappa Phi, Sigma Tau Delta, and Lambda Pi Eta. I wrote an article for a class, a feature on the new head men's basketball coach Mark Scherer. It was picked up and published by the Decatur Herald and Review. I also won a third-place award in Sports Column Writing from the Illinois College Press Association as a junior. I received Academic All-Conference honors all three of the years I played basketball."  
In reflection of the time she has spent at Millikin, Vogels looks towards the types of lessons that she learned over the course of her three and a half years here:
"Millikin has taught me a lot about myself," starts Vogels, "I learned how to come out of my shell and be more outgoing and how to live independently. I had always been pretty independent, but living on your own for the first time is a whole different animal. And all of that I learned outside of the classroom. I also learned that if people don't care for you as who you are, it isn't worth trying to be someone else in order to keep them around. It was difficult for me to come to a school where I hadn't met anyone yet, and it took me a little while to get accustomed to being so far away from home, but I love it here so much that I decided to stick around a little longer."
 Not only has she learned these sorts of lessons outside the classroom, she acknowledges how college has helped her to become a better writer and team member while inside the classroom. And looking at her wide array of awards and achievements, it's no question that Vogels has grown through her experiences while in college.  
As she enters the next portion of her life post-graduation, the campus community is lucky that Vogels recently accepted a job as an admissions counselor here at Millikin.  
"I am extremely excited to get to spend a little more time here and to be able to give back to the place I have called home for three and a half years now," states Vogels as she describes her immediate future.
Later on, Vogels says that her end goal is to eventually have a career in sports, potentially in sports information at a university, or even working for a professional team like the Minnesota Vikings.  
Wherever she goes, Vogels will lead as an example, similar to the example she set while at Millikin, where she went through each day with a willingness to work hard and always put forth the most possible effort.  
"My dad always said that when the going gets tough, you have two options: quit or work harder. I have the mindset that the first one isn't even an option," says Vogels.  
It's this mindset that has helped Vogels thrive while at Millikin, leaving an immense impact on the people around her, and the community as a whole. Vogels' involvement on campus will be missed, but as she begins her future, her actions will lead to a successful life, carrying the lessons and memories she gained through her time at Millikin.