Trey Vorwald Refuses To Give Up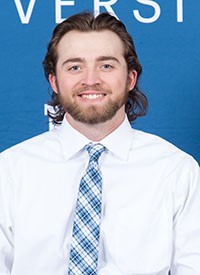 More stories from Caleb Buehrle
Throughout Trey Vorwald's story, the number 3 is a recurring theme.
For starters, it's how he got his name. Both his father and grandfather were named David, and his father wanted to follow suit, naming him David as well. Trey's mom, on the other hand, wasn't so fond of that idea. So, instead of naming him David Worwald III, they instead settled on naming him Trey David Vorwald.
Not only does he get his name from the men in his life, he also got his love of baseball. His father played Single-A baseball in the White Sox organization, while his grandfather made it up to Double-A with the Phillies organization. The game runs in his blood.
Playing baseball hasn't always been easy, however.
While some good things have come in threes for Trey, he's had to battle more than most just to get to play the game he loves. In his first game of his senior year of high school, he tore his labrum in his right shoulder sliding into a base, ending his season and requiring him to have surgery. Luckily, he had already committed to MacMurray College, and headed there after graduating high school.
8 months later, that same shoulder still didn't feel right. He went to see a different doctor, who dealt him another dose of bad news: his original surgery wasn't as successful as he'd been told, and his biceps tendon was also torn. Vorwald would have to undergo yet another shoulder surgery, forcing him to redshirt his freshman year at MacMurray. That season however, didn't go as planned for anybody, as the COVID-19 pandemic cut the 2020 season short for baseball programs nationwide. After getting dealt the news that their season had just ended, the student-athletes at "Mac", as it was called, got another piece of their lives taken away from them. MacMurray was closing its doors for good, after 174 years of existence.
"COVID hit, and everybody got sent home. The one day we just got an email saying our school was closing. We knew that we had money issues… there was a meeting back in January when we first got back saying that possibly some majors would be dropped, and some athletic programs would be changed, they were coming up with this plan and they were going to tell us on this date, but when we all got sent home, that date kind of got washed away," he said.
This presented Trey with a new challenge: after not playing a game in 2 years, he would now have to find a new school to take him in.
"So now I haven't played in 2 years, and have nowhere to go. I pretty much ended up at Lincoln. They were like the 1 school that would take me."
His time at Lincoln College was far from smooth sailing either. Statistically, the Lynx were the worst NAIA baseball team in the country for the 2021 season, finishing with a record of 3-34. In his first full season since his junior year of high school, Trey made the most of his opportunity, hitting .346 for the Lynx, with a .427 OBP.
The following summer, he spent 2 months training at PRP Baseball in Indianapolis. while sharing a 1-bedroom Airbnb with a teammate that had no kitchen, a minifridge, and a microwave. While he originally had an air mattress to sleep on, it broke on the first night, and without money to get a new one, he slept sideways on the foot of the bed, while his teammate slept diagonally in order to fit both of them.
He came back to Lincoln ready to build off of his 2021 season, but during a fall scrimmage, he dove for a ball in the outfield, and tore his left labrum and biceps tendon. In October of that year, he had his 3rd shoulder surgery. Lincoln would again finish as the worst team in the country, this time with a 1-38 record, their lone win coming against Trinity International. Vorwald spent this time rehabbing as well as helping to coach while he couldn't play.
Midway through their season, the Lincoln community got an email that would feel all too familiar to Trey. "We got an email that said 'student meeting at 3, staff meeting at 2, urgent meeting
from the president.' I texted my mom saying 'this is giving me Mac vibes,'" he said. By the time the meeting was finished, his premonition would prove to be true.
With only one full season of collegiate baseball under his belt, he wasn't sure how he would find another school. Thankfully, he had some video from his time training at PRP, as well as some from the fall before his injury. His coach sent some of it to Millikin, and after a visit with Coach Townsend, he decided on coming to Millikin to join the Big Blue.
3 was also the number he wore this past summer, playing for the Spearfish Sasquatch of the Independence League, a collegiate summer league with teams ranging from Nebraska, to North Dakota, to Idaho. He got the opportunity to play in the league from an old connection. The coach from Trinity International, Lincoln's lone win of 2022, remembered him from his 2021 season, and offered him a chance to come out and join the Sasquatch. 2 weeks later, he drove 14 hours to South Dakota, not knowing a single member of the team, nor the host family with whom he'd be living with for the next 2+ months.
Over the course of the summer, the team also went through 3 coaching changes, on top of a week's stretch in which the team had to use a player manager.
It was the first time in his collegiate career he'd ever played summer baseball. Over a roughly 2 ½ month stretch, he played a 57-game regular season, followed by a postseason run that came up just short of a league championship after starting the year as the league's worst team.
Trey Vorwald's story is one of resilience. Many in his position would have hung up the cleats after having shoulder surgery the first time. Many more would have called it quits after the second. A rare few continue after a third. Not many players play for 3 colleges without going to a junior college, much less 2 consecutive schools that close. There was only 1 player in the entire Independence League who stood at 5 feet, 6 inches tall.
Trey is not like many college baseball players. He's had to fight hard to be where he is, and embraces it. "I like being the underdog, and having a story," said Vorwald. "I don't really want to give up yet. I enjoy baseball, I love it. It's what I've done my whole life, it's what my dad did, it's
what my grandfather did… I have 4 years to play, so why not? Every time I had shoulder surgery I would just tell myself that I didn't play my last game yet. I don't know when it's gonna be, but I'm going to play again."
As for what lies ahead, Trey plans on making the most of his new opportunity with the Big Blue, taking advantage of the beautiful Workman Family Baseball Field and the facilities Millikin has to offer. "I have an opportunity to use a multi-million dollar facility every day. I have 2 batting cages with beautiful, brand new turf, multiple buckets of baseballs, etc. Coming from where I came from… how could I not love this?", Vorwald said of his new lease on his baseball career. "All of the stuff I've been through got me to this point. This is probably the best opportunity I could have asked for."
Leave a Comment
About the Contributor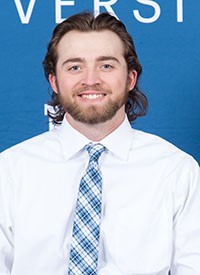 Caleb Buehrle , Sports Editor
Sports Editor

Millikin Baseball