Artist To Watch: Little Mix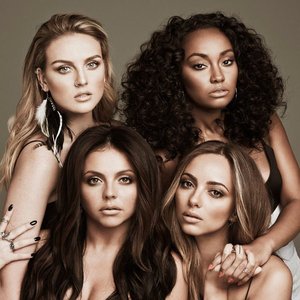 If you haven't heard of Little Mix by now, here's your chance to learn a few things. They're a girl group from the U.K., and they were the first  group to win the U.K. version of The X Factor. Since then, they have taken the world by storm.
The group is made up of Perrie Edwards, Jade Thirwall, Leigh-Anne Pinnock and Jesy Nelson. Since their first album, "DNA," debuted in 2012, the group has released four albums. They have been nominated for 37 awards and have won 15 of them.
   I first heard of them after listening to their single, "Wings," on the radio. "Wings" is from their first album and is a great example of how sonically cohesive the girls sound together. As with all of their songs, each member gets a chance to show off their vocals with one-liners and runs throughout the song. The song is just the kind of "girl power" song that Little Mix is known for. With lyrics like "they can't detain you/these wings are made to fly," the song has a kind of upbeat feeling to it that automatically makes you want to get up and move to it. Another one of their earlier songs, "Change your Life," has a similar feel.
   With every album, fans of Little Mix can hear how the group has changed and grown closer together as artists. You can hear how connected they are to each other in their music. A perfect example of that comes from their second album, "Salute." "Salute" includes just as many "girl power" songs as its predecessor; however, what the album has that the previous one doesn't is a song that celebrates individuality. "Salute" encompasses the group's love for individuality in "A Different Beat." The song has a nice beat to it and has the kind of feel that makes you think that the women singing it really do feel this way.
   The thing that I really love about all of their music is that no matter the song, you can always tell that they have fun with it. It doesn't matter if it's an utterly heartbreaking song, like "Good Enough," or an upbeat song about getting over an ex, like "Shout out to My Ex," these girls love to perform.
   As Little Mix has grown as a group, they have gotten more and more comfortable with getting their thoughts and feelings out there. Knowing that most of their audience is younger, the group has figured out a way sing about sex and calling people out without losing that audience. They use interesting sounds to bleep themselves. They say "shh" instead of sex, use abbreviations, and anything else that will take a more mature mind to figure it out. Not going to lie, it took me a while to realize what A.D.I.D.A.S. meant. I was originally confused as to why it was called that since the song doesn't mention shoes at all. What clued me in was a line in the chorus: "all day I dream about shhh with you." Get it? Another great example of this is seen in one of the songs from their newest album, "Glory Days," that is titled "F.U." I'm assuming you can guess what that means.
   What I really love about Little Mix is they have no qualms about calling people out. Songs like "You Gotta Not," "Shout Out to My Ex," Competition," "Going Nowhere" and "Grown" all feature the women calling out guys who have done them wrong. It's extremely entertaining, and before you ask "why does a lesbian love a girl group that sings about boys all the time," realize one thing: all I have to do is switch the pronouns in my head.
   So for anyone looking for a new girl group to obsess over that isn't Fifth Harmony, I suggest you start listening to Little Mix as soon as possible.