Athlete Spotlight: Rachael Weber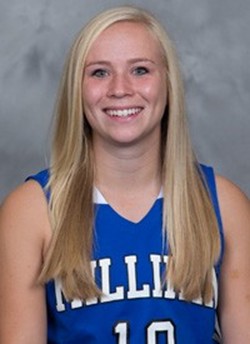 When you go to Millikin women's basketball games, the first thing you probably notice is Millikin's point guard, Rachael Weber. How could you miss her? Most oftentimes, she's the smallest player on the court, standing at 5'2". Most people wouldn't think a 5'2" player would make a huge impact on the court, but Weber's plays and leadership do just that.  
Weber is a senior at Millikin University and has been a member of the basketball team since she was a freshman. She hails from Bloomington, Illinois, and she attended school at Normal West High School, where she played multiple sports including basketball, golf, and soccer. When it came time to choose what to play in college, there was no question that she wanted to play basketball. After all, it was her first love and continues to be today.
Although she was a talented athlete in high school, Millikin is where she truly excels, both on and off the court. She is currently in her final season as a member of the women's basketball team. Besides athletics, she also serves on the Student Athletic Advisory CouncIl. Part of the reason why she chose Millikin was because of her educational interests. She is majoring in biology with a media/marketing certificate and aspires to work in medical device sales.
Her ultimate goal, though, is to move out to Arizona to accomplish her career goals. Her biggest hero lives in Arizona, her sister, Shelby. She is very close with Shelby and sees her as her best friend. Despite being very close, they are completely different than one another. Weber is the sports star and fanatic, while Shelby, on the other hand, is less than likely to make it through an entire game of Weber's.
"I'll be lucky if she makes it through halftime of my sports," said Weber.
Though the two are complete opposites, they get along extremely well. Even with their differences, they have remained close throughout their childhood.
Along with Shelby, the rest of the Weber family has been a great support system for Weber. She loves each and every member of her family, equally. There are no favorites. Except for maybe her pug, Pookie. With a name like that, how could he not be the favorite? Her family has been there for her since day one. They are constantly traveling to her games, no matter how long the trip is. She owes all of her success to her family.
"My family's a huge part of my life. My mom and dad have been the biggest support I could have ever asked for, in every aspect of my life," Weber said.
Perhaps another family she has would be her team and coaches. She is very close with them.
"I think honestly, this team, we have, might be the closest team I've ever been on," Weber said.
She sees her time on the court as playing with her best friends. She loves the fact that she has gotten the chance to play with her best friends for four years. Practices and games to her must be like playing in the front yard every single day. It never gets old.
When she's not on the court with her team, she's spending time with them off the court.
Her coaches serve as a big part of her life. She sees her head coach, Coach Kerans, as her mentor and role model. Kerans has been with her every step of the way on this amazing journey and has helped her succeed, molding her into the person she is today.
As far as the season, Weber hopes to end her senior year with a bang. She has put blood, sweat, and tears into this game. It only seems fitting to give it all she's got, one last time. She is a hardworking, determined, and competitive young woman on the court. Her goal is to always be the hardest working person on the court. There may be more talented players than her, but she believes they should never outwork her. When you're only  5'2", playing college basketball, you have to have some kind of edge on the competition. In basketball, there's a term commonly used. It's called the big three. The big three usually describes the three best players on the team. Most teams have them. The warriors have Curry, Durant, and Green, while the Cavaliers have James, Love, and Irving. Rachael's big three is a bit different. Her "Big Three" is attitude, hard work, and how you treat people. These three qualities have obviously helped make her the person she is today, which is probably why she has been so successful and will continue to be.
With senior year finally coming to a close, Weber looks to leave a lasting legacy here at Millikin.
"I want to be remembered as a great teammate, a great leader. Someone who worked hard for everything they had. Someone who really treated people right. It's not about winning games and the record I brought or didn't bring. It's more about the relationships I had with the people here. I hope when I leave that's a positive relationship," said Weber.