Athlete Spotlight: Hunter Somers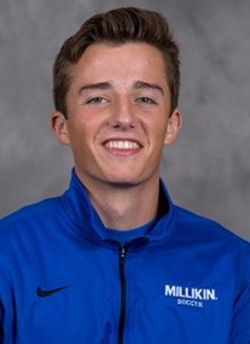 The Millikin men's soccer team is off to a great start this season with a 6-2 record. Junior midfield Hunter Somers is a big part of why Millikin is doing so well. His impressive play has helped lead Millikin to multiple victories, establishing the team as a force to be reckoned with on the field.
Somers has started since he arrived at Millikin as a freshman. He hails from Heyworth, a small town in Bloomington, Illinois. He comes from a large family and is the second youngest of seven children. He attended high school at University High School in Normal, Illinois, which is around 15­ or 20 minutes from where he grew up. As a student at University High School, Somers excelled on his varsity soccer team. He was arguably one of the best players on the team, but he isn't someone who wants to boast about himself. He believes focusing on himself or his skill set takes away from the team's success.
Somers is humble. He doesn't even like to compare himself to his siblings, who all play soccer. When asked who was the better of the siblings, he quickly answered that it wasn't him. He gave the credit to two of his older siblings, who went on to play collegiate soccer at Eastern University and St. Louis University. He holds no resentment or jealousy towards them, unlike most siblings who exhibit rivalry behavior. If anything, he is happy with the fact he got to watch them and credits much of his success to their play.
Somers said "That's been an influence on my soccer career, seeing my siblings play, honestly."
Seeing as most of his siblings play soccer, one would think his parents were huge soccer fanatics as well. This isn't the case. While Somers' parents played sports, they focused more on basketball and hockey. Even though soccer was never their expertise, they still heavily support their children and make sure to travel to every game Somers plays. Somers is actually surprised by this, considering some of the games require a far drive. He is very thankful that his parents make the long trips to see him. Family is very important to Somers, so having them in his corner helps to motivate him to further success.
While Somers is a great athlete, education might actually be his strong suit. He earned the CCIW Academic All-Conference award in 2015. Although he was grateful for the opportunity to play soccer, it was Millikin's academic programs that drew his interest. He is a physics major and aspires to be a physicist upon graduation. Although he loves science, he also has a passion for philosophy. In his spare time, he listens to podcasts of common- day philosophers. He considers himself a "thinker," someone who focuses on the ideas of life rather than on the meaningless materials humans are so consumed with. He loves having intellectual conversations with people. That became quite clear, when the interview began to stray away from him as a person to scientific and intellectual aspects of life, such as global warming and climate change. Once he felt relaxed, he was able to be himself and show why he is such an intelligent young man. Besides being intelligent, he is also kind and full of integrity and honesty. He even stressed that honesty is a huge part of his life.
"Honesty is a big thing with me. It's not always what people want to hear," he said.
His passions are really what motivates him, such as with soccer. He believes that his love for the game is why he has continued to pursue a soccer career after high school. He also has a passion for multiple hobbies that include snowboarding, film, especially science ­fiction, and climate. He often goes snowboarding in various Midwest regions, but would love to visit Colorado, a hot spot for skiing and snowboarding. His favorite movie is Interstellar. Along with his love for science, climate change reigns at the top of his list. "I'm actually very passionate about climate change," he said. He may pursue a career in this field.
Hunter ended the interview, saying "Remember you aren't as important as you think you are. Treat others the way you want to be treated."
Hunter Somers has played a large role in Millikin's success so far on the field, and he hopes to continue to be successful as conference play continues.