Behind the Helmet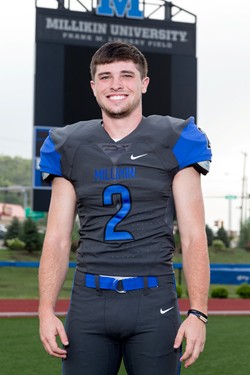 When someone hears the name Nicco Stepina, they automatically think of the Millikin football team. Why wouldn't they? After all, Stepina is the quarterback and one of the captains of the Big Blue football team, but there is so much more to him. He is a great person that was brought up to be a respectful, hardworking, and genuine guy.
Being a quarterback of a college football team surrounds an athlete with popularity. When someone is as talented as Stepina, it is easy to let the "fame" get to their head. This does not seem to be the case with Stepina. He is a down to earth person. He has the same struggles we all have. In fact Stepina has faced adversity in his life.
Stepina was born in Oregon, but grew up in Casey, Illinois, a small town in the country, but don't call Stepina a country boy. He's adamant that he is the complete opposite of a country boy. In fact, he can't stand Country music. At a young age, it was obvious he was a talented athlete. From playing baseball to football, he excelled on the field. His impressive play as a quarterback quickly gained the attention of multiple NCAA Division I schools. He signed with West Point, a school he grew up admiring. After a baseball game, his father took him aside. His father revealed to him that he had a heart condition. He was diagnosed with aortic valve regurgitation. He was unable to attend West Point because of the military's strict health regulations. Stepina was heartbroken. He was just getting ready to go to West Point, and just like that, the miraculous opportunity that once was, was gone in a split second.
With Stepina's world crashing down on him, he didn't give up. He began looking for other opportunities. Unfortunately, all of his other scholarship opportunities from other schools had been taken up, so he found himself going to Lenoire­ Rhyne University. He redshirted freshman year, but didn't see the university as the right fit for him. After developing a close relationship with former Millikin head coach, Patrick Etherton, Stepina enrolled at Millikin last fall as a freshman, majoring in Health, Fitness, and Recreation. He earned the role of starting quarterback quickly; and now as a sophomore, he is the captain and leader of the Big Blue. At such a young age, Stepina has fully accepted this role and embraced it. His goal is for his team is to win every week. He's focused on the weekly task at hand. Maybe that's why Stepina and Coach Gritti seem to work well together. Stepina is very fond of Coach Gritti.
"He is a great guy, I'm gonna have his back because I know he has mine"
Stepina feels that Millikin is just right for him. He loves that he is getting a great education while meeting some great people along the way.
Stepina said, "I've met the best friends of my life here. "These are the guys who are going to be at my wedding".
He is thankful everyday for the opportunity that has been given to him here at Millikin. He no longer sees his struggles in life as a setback. Every day he is on the field, he is thinking about how amazing it is just to be out on the field as a 20 year old college student.
Stepina attributes a lot of this success to his biggest supporters, his family. To Stepina, his parents and little brothers, AJ and Thor, are everything. It is easy to see that his mom loves her son and is extremely proud of him. On Saturday afternoons, his mom is clad in a Stepina jersey, cheering on the Big Blue. Stepina is extremely thankful for his mom. When he was young, his dad was in a car accident and had to be in the wheelchair for a while. He would often spend time with his dad playing catch, so when his dad was unable to play with him, his mom stepped in. He claims she's not the greatest athlete. She would have footballs bounce off her chest, but her effort meant the world to Stepina. He is also close with his two brothers. Thor loves being at the games. He knows everyone on the team and has even gotten autographs from the players. One might say he is the Big Blue's own little mascot. Athleticism must run in the family. AJ is more of the baseball stud, while Thor is the football and basketball player. It is also easy to say Thor has one of the coolest names. He's named after a Marvel character, but it's funny because his favorite character is the Hulk. Stepina loves his brothers and is always trying to be the best big brother he can be.
Stepina is a die hard Cubs fan, so he's pretty happy this year. He loves the Office, which he spent watching all nine seasons during the summer. He is also extremely fond of Erin Andrews. If given the chance to meet, her, he said he would ask for her number.
"She is a pretty pretty girl," he said.
He obviously isn't afraid of anything, which helps make him such a great leader on the field. If there is anything one can take away from Stepins, it is that he is the kind of guy who will get back up after being knocked down. Coach Gritti has his mottos, so here's Nicco Stepina's motto. "Just take the punches and roll with them," "things happen in life, sometimes you gotta get hit, get back up, and make something of it," and  "everything in life's not gonna go your way."