2020 Republican Presidential Candidates: Donald J. Trump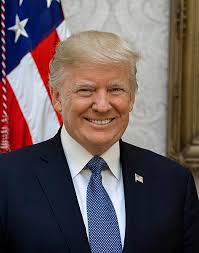 Donald J. Trump is the current president of the United States. He won the 2016 election from by majority of the electoral votes, edging out Democratic representative Hillary Clinton. He has been running his reelection campaign since the day he was inaugurated in 2017. 
Trump's campaign slogan in 2016 was "Make American Great Again." He is running this year under the two slogans, "Keep America Great," and "Promises Made, Promises Kept."
While his slogans have been relatively straightforward, that is the extent of the clarity. 
He has swayed on several issues over the course of his presidency, appealing to whatever seems like the most popular opinion. However, he has been steadily drifting to the right, forcing even moderate or liberal republicans to go along with these attitudes.
Several voices have met almost every one of his decisions with backlash. Some of the most notable and polarizing issues have been his immigration policies. One of the first decisions he made in office were "Travel Bans." 
His immigration policies since then have been detrimental to thousands of Mexican and Central American immigrants.
He has also faced criticism for his response to the tragedy in Charlottesville, Virginia. Not long after this incident, he  claimed there was blame "on many sides." He didn't condemn the groups responsible, nor did he address them by name.  
Perhaps his most polarizing action is how he handled business with Ukraine. He is accused of deliberately withholding military aid in exchange for information concerning Hunter Biden. In the transcript, Trump said to Ukraine's president, "I would like you to do us a favor, though."  
On December 18, 2019, the Speaker of the House Nancy Pelosi approved the articles of impeachment. The Senate voted to acquit him on February 5, 2020.  
Trump has been referring to this whole process as a "hoax" and "witch hunt." He has vented his frustrations with the Democrats or the media on Twitter.