Celebration of Scholarship
Upcoming Student Presentations Emphasize Performance Learning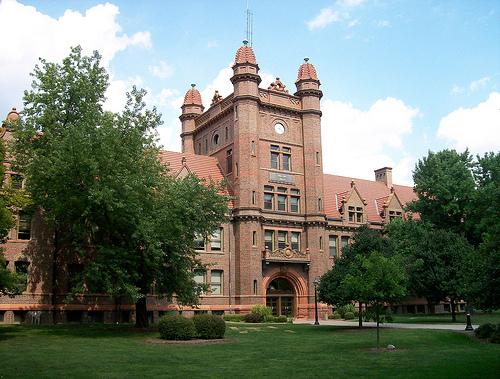 On Friday, April 26, the campus-wide Celebration of Scholarship event will draw people to Millikin. This will be followed by the Honors Showcase on April 27.
Celebration of Scholarship is devoted to departmental presentations and senior showcases. This event is spread across campus. The Honors Showcase will feature presentations from students in the Honors Program, including James Millikin Scholars and first-year students.
"This is just a good chance to be able to talk to these professionals and talk to your peers and show that you're passionate about your topic," Jacqueline Freed, a freshman student, said. "We're not just sitting in a classroom and giving our speeches. We're going out and doing this big thing."
This April will be the first time that Celebration of Scholarship and Honors Showcase are presented as separate events. In the past, the departmental presentations and honors presentations both took place during Celebration of Scholarship. But this year, honors students will present their projects during the Honors Showcase event, which is new to Millikin.
"To try to be a little more innovative with how the students are presenting their work, we decided to move all the honors presentations to Saturday and label the whole day Honors Showcase," Dr. Michael Hartsock, the director of the Honors Program, said. "And instead of getting every single student to give a fifteen-minute presentation, which was the way it was previously…we decided to have more of a poster-style presentation."
The change comes after many years of issues. Celebration of Scholarship is filled with presentations and events, and students struggled to find time to present their work. Community members flooded the campus, but they could not attend all of the presentations because of the busy schedule. As a result, many students found themselves presenting to sparse audiences.
Now that the two events are separate, the schedule will be less packed than in previous years. Faculty and students hope that the change will encourage greater attendance at both Celebration of Scholarship and Honors Showcase.
"It's experimental, so we may revise it for next year, but that's the way we're going to go about it," Dr. Hartsock said.
As the details are set in place, students are preparing for their presentations. Students will present in-depth work that they have focused on for an extended period of time. For example, most senior students will present their capstone projects, which demonstrate what they have learned after four years at Millikin. James Millikin Scholars have been working on their research for two years, and first-year students are completing semester-long projects.
"It's been very stressful," Cassie Cook, a first-year student, said. "But it's also been kind of awesome seeing so many people that are my age with my level of education who are presenting their own research and their own big projects."
Senior capstone projects are major-specific, but almost all of the students have chosen topics that relate to their majors. Many agree that the process of presenting their work will be beneficial to their education and their careers.
Performance Learning plays a big role in this consensus. Performance Learning, which focuses on learning beyond the classroom, is one of Millikin's major ideas. The presentations that take place throughout Celebration of Scholarship and Honors Showcase are prime examples of this.
"While we may quibble about the definition of Performance Learning, we've sort of agreed that it requires risks and rewards that go beyond the grade, that involve evaluation by external stakeholders, so not just your professor who grades your paper," Dr. Hartsock said. "Presenting your work for public consumption is sort of a culmination of Performance Learning. For the seniors, it's a culmination of their four years. For the first-year students, it's this first taste of what our hallmark is at the university."
Many students enjoy this, and they appreciate the Performance Learning that they experience through these presentations. While Celebration of Scholarship is changing this year, the Performance Learning aspect has stayed the same.
"That's probably the most important reason that I personally chose Millikin," Cook said. "I knew I wanted to get real-world experience in my field…I didn't want to just sit with a textbook and a pencil and take notes and regurgitate information that I had been told. I wanted to actually take action in what I was doing, and I feel like this whole process really incorporates that."
Celebration of Scholarship will take place across campus on April 26, and Honors Showcase will be held in the Oberhelman Leadership Center in the University Commons on April 27. Students are encouraged to attend even if they are not presenting in order to learn more about the research of their peers. Faculty and community members, too, will be in attendance. Presenting students are excited for the chance to share their work with others.
"It's going beyond the classroom, going beyond a lecture, and really being able to present and perform what we have done," Freed said.
Leave a Comment