Millikin Hosts Congressional Debate
On Monday, Oct. 22, 2018, Millikin hosted a debate between Congressman Rodney Davis, R-Taylorville, and Democratic challenger Betsy Dirksen Londrigan from Springfield. The debate began at 6 PM and concluded an hour later. The candidates had three minutes for their opening and closing remarks and sixty seconds per question for rebuttals. They responded to nineteen questions asked by moderator Chris Coates. The two candidates are competing to represent Illinois's 13th Congressional District in Congress.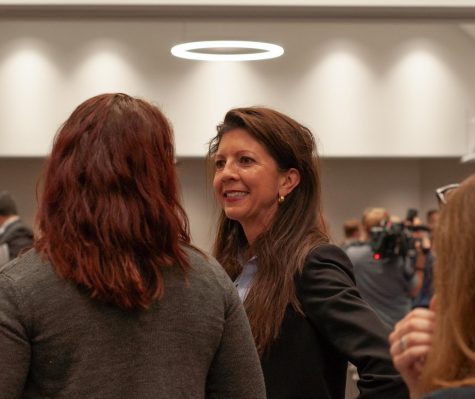 Millikin held the debate, the third of four scheduled debates, in the Bob and Debi Johnston Banquet Rooms in the University Commons. Millikin, the NAACP, Herald & Review, WAND-TV, WSOY and NowDecatur.com sponsored the event.
"It's a good way to break in the new University Commons," Jacob Hamilton, a Millikin student, said. "I think it's important to know what's going on because we're going to enter the workforce very soon, so it's important to know what decisions are being made and who's making them and how they can affect us."
Dr. Patrick White, Millikin's president, began by welcoming the audience and thanking the sponsors. He then introduced Chris Coates, the editor of Herald & Review Central Illinois, who moderated the debate. Dr. Laura Dean, a political science professor at Millikin, served as the official timekeeper.
The candidates responded to questions submitted by viewers and readers of Herald & Review. There was also a table where audience members could submit questions before the debate. Candidates covered issues including healthcare, LGBT+ rights, immigration, and student loan debt. The candidates also responded to questions regarding tax reform, gun control, and the opioid crisis in central Illinois.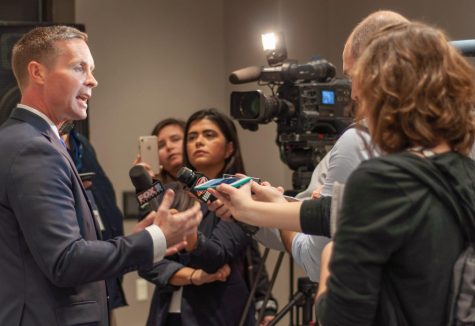 "All of us running for office and all of us serving in office – we all want the best for everyone in this country," Davis said. "We just have some disagreements on a few issues of how to get there, but we're seeing the results and the positivity for so many college students."
Davis, a Millikin alum, is running for his fourth term as representative for Illinois's 13th Congressional District.
The event was free and open to the public. Both students and people from the Decatur community were in attendance. Seats filled quickly, and many people and reporters stood in the back of the room. The audience was engaged and responsive.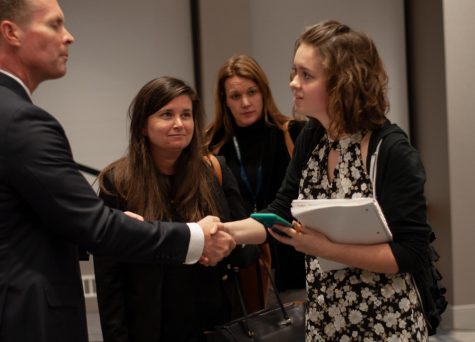 Davis currently serves on the House Agriculture Committee, the House Transportation and Infrastructure Committee, and the Committee on House Administration.
Londrigan has worked for Senator Dick Durban, a Democrat from East St. Louis, Illinois. Throughout the debate, Davis talked about his tax reform bill and called into question statistics cited by Londrigan. Londrigan emphasized the need for affordable health care, attacking Davis for his previous votes to repeal the Affordable Care Act.
"If you want to build the world that you're going to live in and make the rules that you're going to live by, then you need to elect the people that you want, because otherwise, you are living by somebody else's rules in a world somebody else built," Londrigan said.
People across the country are closely following this race. According to herald-review.com, Vice President Mike Pence recently attended a campaign event for Davis, and former President Barack Obama publicly endorsed Londrigan on Twitter. Many politicians feel that Illinois's 13th Congressional District, which has voted Republican in the past, might be swayed in this election. This could impact which party has control of the U.S. House of Representatives.
"We're the voice of the future," Reiss Naylor, a freshman at Millikin, said. "We have a huge voice, we're the people leading for change, and we just all need to be involved in it."
To get involved, students are strongly encouraged to vote. Election Day is on Tuesday, Nov. 6, 2018.
Leave a Comment