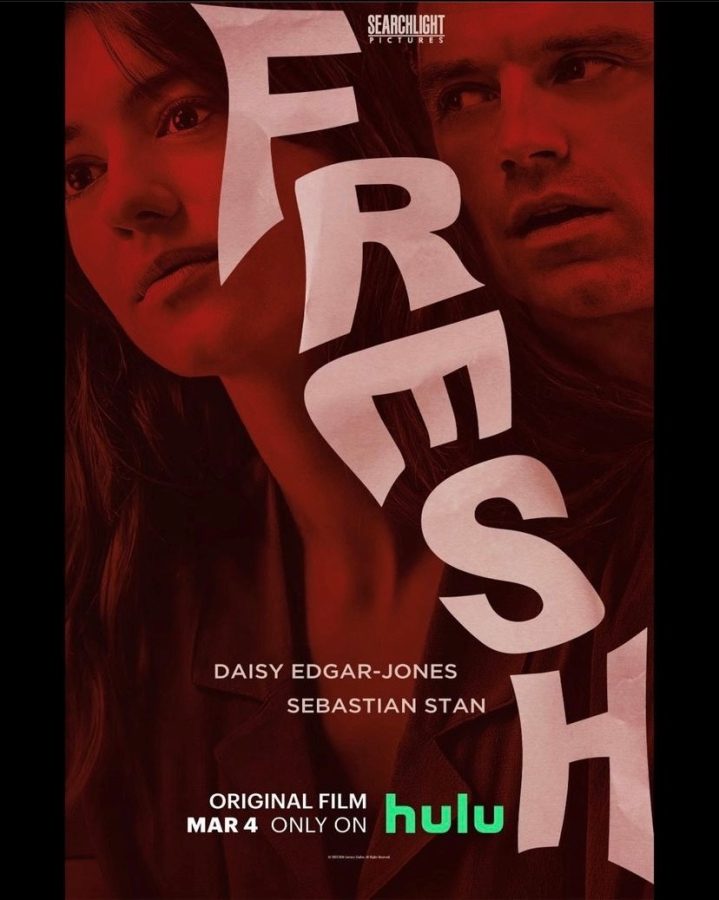 "Fresh" Takes a Shockingly Real Perspective on the Horrors of Abusive Relationships
April 19, 2022
With searing commentary and wit, "Fresh" does a fantastic job commenting on the horrors of abusive relationships and misogyny.
Directed by Mimi Cave, "Fresh" follows a young woman named Noa– played by Daisy Edgar-Jones– being disillusioned by online dating. Like every young woman, Noa faces the challenges of dating. Noa's outlook on romantic relationships is bleak until she meets Steve at a grocery store.
Steve, played by Sebastian Stan, is the perfect date; he is charming, sweet, and funny. For the first time, Noa feels smitten. Although their meet-cute is awkward, he is genuine. He relates to her struggles and is surprisingly charming.
Cave does a spectacular job setting up the story. The first thirty minutes seem like a stereotypical romantic comedy. It has common tropes like a meet-cute, a camera-turning makeout scene, and a dance scene. The lighting is warm and idyllic. Like Noa, the viewer has a false sense of security. Steve is such a nice guy, so of course Noa agrees to travel with him.
Even though the first half hour is adorable, the movie continually reminds us that this is a horror movie. Screenwriter Lauryn Kahn adds complexity to Noa's and Steve's strange romance. Steve pushes Noa's boundaries, which is common in abusive relationships. Although Noa does not see Steve's behavior as problematic, most of her friends find him questionable. Mollie, played by Jonica T. Gibbs, warns Noa about Steve and his motives. The audience sees the red flags, but Noa does not.
When the thirty-minute mark passes, everything changes. The honeymoon phase is over.
Steve goes from a stable man to every woman's nightmare. He drops the kind act, and Noa faces a disturbed and sinister individual.
Not only does Noa have to defeat Steve, but she is also up against a large group of men who treat women like pieces of meat. The only way to survive this terrible situation is to indulge in Steve's fantasies. Either comply or die.
"Fresh" has important commentary about relationships. While the events in the movie are hyperbolic, men like Steve exist everywhere. They are the "nice guys" who are not outwardly sexist. They preach about feminism, but they treat women poorly behind closed doors. I have met my fair share of "nice guys" and they are all insufferable.
These "nice guys" are not only annoying, but they are also dangerous. Steve still insists that he is a good person, but he does terrible things to women. He gaslights and tortures Noa while maintaining his "good guy" persona. Men like Steve are an unfortunate reality for women.
Women's empowerment is an essential theme in this movie. Although Noa and Mollie encounter Steve's abuse, their friendship is still strong. For so long, women were just the victims of violence. In movies like "Scream", violence is a common trope against women.
Unlike other thriller or horror movies, "Fresh" challenges that trope because instead of relying on men, the main characters save themselves. Characters like Steve abuse Noa and Mollie, but they are not helpless.
"Fresh" is an amazing movie that discusses sexism and toxic relationships. I recommend it, but I would advise against eating while watching it.