What can one say about the Millikin University 2023 Homecoming Step Show, other than it was phenomenal. It was such a sight to see all the Fraternities and Sororities come together to perform on Millikin campus. Though there were many who came out and supported the step show, there are some who may not know what a step show is.
According to Essence.com, stepping has a long tradition in African and Black communities. Despite the fact that the art of stepping originated in the Black community, over the years it has spread to both Latino and Asian cultures. This is where a step show comes in. A step show is just what it sounds like, a show. A show where mainly Black and sometimes Latino fraternities and sororities come together to step and or stroll. Stepping and strolling comprises of a sequence of dance moves and making sounds and beats with the hands, feet, and other parts of the body. It is done with or without music and most involve them saying their special chants or what some may call "spoken word" while stepping at the same time.
Each fraternity and sorority have their own unique set of chants, signs, Greek letters and even colors that set them apart.
Since these are different groups, they tend to be competitive, especially at these step shows. You can no doubt expect shade to be thrown among the fraternities and sororities that makes the show even more interesting.
Story continues below advertisement
A step show is the time for every organization to let people know who the boss is from the time they come into the room until the time they go out. They do this by showing up and showing out with their moves, chants, and colors. As well as both current students and alumni appearing in large numbers to make their presence known.
This year's Millikin University Homecoming 2023 Step show, was another great performance. Some students witnessed a show before and had their first opportunity to enjoy a step show.
Each fraternity and sorority enacted boldness, uniqueness and spoke with authority while performing. Not one performance was the same. All groups represented their organization well with their diverse use of music, dance steps, and colors as well as stepped and chanted with dignity and unity while moving across the stage.
This year's show was made even more special by incorporating different fraternities to perform. One was right here on Millikin's campus and the other two are just being introduced to Millikin.
The organizations that performed this year were Sigma Lambda Beta International Fraternity Inc., Iota Phi Theta Fraternity Inc., Omega Phi Si Fraternity Inc., Alpha Kappa Alpha Sorority Inc., and Delta Sigma Theta Sorority Inc. While Alpha Phi Alpha Fraternity didn't perform in this year's step show, they did in fact host it and couldn't help but enlighten the crowd with their comedy, dancing and even singing between each performance.
Alpha Phi Alpha opened the show with a welcome and kept the show moving in a timely manner. This Fraternity was established on December 4, 1906, at Cornell University. It is the first intercollegiate Greek-letter fraternity for African American Men recognizing the need of a strong bond of brotherhood in African descendants in this country.
I had the opportunity to speak with an alumni named Gregory Hines. Hines pledged the Alpha Phi Alpha Fraternity Inc. in 1982, that's 41 years ago. Can you imagine being able to come back and see the frat you joined over forty years ago still be intact? For Hines, his pledging motivated him to bring his grades and GPA up with mandatory study hours, almost making it on the deans' list. He liked everyone's performance but admired Sigma Lambda Beta's Josué Martinez's act by him holding down his frat all by himself.
Every Greek organization doing their own thing is what Hines loved about the whole show and even the Lady Reds.
The Alphas being the Master's of Ceremony was enough tribute for Hines. Also adding that to keep the Alpha Phi Alpha legacy on Millikin campus is essential to him and is what keeps him and other alumni coming back to support. They aim to let the younger generations recognize them coming back and giving back to the school they once pledged in and graduated from.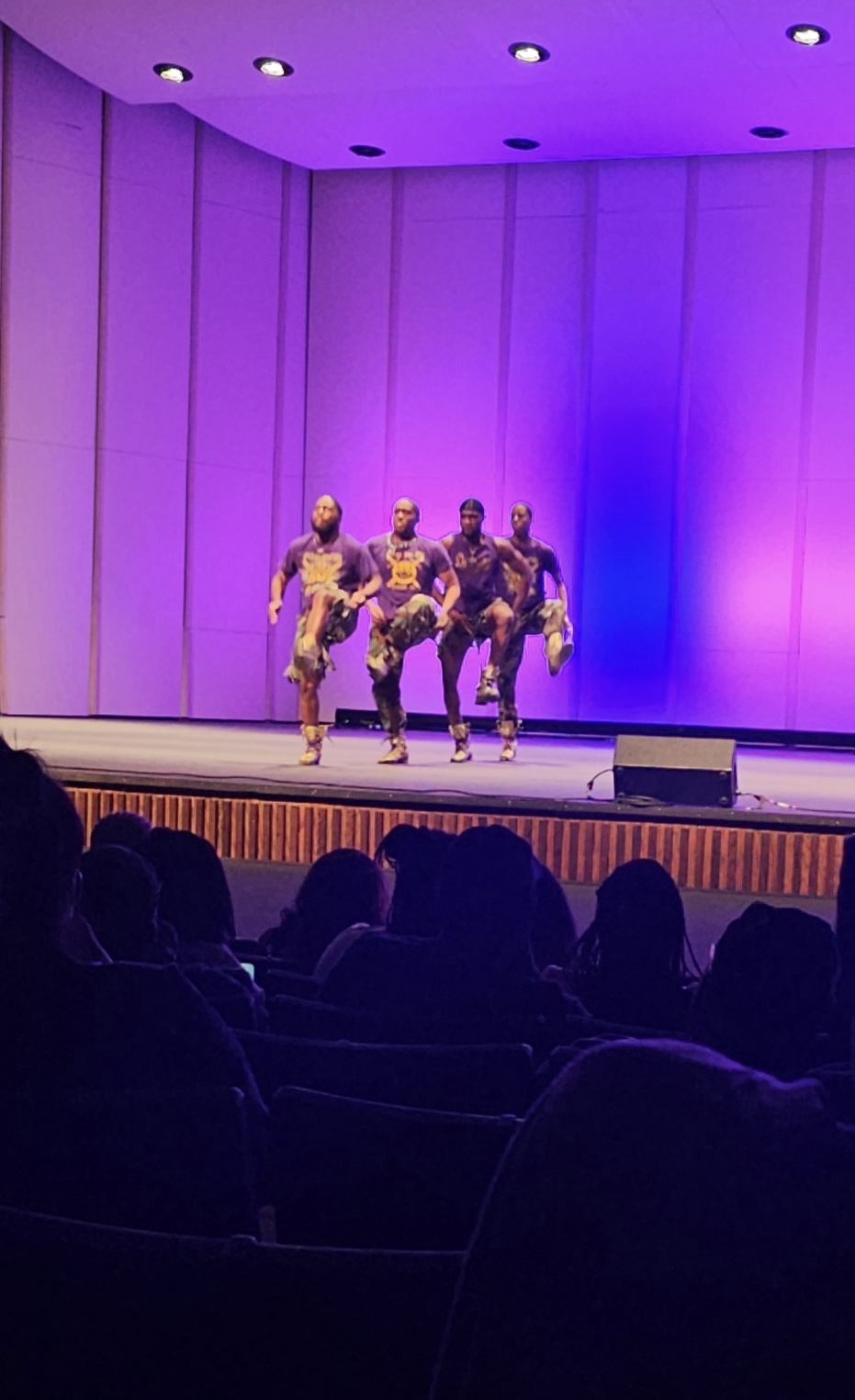 In order of performance the Sigma Lambda Beta was first. This fraternity was founded April 4, 1986, at the University of Iowa. Over 35 years later, it has now become one of the largest Latino-based fraternity while also having a multicultural membership. Its goal was to help unify the Latino Community. Sigma Lambda's motto is "Opportunity for Wisdom, Wisdom for Culture". Their colors include Royal Purple and Pure White.
Josué Martinez is currently the only active frat member on Millikin Campus. He no doubt put on a good performance and made sure that everyone knew it takes "SACRIFICE" to be in this frat. What made his dancing stand out to the crowd was the Latin-based music he danced to and the moves he did that are not commonly seen at step shows. For Martinez, being part of this fraternity is special and inspirational because it is historically Latin based. It gives him purpose and encourages him to work hard. As the only member active on campus, he drives to make sure that this frat and its legacy can help motivate and inspire others on campus. SLB was inactive as Martinez mentioned a few years back at Millikin and his sole purpose is to revive and rebuild it again. What he enjoyed about his performance and the overall step show was being on stage to represent his fraternity and the "Divine Nine". Along with being able to see and support the other organizations. Martinez is willing, able, and ready to fight and support his Fraternity no matter what it takes.
The next group was the Iota Phi Theta. It was founded on September 19, 1963, at Morgan State College, now Morgan State University. Their goal was to perpetuate and develop scholarship, leadership, citizenship, fidelity, and brotherhood among men. IPT's motto is "Build a Tradition, Not Rest upon One". Their colors are Charcoal Brown and Gilded Gold, in addition to Bistre Brown and Orange Yellow. Their performance was indeed excellent. They brought a bit of a tribal feel to the show incorporating some Ayo Jay and Burna Boy into their presentation. This crew announced to the audience and all who would listen that it takes Blood, Sweat and Tears to survive this frat. You either Go Hard or Go Home!
Steven Austin of Iota Phi Theta is a graduate student at Illinois State University. To be a part of this fraternity means to be himself to the fullest extent possible in addition to helping his brothers in the fraternity be themselves. He and his frat strive to grow for the better not just for personal reasons but for community reasons. His favorite part of the Iota's performance was being able to do their "Mafia stroll" to Burna Boy.
As a whole he enjoyed the Delta Sigma Theta Sororities performance.
"Stepping wise and Strolling wise they did their thing, he said."
To be represented on the Millikin campus is especially important to him considering the fact that it is not a Greek organization at Millikin University. He and the Iota Phi Theta Fraternity came out to represent and put on a show in order to branch out to the Millikin campus.
Next up were the Omega Psi Phi. Commonly known as the Que-Dogs. It is the first international fraternal organization to originate at a historical black college. This frat was established on November 17, 1911, at Howard University. Their motto as stated on their page is "Friendship is Essential to the Soul."
Principles they stand on are Manhood, Scholarship, Perseverance and to Uplift. Omega Psi Phi's colors are purple and gold. The Q's performance was different than the other frats in terms of the kind of steps they used and the way they strolled.
They were unified and their show also included a bit more jumping than the other groups as well as using more expressive steps.
They were the first group to step without music in which a member Kenneth Marshall sung his heart out during many parts of the show.
"The Q's don't need no music and they most certainly don't need no canes," they said and closed out their act stepping to their signature "Atomic Dog" song which made everyone watching laugh, shout and scream about.
Marshall of Omega Psi is a Senior at Eastern Illinois University. His journey of being a part of this frat has been what he says long but well worth it. Marhsall's joining this fraternity allowed him to mature and gave him a new perspective on life. To him, what stands out about being a member of this organization is what they stand for specifically their motto as stated earlier, "Friendship is Essential to the Soul." While in the same sentence stating, "you never know the impact that somebody else can have on your life."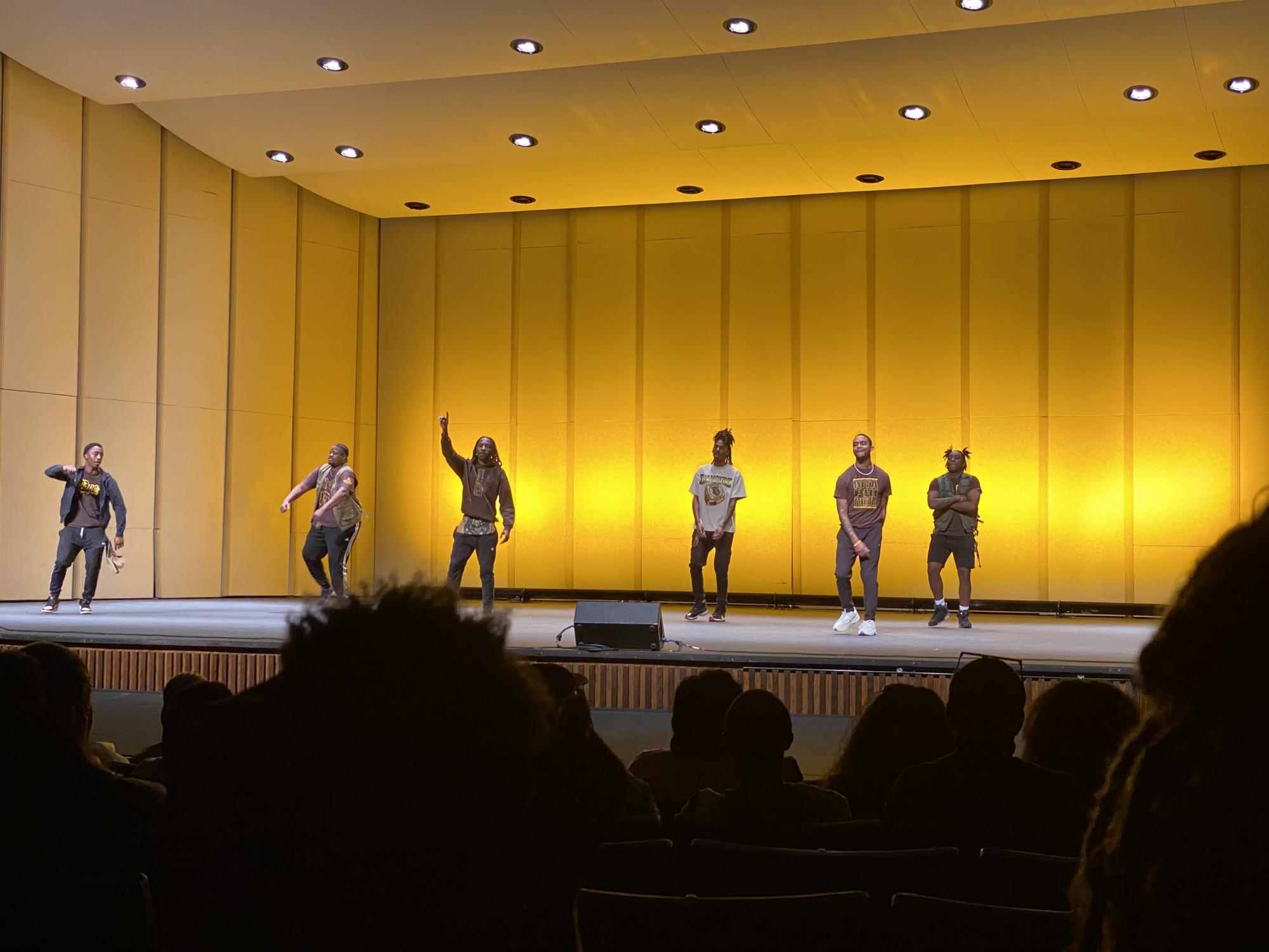 Other principles Marshall's organization stands on is what he seeks to apply to his everyday life. His favorite part of the Q's performance was all of it, from the time they came out on stage until the moment they left but more specifically their "Jump" demonstration.
Marshall enjoyed the Deltas also. Seeing that Millikin campus doesn't have this fraternity, to Kenneth Marshall being able to represent Omega Psi Phi Fraternity Inc. on Millikin campus is an honor.
Following was the Oh So Serious, Oh So Pretty Girls of Alpha Kappa Alpha. The AKAs were formed on January 15, 1908, at Howard University and are the first and oldest Greek Letter organization to be established by African American College educated women. According to Alpha Kappa Alpha Sorority Inc., their mission is to encourage high scholastic standards and promote unity and friendship among women. This sorority also aims to study and alleviate problems concerning girls and women to improve social stature, a progressive college life and be a "Service to All Mankind."
Their motto is "By Culture and By Merit" and the colors they represent are Salmon Pink and Apple Green. The Alpha Kappa Alpha show was outstanding. They really got the crowd and their sisters going with their well-known SKEE-WEE sound. Even at one point holding their Greek Pose for a long amount of time bringing an uproar in the crowd. The AKA's spoke fearlessly about when they began and where they've come from. The Oh So Serious and Oh So Pretty Girls of Alpha Kappa Alpha most certainly came to show out and didn't hold back when it came to calling out the other sororities.
Deja Hobbs a Junior at Millikin is the Vice President of the AKAs on Millikin campus. Hobbs stated that she is in fact a first Generation when it comes to being a part of college as well as being a part of a Greek organization. Growing up, there weren't many leadership roles in her family which in turn made coming to college a bit frightening and joining Greek a step out of her comfort zone. Being a part of this sorority helped her find sisterhood, equality, and the assurance that she can call on her sisters and they on her no matter what. That sisterhood helps push Hobbs into being a better leader as she admits to being a bit rough around the edges. To which this sorority assisted in the growth and maturity it took for her to get where she's at now as well as opened more opportunities. Deja's favorite part of her organization's performance was when she did her "Serious Matter" chant, as she felt her founders were there with her. Considering how far African Americans have come, the overall quantity and quality of Black Excellence among young black college students at a PWI and the way they put other things aside the day of the show was a moment to treasure.
Even so despite the "competition" or the "shade thrown" among the groups they gave it their all. To Hobbs, the groups doing their own thing, repping their organization, and even to the support they were shown was her most loved part of the show. Alpha Kappa Alpha being of young black college students doing something selfless and outside of themselves is one of the biggest things that inspired her to be a part of this org. She has hopes that that same inspiration can and will encourage other young black girls from diverse backgrounds to want to join and know they're welcome. Ending with all shade aside, she loves her Greek Family.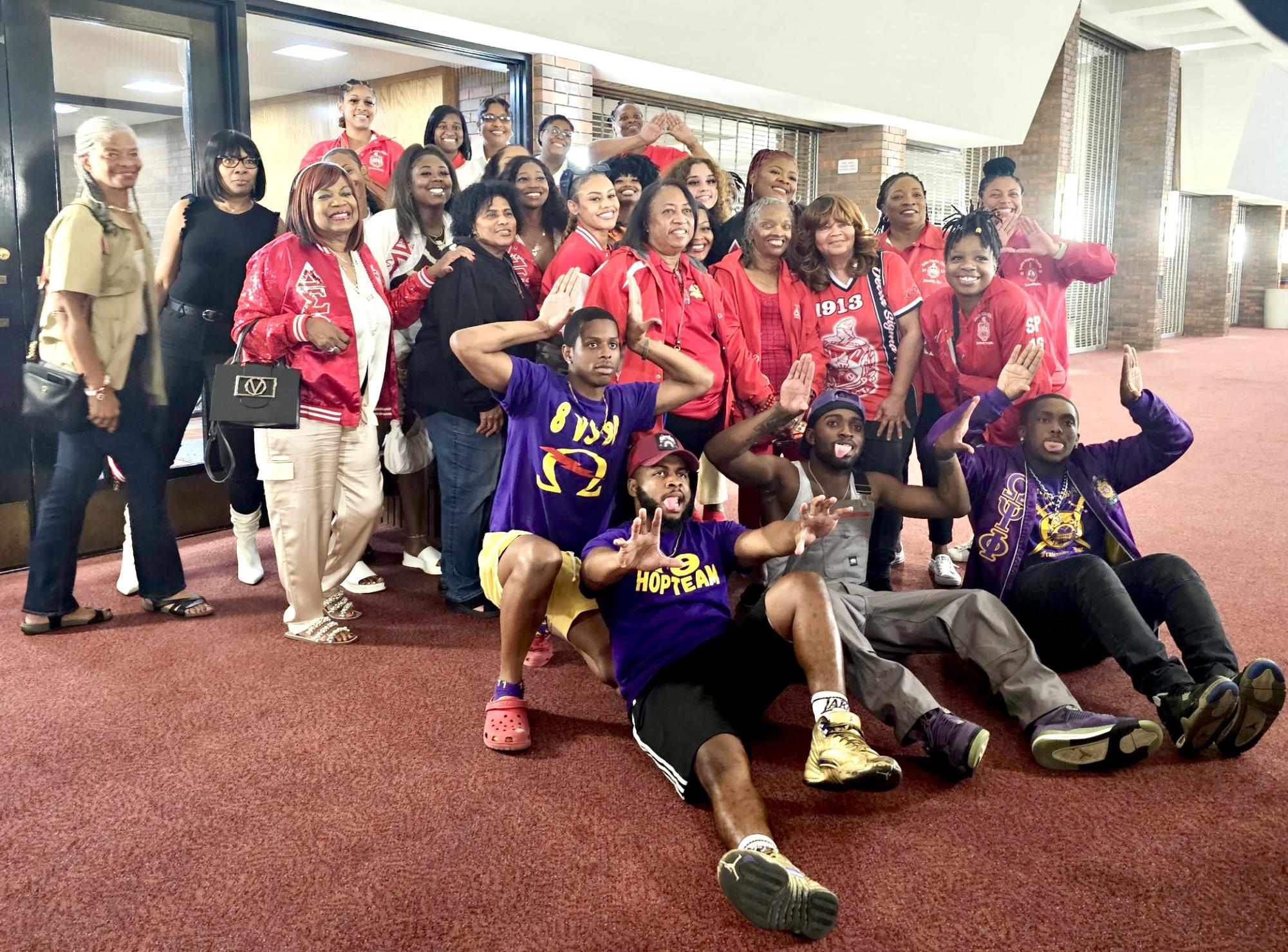 A few Millikin alumni came back to support the AKA's as well. One of whom is Jaydin Anderson who graduated last school year and is also a member of the AKA. Anderson said that she herself attended some national AKA programs while in middle school and high school which prepared her for joining the AKAs in college. On her journey of being in this sorority she was able to grow into the young woman she is today in addition to learning the business aspect of how things are done. By them being new members of the AKA Sorority, they gave it justice and showed an excellent rep of who the Alpha Kappa Alpha Sorority Inc. were. Anderson also stated it was nice to see what she calls her "babies" on stage performing.
While the other alumni weren't members of the AKAs or the Deltas, they did come to support. Traccye Love, class of 2005, who was one of the people aiming to get the AKA Sorority on campus, was astounded to see how far they have come at Millikin University. Also including that seeing unity among the Black community coming together regardless of Fraternity or Sorority was astonishing to see in 2023.
Especially since that kind of community wasn't very solid in 2005. Natalia Arias, another Millikin Alumni homecoming queen of 2004 also class of 2005 came to see the show and was happy to see the results. She enjoyed seeing the Deltas performance. Both Traccye Love and Natalia Arias stated they are excited and can't wait to come back next year.
Finally, The Lady Reds, Delta Sigma Theta Sorority. This sorority was founded on January 13, 1913, at Howard University. Their mission is to construct development among their members while also doing public service commonly in the Black community. The Delta's motto is "Intelligence is the Torch of Wisdom." Their colors are Crimson and Cream. This sororities performance was unbelievable and quite rare, one might add. Specifically with the clothes they wore. There was no Crimson and Cream but white lab coats, black under garments, high black boots and goggles. For this performance tables, chairs and clip boards were brought out to accommodate their show. They made the crowd feel as if they were in a laboratory with the aesthetics, accessories and music used. Started off their act by doing cartwheels on the stage then going into their stepping performance. Delta Sigma Theta Sorority Inc. also did steps in chairs standing up and sitting down. Even at one point passing out on the ground to do some more steps. You could here the roar and hype of the crowd and of their sisters as I quote a line from the song they closed out with they, "Single Handedly Annihilated" while making an exit no one would forget.
Mariah Crawford, a senior represented Delta Sigma Theta. Being Diligent, Dedicated, and Distinguished women who hold themselves accountable and to a higher standard is a significant part of her being in this sorority. Having over 350,000 members of diverse backgrounds is an example to Crawford of being a "Great Woman, Hard working Woman and doing your best at All times." Her favorite part of the Delta's performance was the Delta Sigma Theta Sorority intro and all it consisted of. What she loved most about the show were the MC's disclosing, "They did a great job!"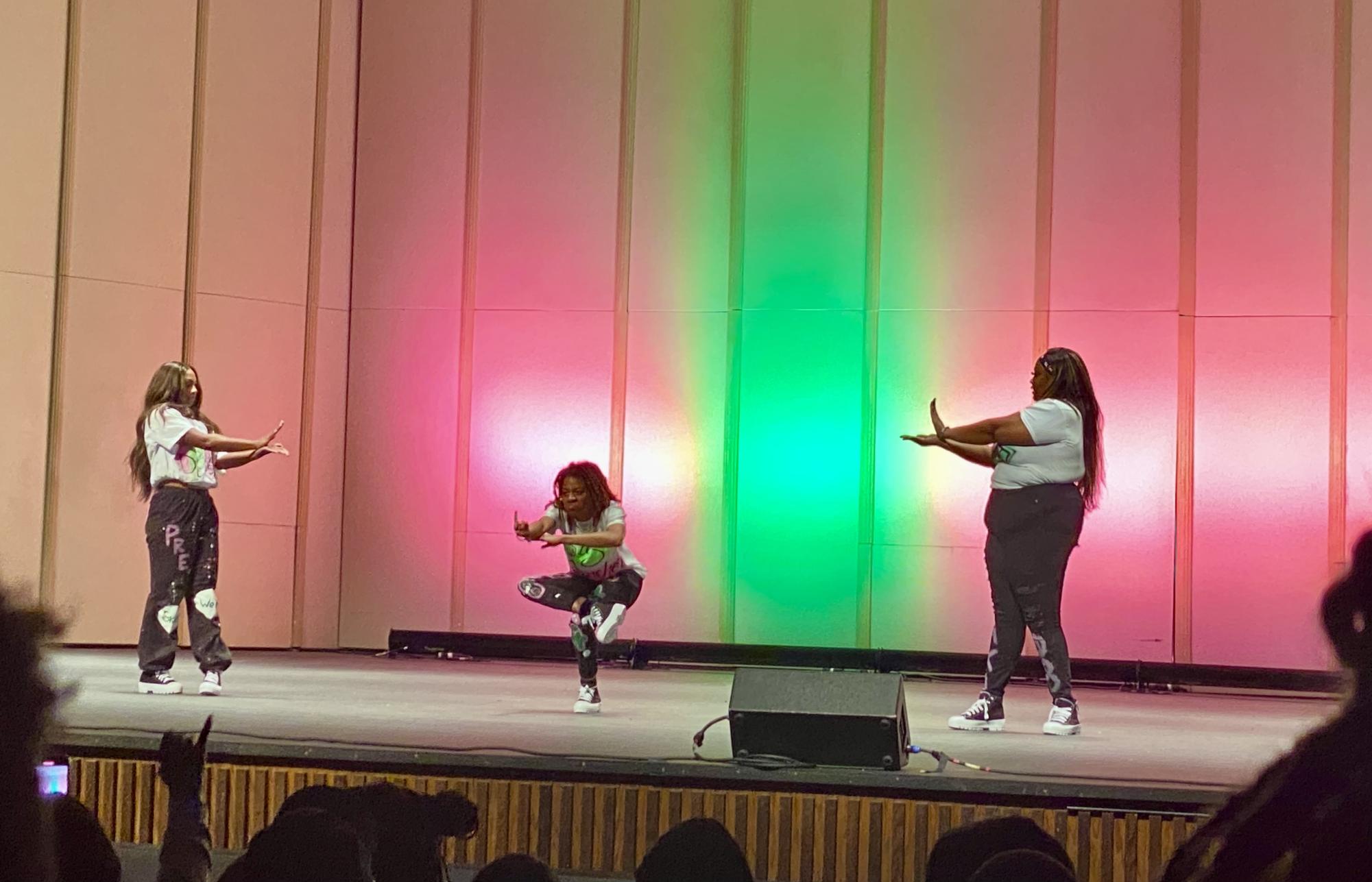 Having Delta Sigma Theta Sorority be repped on Millikin Campus means more to her than many will ever know. Crawford ended saying she feels that the "Divine Nine" needs more presence on campus.
Debra Fields from Chicago Illinois, a member of Delta Sigma Theta and alumni of Millikin University came to show her support for her chapter. She went to Millikin from 1972 to 1976 and was on the charter line helping establish Kappa Zeta.
She was proud, delighted and taken aback by her Sororities performance. Mrs. Debra enjoyed the style, pizzazz, the enthusiasm, and the audience that was taken away by them. To her, their act established how "Distinguished" the Deltas are. The step show to Fields showed the energy and dynamic of a healthy and respectful competition. She was grateful to see the way current chapter members in the city of Decatur, Springfield and even Chicago are keeping the Deltas legacy going both with students on campus and off. In addition saying that after 50 years to her, it feels good!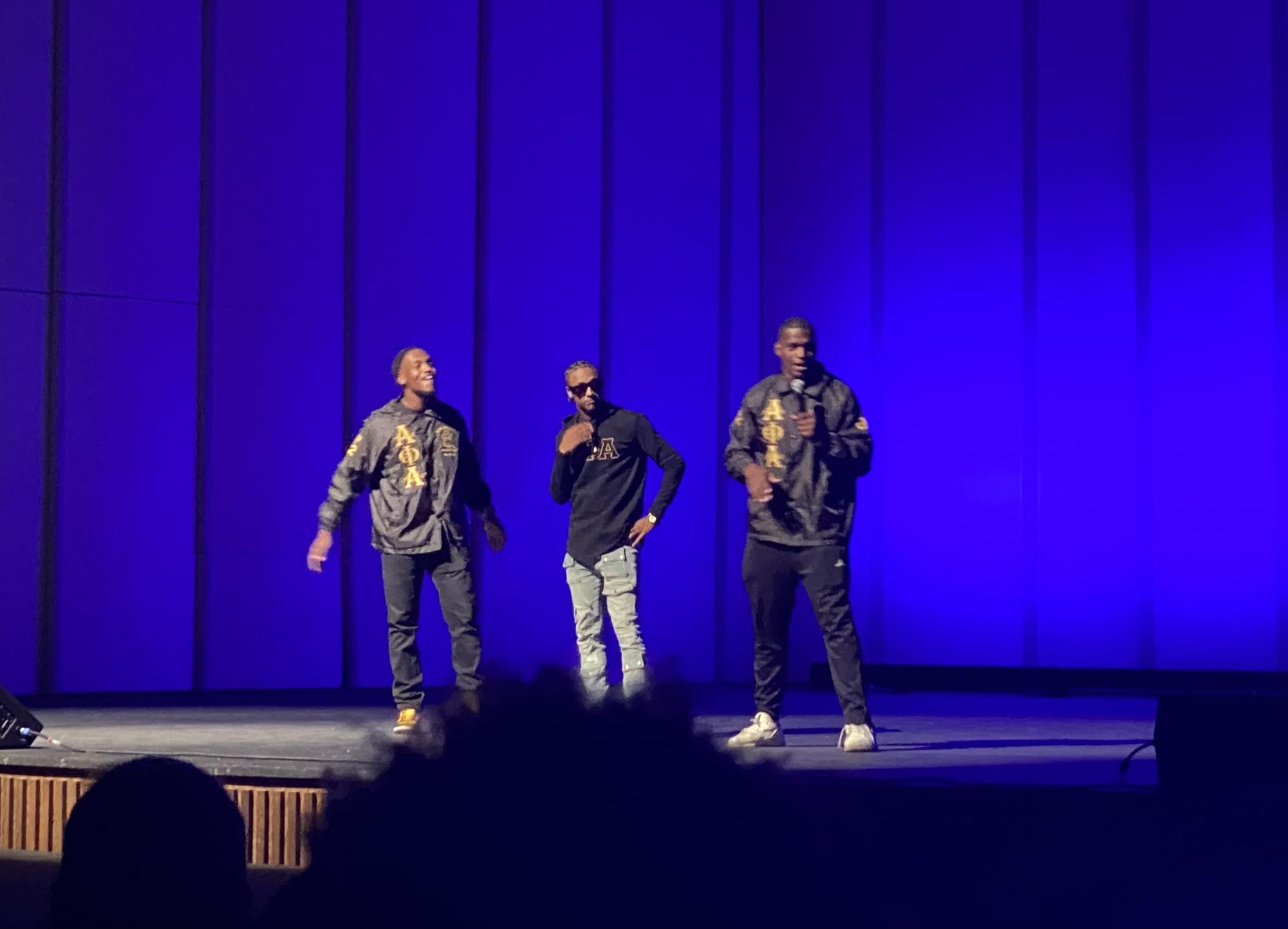 Overall, the step show was an awe-inspiring marvel to behold, and everyone got the chance to enjoy the show. There was most certainly a life changing experience for the crowd from those who performed in the 2023 Millikin University Homecoming Step Show and that was evident the day of the performance as well as the following week of school. I watched as the students of various cultures that experienced the step show performance were on campus imitating steps, chants and sayings that were given. You can hear the joy in their voices and see the excitement in their eyes both on the day of and the following week. There was so much support shown to the fraternities and sororities by their families, friends, alumni and even students. Not only did these people support but there was support from faculty here on campus as well as faculty that came a long way to see their old students, mentees, and advisees. The Millikin University 2023 Homecoming Step Show was again wonderful and like many others we can't wait to see what next year brings and or how many lives they've all touched and inspired.