Trump Versus Impeachment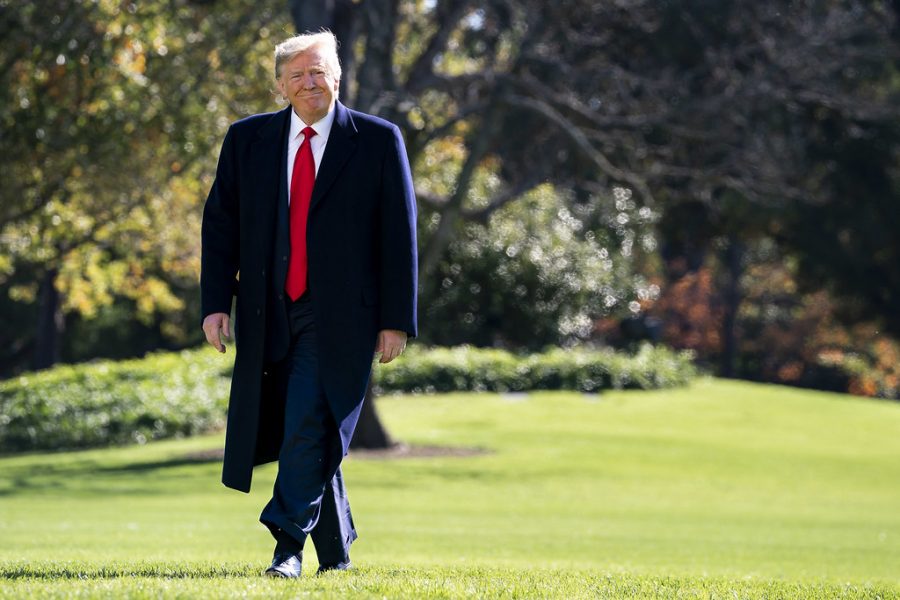 It has been 21 years since the last presidential impeachment took place, which was, of course, Bill Clinton. Not many presidents get impeached because of how serious the matter is. To be impeached, the President of the United States must commit high crimes or misdemeanors. 
The impeachment of Donald Trump all revolves around a phone call that took place on July 25, 2019, between President Trump and President Volodymyr Zelensky of Ukraine. An unnamed whistleblower sent in a tip accusing Trump of pressuring Zelensky to look into a case involving Joe Biden, a Democrat running for the 2020 presidential election. 
The whistleblower also stated that Trump was withholding military aid to Ukraine until Zelensky opened up an investigation on Biden. The investigation on Biden involves himself, his son Hunter Biden, and the company Burisma Holdings, a natural gas producer, which Hunter Biden worked for. 
A prosecutor in Ukraine by the name of Viktor Shokin was looking into the Burisma Holdings company on the belief that the money used to start the company was illegally obtained. Former Vice President Biden wanted Shokin removed, and he even withheld one billion dollars in loan guarantees for Ukraine. 
In an article by "USA Today" titled, "What Really Happened When Biden Forced Out Ukraine's Top Prosecutor," Biden stated in a 2018 speech at the Council on Foreign Relations, "I looked at them and said, 'I'm leaving in six hours. If the prosecutor [Shokin] is not fired, you're not getting the money.' Well, s-o-b. He got fired and they put in place someone who was solid at the time." 
In this speech, Biden admits to not only holding funds, but possibly not giving the funds at all to blackmail the Ukrainian government. Now, President Trump is being accused of the same thing by this whistleblower. We do not know anything about this person(s). 
A great point is brought up by Fred Fleitz, a former Trump official. In an interview with Fox News, Fleitz said, "How can the President defend himself against some very serious charges when the main person who made these accusations, who began them, isn't going to be called as a witness?"
Fleitz also reacted to the news of the whistleblower having a GoFundMe page that has raised more than $250,000. This raises a big concern regarding the possibility that some of the donations came from foreigners, such as Russia. Not to mention, government employees are not allowed to receive gifts, such as money donations, like this whistleblower is doing now. 
 In the whistleblower's full declassified complaint document, they stated, "I was not a direct witness to most of the events described. However, I found my colleague's accounts of these events to be credible because, in almost all cases, multiple officials recounted fact patterns that were consistent with one another." 
This is happening a lot right now in these hearings. During the hearing, Ambassador William Taylor states that he testified with information that he heard from other people, not what he had personally seen or heard. 
Taylor also stated that he did not talk to Trump at all about these allegations and even that he has not talked to Trump in general. Yet he is immediately going against him. Why is that? 
The transcripts between Trump and Zelensky were declassified by Trump on Sept. 24, 2019. The transcript proves Trump's innocence well. The phone call lasted thirty minutes and was primarily about Trump congratulating Zelensky on winning the presidential race. 
Towards the end of the phone call, Trump stated, "I would like you to do us a favor, though, because our country has been through a lot and Ukraine knows a lot about it. I would like you to find out what happened with this whole situation [Russian's involvement in hacking the 2016 U.S. Election] with Ukraine, they say Crowdstrike…I guess you have one of your wealthy people…The server, they say Ukraine has it…Whatever you can do, it's very important that you do it if that's possible." 
Just from reading what Trump had to say, one can easily see that Trump is not threatening or blackmailing Zelensky. In fact, Trump only asked him to look into it if it was possible for Zelensky to do so. Zelensky assured him that he will look into it if he can. Trump also asked Zelensky to look into the Biden case if possible, and Zelensky said he would if he can. 
The whistleblower said Trump threatened Zelensky and blackmailed him, but it is very obvious this is not what happened. Zelensky even released a statement saying there was no blackmail involved during the telephone call with Trump. 
The whistleblower also stated that Trump froze four hundred million dollars in military aid a week before the phone call with Zelensky and that this action was going to be his way to blackmail Zelensky into opening an investigation on Biden. 
During the impeachment hearing, it was stated and known that Zelensky did not know the funds were frozen before the phone call. Therefore, blackmail could not have been an option. Trump said the reason for freezing the aid was because Europe and other nations are not contributing enough to Ukraine and that the U.S. is doing the bulk of it. Zelensky appears to think this is true. 
In the transcript of the call between the presidents, Trump says that the U.S. helps Ukraine a lot more than the other European countries. Zelensky responded, "You are absolutely right. Not only 100% but 1000%." 
Zelenskyy said he talked to the President of France and the Chancellor of Germany and told them that they are not doing as much as they need to be. This is why Trump felt the need to freeze the aid. 
So far, this impeachment has favored Trump. There has not been any substacle evidence of bribery or blackmail that he is being accused of. 
If anything, Biden and this mystery whistleblower need to be investigated and questioned. Biden needs to be investigated for blackmailing Ukraine when he threatened to keep the one billion dollars in loans, while the whistleblower needs to be looked at for creating a GoFundMe page receiving donations when they are not allowed to by law and the possibility of some donations being from foreigners such as Russia.