Gabby Douglas V.S. Racism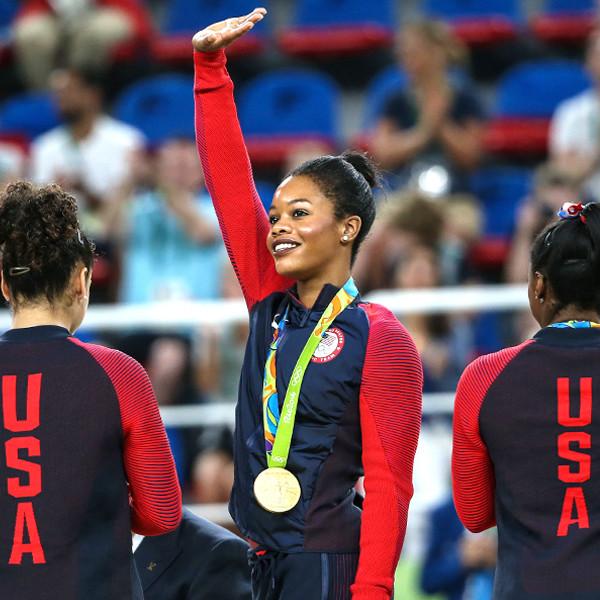 The Olympics ended after a crazy two weeks. Those two weeks were filled with athletes from around the world showing why they are truly the best. Record after record being broken, a barrage of medals awarded, and the ending of the Michael Phelps era aren't the only things making headlines. Where history is made and success is at a high, controversy is still bound to make an appearance. This was evident when two of the United States' top athletes made waves in the media. 
First there was Gabby Douglas, a 20-year-old gymnast from the United States. She first gained the world's attention when she won the gymnastics all-around in 2012 Olympic Games. Once a role model and rising star, now, four years later, she has found herself the target of a smear campaign. Over the past few weeks, she faced criticism and negativity from many people. 
Why, you ask? Well, first off, her hair was not up to the standards of certain spectators.  Then she was harshly called out for not putting her hand over her heart during the national anthem. Last time I checked, there was no law saying you had to do that. I can recall multiple athletes and celebrities not doing so as well.  Lastly, a video circulated around the Internet, showing Douglas in the stands while her two teammates, Simone Biles and Aly Raisman won gold and silver in the all-around.
 The video shows Douglas clapping in a non-enthusiastic manner, while seemingly pouting. I want to point out that Douglas was not selected amongst her fellow teammates for the all-around because there is a rule that states only two competitors from each country may be selected. So, even though Gabby had one of the top scores, she was unable to compete because Biles and Raisman had higher scores. Now picture this: you are perhaps the third best female gymnast in the world, yet because of a technicality, you are unable to compete. I don't know about you, but if this was me, I would be pretty upset. Maybe she should have been more enthusiastic for her teammates, but at the end of the day we can't say what we would do, because we have never been in such a situation. So her hair wasn't perfect, and she wasn't clapping enough. Not to mention, she stood in a respectful manner during the national but didn't place her hand over her heart. Therefore, she is "Un-American". That's the conclusion many have come to.
Then there is the golden boy. I'm not talking about Michael Phelps. I am talking about the second best male swimmer in the world Ryan Lochte. For the past several Olympic Games, Ryan Lochte has found himself in the shadow of arguably the greatest Olympian to ever walk this Earth–Michael Phelps. Well Ryan, you're not anonymous anymore. 
In fact, you are in the spotlight. Now the whole world can see you for what you really are: a spoiled, entitled liar. During the Rio Olympics, Ryan Lochte won gold in the 4×200 men's freestyle relay along with teammates Michael Phelps, Nathan Adrian, and Josh Prenot. A proud moment for the United States, but unfortunately the pride in Lochte would not last. During his stay in Rio, Lochte and three other teammates went out around four am. They came across a gas station. While there, there was an altercation.  
Lochte told reporters that he and his teammates were held at gunpoint and robbed after attempting to use a restroom. An investigation took place. Lochte immediately gained sympathy. He and his teammates continued living it up at the Rio Games. Then, towards the end of the two weeks, discrepancies of that night started coming to light. It just wasn't adding up. A video surfaced, showing Lochte and his teammates breaking a bathroom door and peeing on a wall. Lochte did have a gun pointed at him, but that's only because a police officer was intervening in the situation.
So basically, Lochte peed on a wall like an unpotty-trained toddler, broke a door, and lied about the entire event. Oh, and he wasn't robbed. Lochte's teammates continued to be interrogated while Lochte traveled back to the States, leaving his teammates to deal with his mess. As the story began to unravel, Lochte again gained sympathy from fans.  
Many were stating that he's a just a kid. A kid? The man is 32 years old. There are plenty of thirty year olds who know better than to pee on a wall, break doors, and lie.  
Now let's compare this to Gabby Douglas. Gabby Douglas was scrutinized for her appearance and attitude, branding her Un-American. Lochte was considered a misunderstood kid who made a mistake. Hmm. How is it that a 32-year-old man is more of a child than an actual child? What causes this belief? Is it perhaps because Gabby Douglas is a young African American female girl? Is it because Ryan Lochte is a privileged white man? Is it because our world is just that screwed up? Or does racism still play an important role in our society? Maybe it's all of these things. I will leave it to you to decide.