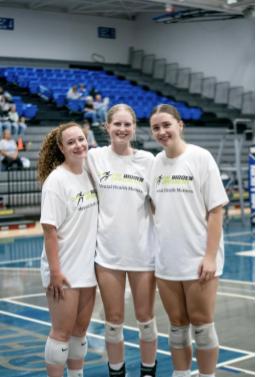 Last Wednesday, the women's volleyball team hosted a mental health awareness game in partnership with the nonprofit organization The Hidden Opponent (THO). Each player on both teams warmed up with a shirt that had THO's logo and "Mental Health Matters" on the front. THO has hundreds of campus captains around the country, working to spread awareness about mental health and mental illness in athletes. I am the campus captain here at Millikin, and also a part of the volleyball team. 
Before the game, I gave a speech on the importance of taking care of mental health in college athletes. I gave some statistics from the NCAA Student-Athlete Well-Being Study in the Fall of 2021: fewer than half (47%) of the respondents felt they would be comfortable personally seeking support from a mental health provider on campus, 94% of respondents that participated in a women's sport reported they felt overwhelmed by all they had to do, and 88% of respondents felt mentally exhausted. Not only does declining mental health affect your performance on the court, but off the court as well. Personal relationships, grades, and overall wellbeing can be negatively affected if someone neglects their mental health.
Over recent years, the topic of mental health has become less taboo, as more and more research comes out about it and more public figures open up about their own struggles. In the world of athletics, the stigma around mental illness has been slowly changing, as more and more teams hire team psychologists and have team discussions about mental health. The purpose of mental health awareness games like this one are to shed light on the topic, and publicly discuss the risks of treating mental health as less important than physical health. Though we are making progress, THO's main goal is to completely break the stigma and make sure every single athlete knows that they are not alone.
Story continues below advertisement