Back to Practice: Soccer Edition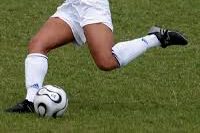 Practicing in-person is a breath of fresh air for senior soccer player Shae Giovanni. 
"Today, we actually got to start, like, contact-contact," Giovanni said on September 23. "So, that's really awesome…We started off with, we did no contact…We were basically just doing fitness for it, we did that for like the first two weeks. And then, since then, we've progressed. We used a ball, and we only kept it to ourselves. And then we were able to pass within our pods, and then we were able to do shooting in our pods. And then now, we're doing many small-sided games."
Giovanni is in a practice "pod," with all her roommates. Since they have the most contact with each other on a daily basis, their coach decided to place them together to lessen their contact with others. The same goes for all the other pods on the soccer team.
"I'm not really sure when we're going to quite reach that point where it's like, we're going to be able to play with everyone altogether. But, I'm hoping, you know, by the end of this fall season, it's a thing that we'll be able to do."
Giovanni has faith that, if the team and other CCIW teams take similar precautions, they will be able to have a safe season with relatively little risk.
"I think we're taking really good precautions with keeping the groups small and only playing within our group," Giovanni said. "We don't pick up the ball, though. Like, we only touch it with our feet. No one touches the cones or anything like that. Coach deals with all that and they sanitize the balls in-between practices. Like, we don't even share jerseys for the teams."
The soccer team did have one positive COVID-19 case over the past month, leading to several of the players, including Giovanni, to quarantine. During that time, she was able to keep 
"You know, when we found out that she tested positive, we had a couple [practices] over zoom." Giovanni said. "And so we had like zoom workouts all together in our house. And we would set up so he would turn on, like, an 'Insanity' workout. So, that was fun."
The COVID-19 restrictions has led to a longer transition between full-contact practicing and strength and conditioning, which turns out to be more ideal for Giovanni not just as a regular soccer player but as one who is overcoming a serious injury.
Giovanni had to go through months of physical therapy for an ACL/Meniscus tear. The gradual transition to contact practice has increased her confidence about being competitive.
"It's kind of perfect for me because it's like, I literally started step by step by step by step like how you would want to," Giovanni said. "So, it's like, today, I wasn't afraid at all to get hit or hit somebody. And that's really…I always had anxiety about that before. I remember when I had just had surgery. I was like, 'How am I ever going to run around, like, and tackle someone? Like, I just don't see it. And now, it's like, 'Wait, why did I even think that?'"
Giovanni is optimistic about how practices are going, and hopes that this means she can have a season–even if it is only conference.
"It's been great practicing, like every time I practice, I'm like, 'Wow, I really miss playing.' today, we were doing contact…At the end of the day, there's nothing quite like playing a competitive soccer game. Everyone will say that after they're done with their soccer career. It's just, there's nothing quite like it. So, it would be nice, really, to experience that one last time."