Next Man Up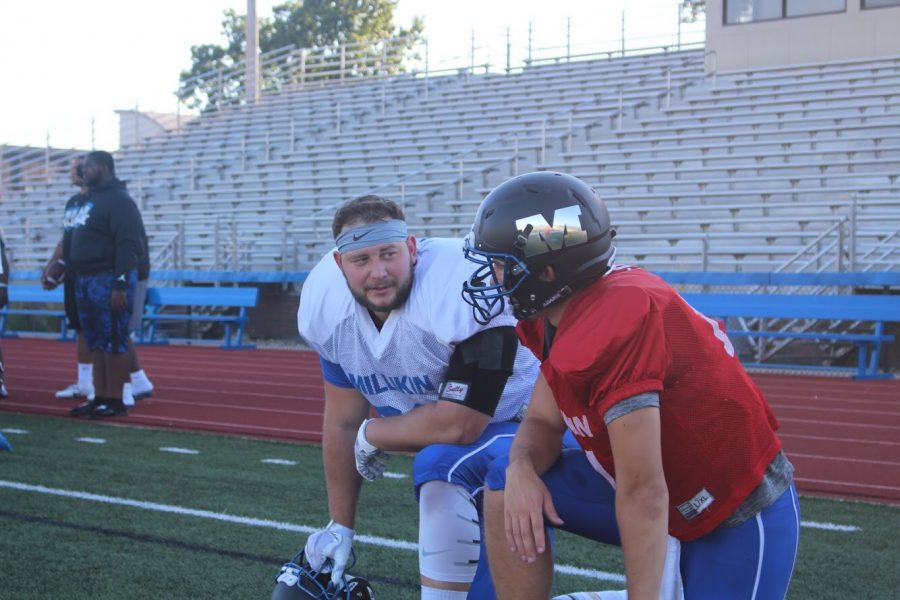 In sports, it's not always about the team's starters or key contributors on the field. Every player has their own role. That includes guys who might not see much playing time. And sometimes, those players will be thrown into the fire, unexpectedly. They will have to step up to the next man up role. Some teams thrive on that next-man up mentality. And no team has adopted that next man up up mentality, and thrived in it, more than the Millikin football team.
The Big Blue have taken a lot of hits this season. On the offensive and defensive side of the ball. At first, it was defense who seemed to be affected the most. Offensive players, such as sophomores Ladavion Severado and Marcus Hayes, were forced to make the switch from offense to defense, due to significant injuries to some defensive players.
Severado started off the season, as a running back. In fact, he was second-string, and seeing some significant minutes on the field, before switching to defensive back.
Hayes was a bit of a different story. He started the year off as a receiver, and then mid-season, he switched to defensive back. But having served as a quarterback last season, he was a bit more familiar with the transition.
That next man up mentality has been a part of Millikin's season, all year. But it served its' biggest role in one of the most crucial games of the season, two weeks ago.
In one of Millikin's toughest matchups of the season, against Carthage College, the Big Blue offense suffered one of its' worst blows, when starting quarterback, Nicco Stepina, went down. Leading 19-13, with a few minutes left on the clock, Millikin's second-string quarterback, began to notice something was off with Stepina, as did the rest of the Millikin sideline.
Stepina was no longer able to scramble or move outside of the pocket as much. He also had a limp, that seemed pretty visible to those watching. At the end of the first half, he had to be helped off the field by his teammates. That's when sophomore quarterback, Cal Pohrte, knew he was going in. It was his time to shine.
It wasn't his first time playing in a collegiate game. Just a week before, he threw his first varsity touchdown, in a 55-10 victory, over Carroll University. So, he definitely took some confidence from the moment that meant so much to him.
"Honestly, getting my first collegiate touchdown, was awesome," Pohrte said. "I didn't expect it in that type of scenario, being up by so much. But I am not gonna take it for granted. Just very humbled about it."
But it was his first game, being thrust into the first-string role, in a close game.
When the clock hit zero, signaling the end of the first half of the Carthage game, Pohrte was told Stepina was too hurt to continue. That meant the game would be decided with the sophomore quarterback, at the helm of the offense.
Pohrte didn't have time to be nervous. Having expected to spend the entire game on the sideline, he was wearing three long-sleeves, in order to keep warm. He ran as fast as he could to the locker room. He quickly removed his sleeves, joined his teammates, and prepared for the one of the biggest moments of his life.
Head coach Dan Gritti told his sophomore quarterback it was his time to shine. Offensive coordinator, Mike Budziszewski, reminded Pohrte of the three C's. Staying calm, cool, and collected. Having the support of his coaches, and teammates, Pohrte made his way onto the field for his first drive of the game.
On his first drive, Pohrte led his team down the field. Sophomore running back, Jazontae Howard, would cap off the drive, with a rushing touchdown.
Pohrte's most important drive came on Millikin's last scoring drive. He found junior receiver, Jordan Smith, for a 23-yard passing touchdown. The touchdown extended Millikin's lead, to 32-20.
Carthage would battle back, and cut the deficit. But Millikin's defense would stay strong, and hold. Millikin defeated Carthage 32-29, thanks to Pohrte's poise and leadership. But Pohrte's story doesn't end there. The following week, with Stepina still sidelined, Pohrte's number was once again called upon.  This time, he would serve as the team's starting quarterback, in a matchup against Elmhurst College.
On any other day, Millikin would probably be able to handle the Blue Jays pretty easily. But on this particular day, Millikin was without their senior quarterback, and forced to battle in less than ideal weather conditions. The game was played in the freezing cold. There was some rain, sleet, and snow. And strong winds. Not an ideal situation for any quarterback, let alone, a sophomore quarterback.
The game was slow, and Millikin found themselves trailing in the final six minutes of regulation. Pohrte had struggled throwing the ball all game. Millikin was forced to run for most of the game. But when running back, Howard, went down with an injury, Pohrte was forced to make something happen with his arms.
Trailing 13-7, with less than six minutes to play, and facing a third and long situation, Pohrte completed a 16-yard pass to sophomore receiver, Patrick Cooper. The pass would lead to a first down, and set up a score for the Big Blue. Pohrte capped off the four-play, fifty yard drive, with a thirty-three yard touchdown pass to sophomore receiver, Tyrice Hines. The score helped Millikin defeat Elmhurst, 14-13. And the win kept the Big Blue in the hunt for conference champs.
In just two games, Pohrte has exceeded expectations, and led his team to back-to-back victories. But he won't take all the credit. He believes that his coaches have put him into a position to succeed. And he is also thankful for his fellow teammate, Stepina's leadership.
During the Carthage and Elmhurst games, Stepina always helped his younger quarterback. Whether that was encouraging him, or talking about every play. Pohrte was able to lean on his senior leader for advice. He answered every question, and never pushed him to the side.
Though Pohrte has done a fine job in the last couple weeks, the Big Blue are eager to see their senior leader return. Especially, with rivalry week nearing. The Big Blue will face off against Illinois Wesleyan, in a match up that could possibly decide the winner of the conference.
While Millikin is hoping to have Stepina back, we will not know Stepina's fate until game-time, Saturday evening. But if Pohrte is thrust into that starting role once again, he is confident that he can get the job done. "I am willing to do whatever it takes to get our team a win, Pohrte said. "However we have to. If the process is not good, but the result is fine, we will take it."
When asked if he will be ready to go, if his number is called, Pohrte said yes. Fans should trust that he can get the job done. For two weeks now, he has taken on that next man up role, and rolled with it. He has shown what it means to be a Millikin football player. But more importantly, a "Millikin man."