Life in the Water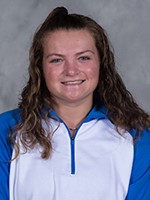 Moving from the mountains of Colorado to the cornfields of Illinois, Jaden Lockard, a freshman nursing major, is one of three freshmen members of the Millikin University Women's Triathlon team. With only two weeks of training under her belt, Lockard is excited to see how her season on Millikin's first triathlon team will go. She is also on the swim team, and swimming is her favorite thing in the entire world.

     Growing up in Denver, Lockard started swimming when she was seven years old. When her mother realized her natural swimming capabilities, she was put on a swim team and has never left the water since.

     "I love swimming so much," Lockard said. "I don't know what my life would be without it."

     She gives her mother a lot of credit for seeing her talent and pushing her to go for what she wants. Her mother is one of her biggest fans and has always been supportive of her swimming. Even when her parents divorced when she was 11, her three other siblings and mother went to her meets, just like she went to her siblings' games. But her mother never missed a meet and Lockard considers her the most supportive person in her life. Having her at the meets watching from the sidelines cheering keeps her motivated to do her best in her races. She always tries to make her proud.

     "She sacrificed a lot when I was younger so that I would be able to swim," she said. "I feel like I owe it to her [to do my best.]"

     Along with her mother keeping her motivated, her teammates also offer more strength and motivation when she needs it. If she feels tired and wants to give up in her race, she thinks about all of the people on the sidelines who are rooting for her. She also thinks back to her high school swim coach who emphasized the importance of teamwork and sportsmanship within the team.

     "You aren't here for yourself, you're here for everyone else," Lockard said. "When you want to give up, you're giving up on your team."

     Having the motivation and competitive drive for playing sports is easy for Lockard since she has been involved in swimming since she was little. The reason that she has continued to swim for 11 years is because of how much passion she has for being in the water. Swimming is her safe haven. It has always been there for her in the good times and bad and has served as a support system.

     "I can go there and get all of my frustrations out. Mentally it just helps me clear my head, physically it demands so much from your body that you feel accomplished after every workout."

     Being in the pool feels like home, and even if she were to stray away from it, she would always come back to it for how freeing and serene it allows her to feel in every stroke through the water.

     Lockard is extremely proud to be able to continue her love of swimming at the collegiate level.

     "It was my proudest moment," she said.

Balancing triathlon and swimming gives her a challenge in time management and prioritizing, but she would not change a thing in her life. She was originally planning to go to the University of Arkansas, but she received an offer she could not refuse from Millikin.

     "I came and visited, and it felt right, like this is where I am supposed to be going," she said.  

     Taking a chance on a small university in the Midwest was the best decision she made, and choosing to show her talents and abilities through swimming has made the transition from mountains to cornfields more gratifying.

Leave a Comment