Keajion Jennings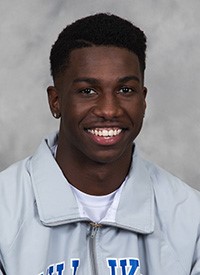 After just three years of resurgence with the Millikin wrestling program, there is a lot to get excited about for the 2018 season. Coach Ryan Birt's Big Blue placed second in the CCIW conference tournament in 2017, losing by only nine points to North Central. In the conference tournament, freshman Bradan Birt was the sole Millikin champion, winning the 149-pound division. Runner up finishers came with 141-pounder Chris Williams and and 184-pounder Keajion Jennings.
     The three top-two conference finishers went on to Cleveland, Ohio to compete in the Division III National Championships. Conference champion Bradan Birt placed seventh nationally along with Chris Williams placing third and Keajion Jennings placing seventh. As a team, Millikin finished the national tournament in 13th place with a total of 30.5 points. With all three wrestlers individually placing in the top-8 spots in the nation, all three Millikin wrestlers were named to the Division III All-American team. As for the 2018 Big Blue wrestling squad, all three standouts will be returning.
     Keajion Jennings will be entering the 2018 season as a senior. Keajion has been with the Millikin wrestling program since its come-up in 2015. Throughout his three year collegiate career, the outstanding athlete has recorded 82 wins to 16 losses, including a 2017 record of 27-5.
     When it comes to athletes, Keajion Jennings is as selfless as it comes. "My biggest goal is to win a national championship, but I mainly just want to have fun my last year wrestling, beat up on some college athletes and compete for the team and for my coaches who have put in their time and effort to help me get to this point," Jennings said.
     Jennings foreshadows that he will again wrestle at the 184-pound division, but other possibilities are not completely out of the picture.
     "With the lifting and training I've been putting in, 197-pounds is always a possibility if I continue to get bigger and stronger," Jennings said. As far as the off-season preparation for the senior wrestler, "I've been focusing on the mental aspects of wrestling and trusting the plan and process that my coaches have set up for me."
     The All-American is excited for the upcoming season and sees another successful year ahead in 2018-19. "This is going to be a successful year for us mainly because of the team's experience and maturity," Jennings said. Keajion also had high praise for Coach Birt. "Coach [Birt] is doing a great job of delegating leaders and creating a winning atmosphere for the team," Jennings said. Coach Birt returns for his 4th season as well, being the mentor to the three All-American athletes in Keajion, two-time All-American Chris Williams, and his son Bradan Birt.
     With most starters returning, the 2018 season looks bright for the Big Blue. And with a new season comes a whole new bunch of freshmen and transfer athletes. "It is too early to judge for newcomers because they haven't gotten on the mat yet, but once we get rolling I'm sure we'll find some impressive new guys," Jennings said.
     After wrestling and graduation with a Sports Management degree, Keajion plans on continuing to contribute to the sport of wrestling. "I definitely plan on coaching and maybe someday having my own wrestling club," Jennings said. But of course, the 2018 season is the only thing in the All-American's sight as of now.
     The Big Blue wrestling team begins the season with its intersquad Blue v. White Dual on October 28 at 1 P.M. The team then opens up its first competition against Hannibal-Lagrange University on November 1 at 7 P.M. The event is set to be held at the new Workman Family Softball Field in Decatur, IL. Millikin bested Hannibal-Lagrange a season ago, outscoring the opponent 49-0.