NFL Week 1-2 Round Up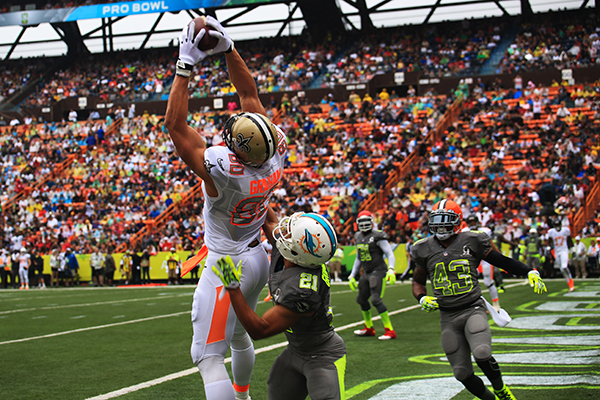 The 2017 NFL season came and went. For Philadelphia Eagles fans, like myself, it was honestly a blur. The season was filled with injuries, huge comebacks, and some of the biggest underdog stories. It was similar to how seasons in the NFL, usually go.
But this past season was special. And not just because the Eagles won their first Super Bowl in franchise history. Okay, that might have something to do with it. It's a new year. And anything can happen. The Cleveland Browns could even win a Super Bowl. Okay, I won't get ahead of myself. But maybe they will win a game. Nah.
Anyways, the season has finally kicked off, and NFL fans have rejoiced. They are no longer forced to watch baseball for hours, or see what's happening in the news. They can now watch some good ol' fashioned, head-smashing, football. Right from their living room couch.
And we are already two weeks into the season. So, if you happen to be living under a rock, or just don't watch football, here's what you may have missed. Here is a full rundown of the ten biggest headlines in the game.
In the NFC East, Philly put on a defensive show against the Atlanta Falcons, to kickoff the season, on Thursday Night football. The team held the Falcons to twelve points, and captured their first victory of the season. Things slowly fell apart when the Birds faced off against the Tampa Bay Buccaneers, and allowed quarterback Ryan Fitzpatrick to throw four touchdowns against their defense. The Bucs knocked off the Eagles, and brought the Birds' record to 1-1. But remember the last time the Eagles started the season 1-1? And guess who comes back in week three? Carson Wentz.

Enough about the Eagles. Let's talk about the Bucs and the Kansas City Chiefs. You are probably wondering why these two teams are grouped together. Well, aside from being 2-0, both teams seem to be led by Jesus Christ himself. All of a sudden, Bucs' quarterback Fitzpatrick and Chiefs' quarterback Patrick Mahomes, are throwing the ball better than New England Patriots quarterback Tom Brady. 

Through two games, Fitzpatrick has eight touchdown passes and one interception. Mahomes has ten touchdown passes and zero interceptions. While the Fitzpatrick statline is impressive, the Mahomes' statline is out of this world. Why? Because the guy is a second-year player, and first-year starter. It's insane. He currently has the most touchdown passes for a player in their first two starts. His name has been thrown around, when it comes to the MVP discussion. And it's only week two.
So, what's not new in the NFL? Well, the Cleveland Browns are still the Browns. Kind of. They finally avoided a loss, when they tied the Pittsburgh Steelers. They lost to the New Orlean Saints the following week, but it was a close one. Quarterback Tyrod Taylor looked awful, and team couldn't seem to capitalize on turnovers. The Browns forced eight turnovers from opponents, but they still could not come away with the victory. I am starting to think we will never see a win from them. At least not this season. Unless, Heisman winner and rookie, Baker Mayfield gets to take a snap from under center.

The Steelers are probably more dysfunctional than your family. Their star running back, Le'Veon Bell, is still holding out. No one has a clue when he will return. Standout receiver Antonio Brown blew up on the sidelines during a game, and then missed practice the following day. The team was expected to be a powerhouse this year. All of a sudden, it has fallen flat. If tying a team that has not won a game in two years, was not bad enough, then the Steelers  lost to the Chiefs, and start the season 0-1-1.

The Chicago Bears' offense is struggling, while the defense is coming at opponents like a Mack truck. More like, Khalil Mack, is coming at opponents like a Mack truck. Since being traded by the Oakland Raiders, the outside linebacker, has not skipped a beat. His stats are through the roof. Through two games, he has eight tackles, two sacks, one interception, two forced fumbles, and a defensive touchdown on his interception. He is single-handedly transforming the Bears into a top-tier defense. Unfortunately, his offense isn't making it easy on him. Even though the defense is producing, the offense could be what keeps the Bears from being successful.

Aaron Rodgers is back from his injury. And he is already making a huge impact. Just as Mack single-handedly powered the defense, Rodgers single-handedly brought his Green Bay Packers back from a 20-0 deficit, when he threw three touchdowns and led his team to a win against Chicago. In his second game, he wasn't nearly as effective. But his team was able to hold off the Minnesota Vikings, and the two teams tied. Both teams are currently 1-0-1. It is still early, but it looks like those two teams are the frontrunners for winning the North.




7. The Detroit Lions, Seattle Seahawks, Buffalo Bills, New York Giants, Oakland Raiders,  and Arizona Cardinals look atrocious. All six teams are 0-2. And it doesn't look like they will be getting win anytime soon. That is all. They are just too bad to even talk about what is wrong. They just suck.

The Los Angeles Rams are a powerhouse team, on all fronts. Offensively, they are explosive. Defensively, they are sound. The team is 2-0, and I do not see them losing anytime soon. They are my pick to represent the NFC in the Super Bowl.

The Patriots look mediocre, while the Jacksonville Jaguars, are clicking on all cylinders. While the Pats are 1-1, the Jags are 2-0. After beating the Giants, the Jags took it to the Pats, in an AFC Championship rematch. Quarterback Blake Bortles is throwing the ball better than ever, and that defense is still scary good. And with the team facing two below average teams in the next two weeks, in the New York Jets, and the Tennessee Titans, it's good fortune should continue.

My last take from weeks one and two, is on the Cincinnati Bengals. The team was not expected to be very good this season. But so far, they are producing. The team is 2-0. Quarterback Andy Dalton looks great. He has thrown six touchdowns, and only one interception. And his favorite target, receiver AJ Green, looks unstoppable. In his last game, he set a career record with three touchdown receptions. Dalton threw four touchdowns that game. It could just be a fluke, or because they played mediocre teams. But I have a feeling this Bengals' team could be a playoff contender. Maybe the team will finally win a playoff game.
Well, that's it. That's all you really need to know, heading into week three. The Browns and the Jets kick off week three on Thursday. Should be a good one. Who am I kidding? It's the Browns and the Jets. Might as well chalk up a win for the Jets, and call it a day.
Leave a Comment