Coach Spotlight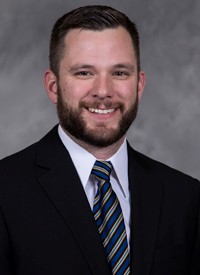 Hang on for a minute...we're trying to find some more stories you might like.
With great talent comes great expectations. That is something the Millikin baseball team is learning with every passing year. However, this senior class is different than any in recent memory. This class of athletes is the first brought in by head coach Brandon Townsend.
It is not easy to turn a program around, but that was Townsend's goal with his inaugural group of recruits. When this group of players were seniors in high school, their future coach was compiling a record of 9-41 in his first season.
Since this group of seniors arrived on campus things began to improve both on and off the field. Creating a culture of winning stretches far beyond what happens at Sunnyside Park. It is an ideal that has been instilled over a course of time as players buy in. Now that every player is one that Townsend brought to the program, it is his culture.
"One of the things as a coach you want to have is the ability to turn your back at a practice and know that things are still going to be run the same way." Townsend said. "I feel very confident that if I didn't show up and these guys ran their own practice, it would be very similar."
The class of player is something very important to Townsend. Getting the right type of player that fits the culture of the rest of the team is likely to create more success for the team and all of the individuals.
The name to put to this culture is a family. All around campus, the baseball team seems to travel in packs, not because they are exclusive, but because they are close. There is a lot of time spent together with any sport, so being able to find the right group of personalities to mesh together is something very important.
It is that kind of mentality that will carry this team the extra mile and into the CCIW tournament at the end of the year. While Townsend is only in his fifth year of coaching, he knows the conference very well. Back in his college days he pitched for North Central, where he still sits eighth in all time innings pitched for the school. Having the experience in the CCIW goes a long way in succeeding in the conference. As a player, Townsend's teams finished fourth in the conference every season he played there.
After his playing career ended, he lucked into coaching. By the time graduation rolled around he was not sure where to go next. He was able to coach at a school in a small role, but it showed him something he liked to do. It took awhile to build up his coaching resume until finally he was able to find a spot with Millikin.
With the experience he gained, he is able to help his team now. During his tenure here his role has never been the same between years. As a college pitcher, he helps out his pitchers every year in some capacity, however this season he is taking a bigger role with them.  
More than anything his job is to help his players. He will be the first to tell you that he wants his team to be known for their character. A lot of that is an extension of not only who he recruits, but how he handles each member of the team.
"He is able to keep us lose by being able to relate to us," junior infielder Adam Peters said. "He knows we are all different players with different personalities and skills, and he has a great ability to understand what makes his guys click on an individual basis."
Townsend now has only his recruits in the program, and that can add some pressure. There is a ton of talent at every position, and the team will have competition for every inning of playing time. If there was ever a time for Millikin to reach the CCIW tournament after 40 hard fought games, it is now.