Reduce, Reuse, Throwaway?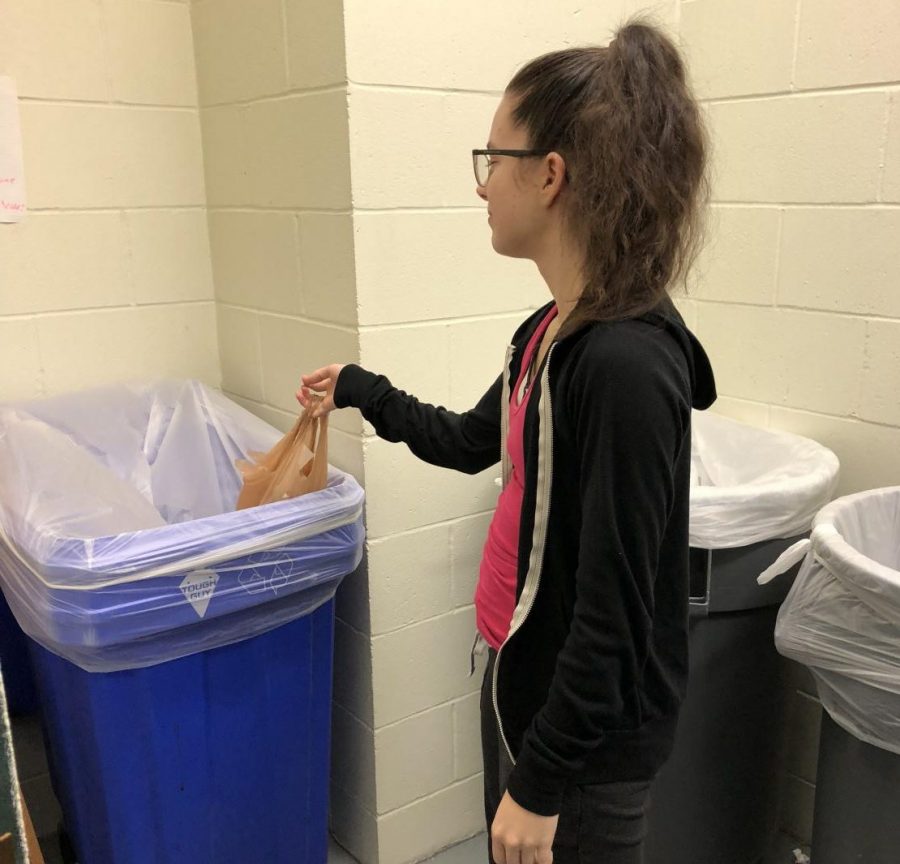 Millikin fills its campus with incredibly useful modern technology and resources.  Radio and music studios, a MAC lab, an observatory, a brand-new softball field and The Woods' tanning beds are only a few examples–not to mention the current construction taking place which will provide students with even more resources.
As a junior transfer, I was blown away by the resources Millikin had to offer me, especially compared to the last college I attended. It shocked me, however, when I realized that as a resident of the Woods, I can't recycle any garbage from my apartment.  
We are students at a University which seems to pay close attention to the needs and wants of students and faculty. Keeping this in mind, it's time to provide campus residents with the option of recycling.  
Residents are told to bring their trash out to the dumpsters all in one, as opposed to a recycling option and a general garbage option.  All bags are thrown into the same dumpsters and are handled as if they are all just general garbage. As far as we have evolved as humans, societally, technologically, creatively, and economically, I believe it is just wrong, in 2018, to neglect a simple act of awareness which can have an impact on the overall health of the entirety of our world.  Millikin University's campus is not a hazard to our environment.
In fact, Millikin has an environmental stability platform called "Green Thread", which is an environmentally cautious organization that works to make Millikin's campus as little of an environmental hazard as possible.
Millikin provides on-campus recycling services and on-campus facilities offer "green cleaning," which tries to end the use of chemically-powered cleaning products. The dining hall has trayless dining which minimizes total overall waste as well as the use of those chemically powered cleaning products, and are actively working to conserve energy and water.
These are fantastic ways to be environmentally friendly and these actions on-campus alone can go a long way.
But this is not the University's biggest source of waste. The garbage of university residents isn't treated the same at all.  
I live in a four-bedroom apartment in The Woods along with only one other roommate.  Between the two of us, we will have anywhere between two to four full trash bags of garbage with either one or two bags with only recycling every week. In the case of most apartments in The Woods, which house four residents, this number is then multiplied by two, resulting in potentially four to six bags of garbage, two to four of which would be recyclable material.
The Woods at Millikin were first opened in 1997 while the first residence hall, Aston Hall, was established in 1907.  Since Aston Hall's opening in 1907, Millikin has added four more residence halls, Blackburn, New Hall, Weck, and the most recent Dolson, which was added in 1997, the same year the woods made its debut.  Aston Hall holds one-hundred residents, Blackburn houses ninety-nine, Weck can hold fifty-two, and New Hall houses fifty-two residents as well.
While I was unable to pin down the years in which Blackburn, New Hall, and Weck were established, we can approximately say that until the add-on of Dolson and the Woods in 1997, Millikin University was housing potentially over three hundred students a year–all of whom did not have access to recycling from their residence.  
After adding Dolson and the Woods as options for university residency, this total skyrockets to over eleven hundred students who are being housed by the University year in and year out with no immediate recycling options.  
Even if we excluded all the years before Dolson and The Woods came to fruition, we are talking about twenty-one total years of no recycling by about one thousand students per year.
Thinking of how much recyclable material we have neglected to dispose of in the proper way is truly scary.  Through all of that time, and even going back further than 1997, I believe this University has left a sizeable Millikin Blue toxic landfill of its own for our Earth to endure, and it only continues to grow the longer we let this issue slide by.  
By not recycling, we send all of plastics and metals to landfills where those plastics and metals are incinerated which releases dangerous polluting particles into our environment for us and our earth to breathe in and embrace.  
By not recycling, we continue to use more and more of our natural resources which are not endless, creating a more unpromising future for generations to come.
By not recycling, we are forever dumping the hazardous pollutants of plastics, papers, and metals into landfills and into our environments which leaves no option to reuse the reusable properties of recyclable material. This then forces brand new products, whatever they may be, to be produced from scratch with new material rather than reusing and therefore dramatically conserving massive amounts of energy we use globally.
So in other words, by not recycling we are slowly contributing to the murder of our planet.  
By recycling or not recycling, we will be leaving either a positive or negative impact on the world around us. While we are loaded with terrific resources which we could never take for granted, it seems like some priorities need to be straightened up.
So, I respectfully make a call to action. We must prioritize what is of the most benefit to the world around us as well as the community we live in. It's time to reduce, reuse, and recycle for all Millikin residents, a time which is incredibly past due.
Until we see the change, I encourage all Millikin residents to have a separate bag for recycling, and to find somewhere such as Midwest Fiber and Recycling to dump these bags. No call to action is too small, it's time for change.