The football wall has finally been repainted after looking like an eyesore for years. The project took dozens of hours and many helping hands to complete, and the fresh blue paint can be admired from the football field all the way to the Center of Theatre and Dance, directly in front of where the new athletic facility is planned to be built.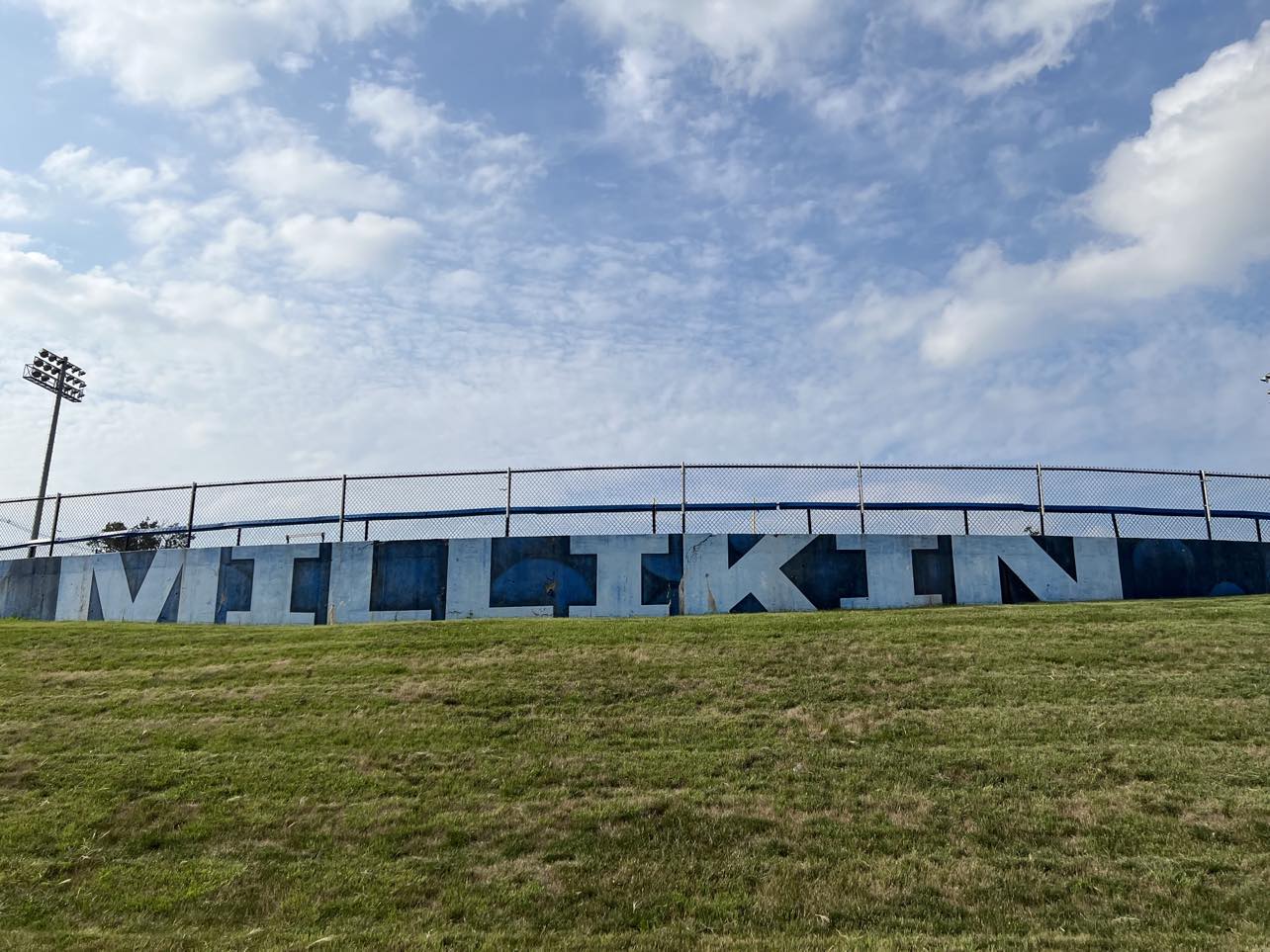 It's a small splotch of hope, which has been long overdue for Millikin.
"It was a big project, and I needed to do something for my Gold Award in Girl Scouts." Morgan Potter, a freshman Exploratory Studies major, said.
Story continues below advertisement
The Gold Award is the highest award one can earn in Girl Scouts, and not many achieve it. It requires a lot of paperwork, a minimum of 80 hours of service, and determined dedication.
Potter was able to complete all those hours and the logistical side of the project in a little over a month.
"I started early August, and the deadline was September 30th." Potter said.
Alpha Phi Omega, the only service-based, co-ed fraternity on Millikin's campus, had been looking to fix up the football wall for some time.
"We had wanted to work on it for a while because we knew how bad it was." Riley Kell, president of APO, said. "Then Morgan, who is one of our pledges, needed a Gold Award project for Girl Scouts. She approached us, and we were like 'Yeah, of course!'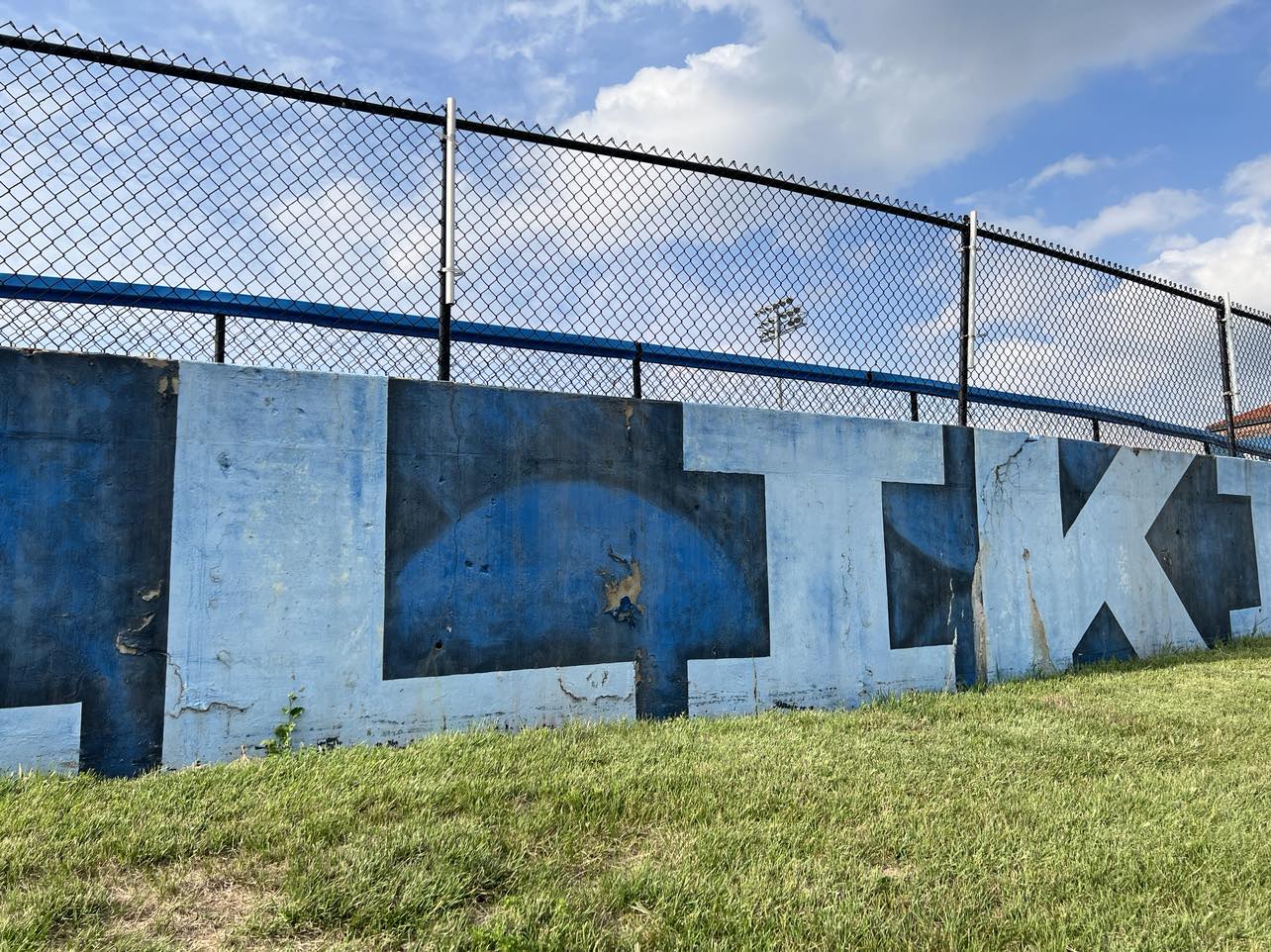 "It was a really great way to give back to the campus." Kell said.
When Potter was nearing the end of her project, APO stepped in with resources and manpower, helping to efficiently finish the wall before the deadline.
"You have to complete all 80 hours by yourself." Potter said. While some organizations or scout groups allow others' service hours to count toward the requirement minimum, Girl Scouts does not.
Though repainting a wall looks simple on paper, there were a few hiccups and setbacks Potter experienced on her path to completion.
"There were so many different layers of paint on the mural that we didn't know about. It didn't look like a great start, and it got worse when we started scraping." Potter said.
"There were four or five different shades of blue underneath." Potter said. "So it was really nice to see it all just become uniform and flat. That was probably my favorite part."
It was frustrating, putting in a full days' work scraping the wall, and then coming back the next day to mold or morning dew that would have loosened up even more gunk – making the process seem never-ending.
Members of APO helped Potter for only four days, and the rest was up to the devoted Gold Award candidate. Not only did Potter plan out and finalize the tedious paperwork involved with the award, she was also able to apply herself and artistic talents in a way that benefited her community.
"Watching the Gold Award project take place, the actual action part, is always entertaining." Tara Becker, vice president of membership and alumni liaison of APO, as well as a Girl Scout leader, said.
"She did a fantastic job." Becker said. Having been through the award process as a recipient herself, Becker can appreciate the time-commitment and hard work that is needed in order to complete a project of such high caliber.
The fruits of Morgan Potter's committed efforts, along with APO's willingness to help, is an excellent example of what the university has always done right. By banding together to help their community in little – and in this case, not so little – ways, successes such as this one showcase the admirable characteristics the Millikin population shares.