Students' Art Showcase Therapeutic for All
Millikin's Art Show allowed students a unique opportunity to showcase not only their art, but also their emotions.
The show ran from Monday, May 1 through Friday, May 5. It featured many unique paintings, ceramics, and other forms of art. The show was student-led; the show dates were the only aspect not determined by students. 
Maggie Strubhar, whose bachelor of fine arts exhibition was featured in the show, is one of the students hoping to make an impact with her art.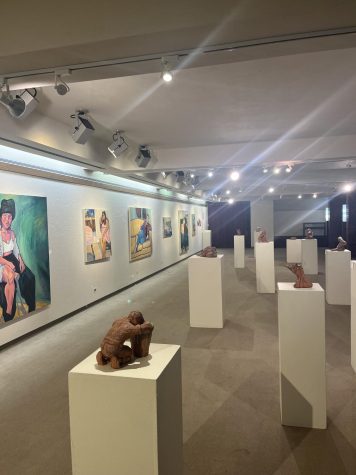 "The professors do help, but it is the job of the student to make all the art and to make the promotional material for it," Strubhar said. "I got all these pedestals and painted them. There was a reception, and I oversaw planning for that and providing food. We are told the dates of the show, and we oversee just about everything else."
Strubhar also sees the important therapeutic value that art can have on a creator.
"I am an art therapy student," she said. "There are so many benefits to doing art and creating things in general. I think humans are made to create and it has been shown that creating art can relieve stress, and it can help with trauma."
Strubhar also believes that art can be extremely relevant to any time if created correctly.
"I also think that art can be a sort of social commentary," she said. "It can be an expression of things that are difficult to put into words. It is sometimes easier to literally show emotions rather than to try to explain them."
Strubhar had many different pieces on display, but the most striking features of her exhibition were the ceramics and paintings. Many of them were inspired by the different emotions she described, especially a ceramic she called "Carry Me."
"My inspiration was focusing on the act of relying on other people and the fact that we are not alone," she said. "There are lots of emotions tied into these ceramics, and I believe that community is tied into this piece because of how the emotions can conflict with each other."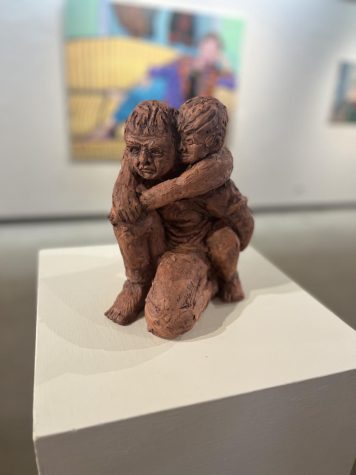 Although many of the ceramics were based on emotions, some were inspired by personal experiences of Strubhar's, which created an enriching experience when viewing her work. For example, Strubhar's piece titled "Carry Me" by Maggie Strubhar is based on issues she has with her stomach.
"This piece is a bit of an outlier," she said. "The issues that I have with my stomach, for example, IBS, and the nausea that is caused by that, is what inspired me to make this piece. Everyone knows the feeling of throwing up and it is a very visceral experience. I wanted people to be able to relate to how they feel when going through this experience."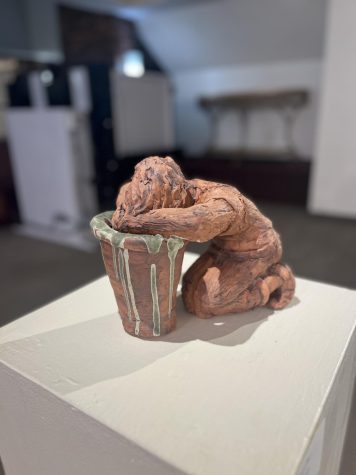 Although the ceramics are intricate and detailed, Strubhar's paintings are more time-consuming. They take roughly two weeks to create, while ceramics take only a week and a half.
Rather than having her subjects sit in place for hours, Strubhar creates her paintings by referencing photographs.
"The larger paintings took about 20 to 25 hours to create," she said. "How long it takes to create it always depends on how detailed it is and how many changes I make to it."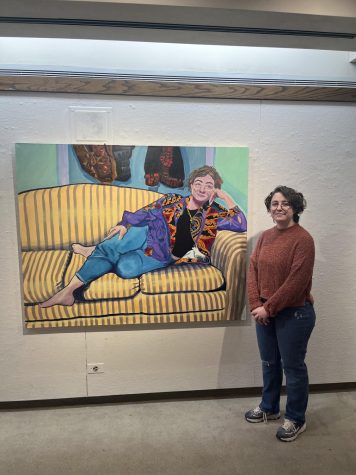 The work provided by the artists offered a unique perspective into their own worlds, and seeing the different manners in which the artists created their works was truly a unique experience.