International program at MU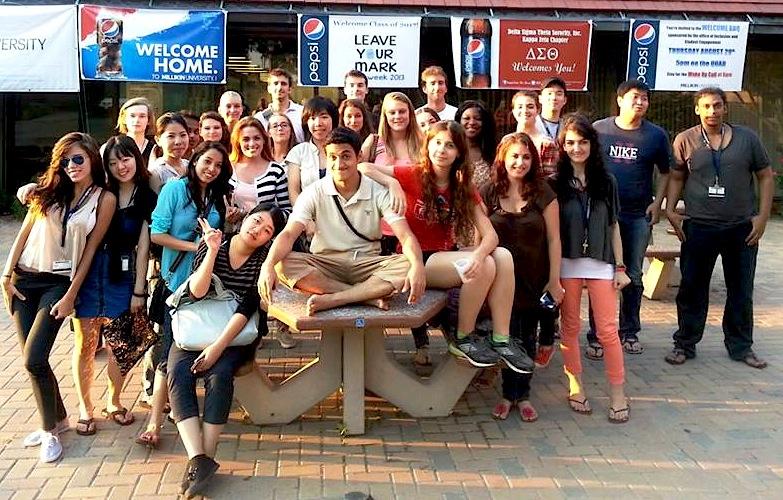 Caitlin Husted, Staff Writer | Copy Editor
October 2, 2013
Going off to college is all about finding yourself, getting a good education, learning to be independent and meeting new people. This in and of itself is hard enough. However, some students here at Millikin are trying to have these experiences while being separated from their friends and family by oceans.
Millikin hosts students from places all over the world such as Egypt, France and Afghanistan. While here, international students not only get a good education, but they get international exposure, great possibilities of being involved on campus, the chance to be a part
of a great community, to live with an American roommate, to have a closer relationship with faculty and access to the English language Center in order to improve their English speaking abilities.
The international students at Millikin work closely with Millikin's Center for International Education, CIE, during their stay. Students also work closely with the Director of the Center for International Education, Carmen Aravena, and Coordinator of International Student Services Jacob Cushing. The CIE has been around since the 2005/2006 school year, but Millikin has been educating international students for over 60 years. The CIE's goal is to not only help the students obtain an education, but to prepare students to become democratic citizens in a global environment.
In order to get the word out about its International program, Millikin, with the help of Florence Galy, the Director of Global Strategy and International Recruitment, and the admission and marketing teams, has developed a four year recruitment plan.
"Our main focuse[s] to recruit international students are:[to make] online information and communication accessible, simple and consistent, [to have] strong partnerships with universities all over the world, [to make] strong relationships with governments, agencies and organizations and working with high quality third-party agents," Galy said.
MU's recruitment plan appears to be working because over the past few years Millikin has had a steady number of international students participate in the program. Millikin has been able to keep the numbers of students between 41 and 46 since 2011.
Not only is Millikin keeping its numbers up, but the international students are fully enjoying themselves.
Hadisa Wali is from Kabul, Afghanistan and will be studying at Millikin for four years. Wali wasn't planning on attending Millikin when she first started considering her college plans; originally, she was going to study at Kabul Afghanistan University. She heard about Millikin from her college counselor and, because of the higher level of studies at MU, decided to make Big Blue her home for her college career.
"Yes, I enjoy studying and playing soccer at Millikin. It is a lovely community," Wali said when asked if she was enjoying her time at Millikin.
Another student involved with the International program is Felicie Robert. She is from Paris, France and is only at Millikin for this year. She decided to come to Millikin because it is well known for its acting and music programs. Since being at Millikin, Robert has discovered that the people at MU are wonderful, always happy to help and friendly.
"We have been really well taken care of by the international program, especially by Jacob Cushing. We can't wait to spend this year here," Robert said.Millikin's International program has been expanding and is expected to continue expanding over the years.
Hopefully, Millikin will become a place that is well known within the United States and overseas alike.