An event for the lonely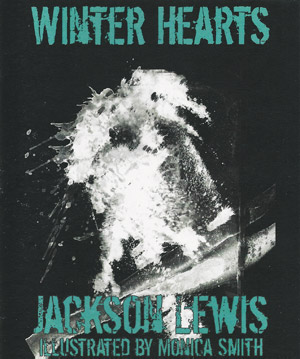 Not everyone is particularly fond of Valentine's Day. That is why Bronze Man Books sponsored an event this past Thursday at the SPEC called Broken Heart: The Anti-Valentine Event. This was a gathering for creative writers and poets to express themselves by reading their original works centered on the themes of loss, depression and despair.
Bronze Man Books is a student owned and operated press advised by Millikin's Dean of Arts and Sciences Dr. Randy Brooks. According to their website, bronzemanbooks.com, the company is dedicated to integrating quality design and meaningful content and exposes undergraduate students to the process of publishing by combining the theory of writing, publishing, editing and designing with the practice of running a book publishing company.
Students Emma Wilson and Desi Thomas coordinated the event. The night's feature reader was senior Jackson Lewis, who read bits from his published chapbook, Winter Hearts.
"Well, this was kind of something we threw around," Wilson said. "We originally wanted to a public event for Jackson's chapbook, and the whole idea of anti-valentine came along. So, Dr. Brooks put me in charge of it. We basically started planning at the beginning of the semester, so you could consider this a last minute thing."
Winter Hearts is Lewis's first published collection of poetry that was released last year. It's a collection of Tanka from his freshmen year through summer 2011. Tanka is a form of short Japanese poetry, similar to haikus. His love of Tanka is credited to a Tanka roundtable course he took his freshmen year instructed by Brooks and Dr. Carmella Braniger.
"Winter Hearts is split into three parts – loneliness, longing and midnight," Lewis said. "Loneliness focuses on the relationship between the individual and society. The second part is a love story. Midnight is the resolution of the love story.  It's an exploration to other themes. It's essentially spiraling down from personal problems one thinks of to actual real life issues."
Lewis also says that he has a lot of Tanka lying around and he simply put his favorite pieces together and they resulted into Winter Hearts.
"I set them up in groups to see what theme there were," he said. "I met with Braniger and we talked about the chapbook. She suggested that I title it winter hearts because there is a line in a poem with those two words – the use of delusions and fantasies. I liked it so I went with her suggestion."
Some of the writers and poets who read throughout the night included Brooks, Wilson, Dr. Stephen Frech, Jacqueline Hollis, Bryson Hoff, Vincent Ledwig. At the end of the program, there was an open mic opportunity for anyone to read their work.
This was the first time for an event such as this was held at Millikin, and many hope that this could be the start of a new tradition. It's not a gathering for people to completely bash Valentine's Day, but for them to also celebrate the other side of the holiday.
A big announcement was also made. For the first time in history, Bronze Man Books has selected two chapbooks from the same submission period. In the past, only one is selected per submission period. Wilson and Hoff were the chosen ones; hers being released in April, and his will be out sometime next semester.
"I am so pleased and thankful that this was such a success," Wilson said. "I have been so terrified about how this would work out and if anyone would show up. This was such a successful event."
For more information about Bronze Man Books or interest in purchasing any of the company's published works, you may visit Brooks in his office in Shilling 209, or email him at [email protected]