President Harold Jeffcoat retires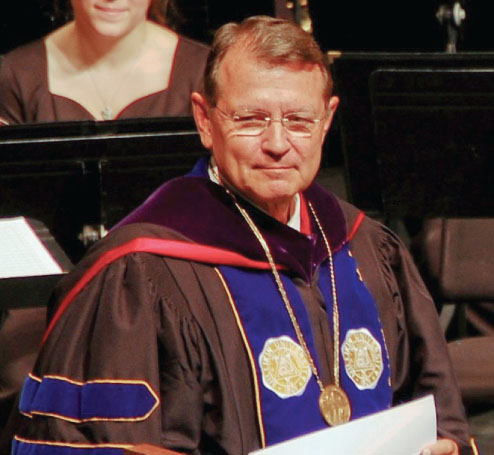 Last week, the Millikin community received an email informing us that President Harold Jeffcoat has made the decision to retire. Jeffcoat, who has been the institution's president since the 2011-2012 academic school year, has held a position in higher education for 37 years.
"I felt like it was the right time; you have to retire at some point," Jeffcoat said. "It's particularly the right time for the institution to get a president who plans and intends to stay for 10 years or more – that's not me. I'll be 66 this fall. My wife Marie and I talked it over Christmas break, and once we came back, I talked about it to the leadership on the board to see what they had in mind. We reached a mutual understanding and agreement. From our point of view, we are excited to start a new chapter in our lives. I'm leaving Millikin in good shape. Enrollment is good, the budget is in good shape, assets are up, debt is down – it's all positive. It seems like the right time. Marie and I came to the moment when we were asking "where do we see ourselves?" We decided around the beginning of January."
Jeffcoat left the institution this past Friday, heading down to Sarasota, Fla. During the summer, the Jeffcoats will be at their summer home on the island of Halsnoy in Norway. The property is a remainder of Mrs. Jeffcoat's family ancestral farm. Jeffcoat's official date to vacate the Huss House is at the end of March.
His decision to retire and leave in such a rush shocked many members of the Millikin community. Some are asking: why did Jeffcoat leave so quickly? Why didn't he stay until the end of the semester?
"Even though President Jeffcoat was here for a short period of time, his impact on the student body will not be forgotten," Student Senate President Jacqui Rogers said. "He was so open to talking to the students and was bleeding the Big Blue Spirit. I will miss going into the office to work and hearing his stories from his baseball and higher education days. I wish him and Marie the best of luck with the next chapter in their lives and I hope they know they are always welcome back to visit anytime they wish."
"I feel like when you make a decision, you need to act on it," Jeffcoat said. "It's a prime time for recruiting so it seems to me that the earlier we start to recruit, the better. "
Jeffcoat is the third administrative official to announce their departure this year. Vice President of Academic Affairs Barry Pearson and Vice President of Enrollment Rich Dunsworth also have plans to leave their administrative posts after this semester. Jeffcoat agrees that this may be a little bit out of the norm, but assures those who might be a little concerned that every individual leaving are departing due to their own reasons.
For the next 90s days, Dunsworth will serve as interim president. He will work with the Board of Trustees to choose an acting president for 12-18 months while a national search for a new president will be conducted. Talks of a search committee are not in yet in process.
"Rich is a competent person," Jeffcoat said. "One of the really important aspects for the next few months will be the budgeting process. Rich is very savvy in budgeting, which is driven by enrollment. He heads up all of the activities within admissions. I think it's a good decision for the board to appoint him. I have every bit of confidence in him."
"I feel honored to serve as interim president, even if it's only for a short time," Dunsworth said. "This is an institution I have faithfully tried to serve for a very long time and to be asked to lead it, even just for 90 days, is a great responsibility that I wish to meet."
Jeffcoat started his career in higher education in 1975 as the Director of Financial Aid, philosophy instructor and athletics coach at Baker University in Baldwin City, Kan. Since then, his leadership and teaching roles have varied from large research institutions to small liberal arts colleges. Some include Florida State University, Western Kentucky University, University of Missouri Columbia, Purdue University and Texas Wesleyan University, where he served as the institution's president and CEO.
"I love to learn," he said. "As a teacher, you are constantly learning and reflecting. It seemed like a call. Some are called to business, some are called to the clergy; I was called to academics."
Before coming to Millikin, Jeffcoat retired from Texas Wesleyan's presidency to go back to teaching. While on sabbatical, he was contacted by two different search firms who were aware that he retired from Texas to return to a faculty position. Both searching institutions were acquiring about a presidency position. Jeffcoat said that after he read about Millikin's past accomplishments and future goals, he was intrigued. He felt like he could bring a lot to the presidency. He chose Millikin due to its academic reputation.
When it comes to shining moments, Jeffcoat says that all of his best moments had to do with students.
"One of my best moments was when I was eating lunch in the cafeteria by myself and a couple of students came up and asked if they could have lunch with me. I said certainly. Conversations started with the typical how are classes going, but by the end, I felt like we have gotten through the superficial level of conversation. We were talking in a constructive informal collegial way. That was really a break through moment. I'm the old guy; you're the young folks – is it okay as a student to talk to the authority figure? Those students felt comfortable to ask if they could have lunch with me. This was one of those eureka moments, I felt personally gratified. Since then, hundreds of students have felt comfortable to approach me and join me for lunch."
Throughout Jeffcoat's presidency, faculty and students witnessed an increase in enrollment, discount rates on tuition decreased and the tuition didn't raise all within the same year. This is what Jeffcoat says to be his biggest accomplishment as president.
"Millikin is not immune to the escalating prices of higher education impacting on families. It's not immune to the economy," he said. "Most who come to Millikin are from outside of Decatur. The biggest thing I hope to leave the university with it the ability to see challenges squarely. Try to base all decision making on realistic understandings of forces that impact Millikin. I think to some degree we've done that."
In the future, Jeffcoat hopes enrollment will continue to grow, and he would like to see Millikin as a national leader in performance learning.
"If Millikin can hold down costs and be recognized nationally for academic excellence, then it will have a strong future," he said.
Jeffcoat encourages students and faculty to stay in touch with him. Either by asking him to be a reference, or just to say hello, you may contact him at [email protected]