Pet Spotlight: Kijo the Energetic Mutt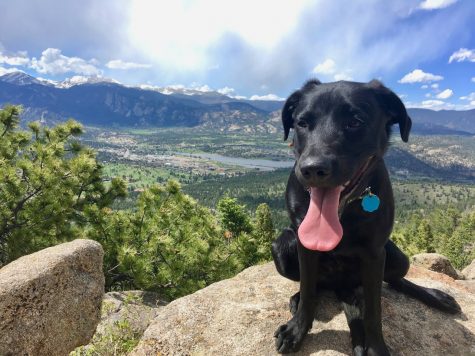 At the end of every workday, Millikin's Director of Bands, Dr. Corey Seapy, would always have his three-year-old mutt of endless energy Kijo.
When Dr. Seapy was living in Boston with his wife, most of the apartments didn't welcome dogs. As soon as they moved to Kansas City, Missouri, the couple had two goals in mind: have Dr. Seapy finish his doctorate and find a dog-friendly apartment. Luckily, they were able to do both. They adopted Kijo when he was ten or eleven weeks old.  
"We both grew up with dogs, and we love them," Dr. Seapy said. "And we were excited about getting one of our own."
Kijo is a mixed breed. He is part Labrador Retriever, part Golden Retriever, part Dalmatian, part Pit Bull, part Shar Pei, and part any other hound dog your imagination could come up with. When added up, Kijo is 100 percent bundle of playfulness.
Kijo loves anything that has to do with energy. He loves running, swimming, fetch, tag, and even a good game of keep-away. He'll take a tennis ball and let you chase him around until he gets tired.
"Once he gets tired of doing all his activities, he'll crawl right onto your lap: all 60 pounds of him," Dr. Seapy said. "He'll lie down and fall asleep."
Kijo also loves enjoying treats of any kind. Right now, he enjoys having Greenies: a dog treat that also helps clean his teeth. Dr. Seapy tries to give Kijo a Greenie treat before going to work.
Kijo loves the simple things in life. He and the rest of his family are very low maintenance when it comes to pampering. Besides the occasional bath and brush, Kijo loves lying on his back and getting a good belly scratch.
Kijo gets along well with other dogs. Older dogs occasionally find his endless energy annoying, but it doesn't deter him from making friends.  
Kijo also enjoys having company, but perhaps a little too much. Sometimes when new people come over to Dr. Seapy's house, or even when old friends come over, Kijo pees a little on the floor. He does this without meaning to. According to Dr. Seapy's research, it's a neurological phenomenon, meaning it's his nerves that make him do it. Otherwise, he is house-trained.
Kijo is very well-behaved. In the past, Dr. Seapy would ride his bike or send friends over to his apartment to let Kijo out for a bathroom break. Nowadays, Kijo spends between four to six hours in the house alone. He sleeps on the couch or his bed and runs around the house. He always gets excited when Dr. Seapy and his wife get home.
Kijo also goes on trips with the Seapys. Since they haven't lived in Decatur for very long, they don't have a regular dog sitter yet. However, they are interested in looking for one once they have bigger trips in mind.
Kijo has not visited Millikin's campus as of this article's writing. Dr. Seapy wouldn't mind bringing his dog to campus. It would have to be a weekend event, since bringing him on a school day would be very distracting. Plus, he wouldn't mind if Millikin had a Bring Your Dog to Work Day.     
As mentioned before, Kijo enjoys meeting new people. If you see him around, feel free to come up and say hi. He'll love getting his ears scratched, romp around, and say hello back.
"The coolest thing about living with other people and animals is that you bring so much joy to each other," Dr. Seapy said. "If you see Kijo, just come up and say hi. He will love every moment of it."