Dr. Guy Forbes: A Teacher For the Students
Singing and teaching from the heart for 24 years, Dr. Forbes's impact on Millikin goes deep. It will continue to do so for a long time to come, especially after his departure from the School of Music at the end of the 2018/19 school year.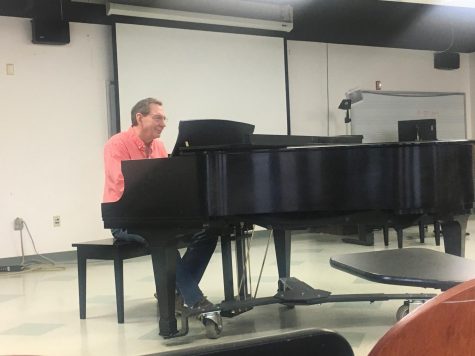 Originally Published in April 2019
Harmonious melodies burst out the door of room 110 of the Perkinson Music Center (PMC), just ten minutes before the clock strikes noon. Walking in, a few early-bird students make sure there are chairs for each section (for some reason, the Alto 1's always need more chairs). The Tenors and a few Bases haven't shown up just yet. The clock reads 11:54: plenty of time. At the piano there may be a student or two on some days (depends on who's teaching "Chopsticks"), but today it's the director himself, Dr. Guy Forbes.
Dr. Forbes has been teaching music courses at Millikin for close to twenty-four years. For Music Education students, he's taught Secondary Methods (teaching music to high school-aged students) and Conducting. He's been choir director for Lab Choir, Collegiate Chorale (Collegiate for short), and Tudor Voices. He also composes music in his spare time, twelve compositions have been published, and his ensembles use a few of them frequently in their lineups.
By students, Dr. Forbes has been described as open, talented, dedicated, funny, wise, caring, passionate, a bit unorganized, understanding, loving, and even kooky. Above all else, he's known as a man who fosters great relationships with his students in whatever class he happens to teach. 
For Dr. Forbes, it's multi-faceted. On one hand, it's important for teachers to be knowledgeable and to improve their skills in everything from vocal technique to musical terminology. On the other hand, it's also important
 "There's something special about choral music in a sense that you can't work on it by yourself," Dr. Forbes said. "Of course, now with YouTube, you can sing twelve parts by yourself, but it's not the same as having the community do it."
Dr. Forbes is a man of many rules. When it comes to sight-reading music, he'll remind his students quite a few times of three important points: 1) Don't sing WIMPY, 2) Don't stop, and 3) Keep going. His philosophy also includes phrases such as, "Sing from the heart," and "Know what you know. Know what you don't know. Know what you believe." Most importantly, he's known for two important pieces that make his rule-based philosophy whole: engage the students and make music.
Through his rules he tells students on a regular basis, Dr. Forbes has proven he is experienced in his field and a go-to person, especially for his students. If there's anything students need to know when taking a class with him, it's that he will always be there when you need him. Collegiate Vice President Alyssa Weichel can attest to this fact.
"Not that the other teachers don't care, but Forbes is on a whole other level [in interacting with students]," Weichel said. "If you ever walked by his office, it's always packed with students, and he'll listen to what you have to say." 
Indeed when Dr. Forbes's office door is open, there's a good chance you'll see him and a bunch of students crowding around him. Time and again, laughter erupts from that room. He may be telling a hilarious story, one of many that had made his teaching all the more special. If you ran the class, didn't like kids, or got allergic to hairspray, you'll be forever immortalized in one of Dr. Forbes's hilarious anecdotes.
During my interview with him, Dr. Forbes told me a hilarious incident with the Florida high school's intercom system. He and his choir were in the middle of making a beautiful phrase when an announcement comes on the system saying, "We're testing the intercom system to make sure this is working. If you can't hear this message, please send a student down to the office."
He didn't know what came over him, but he took a pair of scissors and cut the wires to the intercom system.
"Now we didn't have a working intercom system in that room after that," Dr. Forbes said. "But then again, I didn't have rehearsals interrupted by inane questions that are stupid in the first place."      
One pack of Dr. Forbes anecdotes was dedicated to one of his students when he was teaching in Florida. Her name was Tracy, and she was just one of four/five of the "mean-girl" popular kids running the choir. If she wanted something, she got it.
Years after she graduated, Dr. Forbes later learned she and her posse grew up to be music educators, and in turn, he realized that he made an impact on her life in a way he never thought before.
The Tracy stories are just one of many tales he'll tell his students. With these tales are parts of what he's learned that he's passing on to his students in hopes they would learn what he wants them to get out of rehearsal.    
In fact, one could argue Dr. Forbes teaching is roughly 30% storytelling and 30% learning actual technique (the other 40% is critiquing the performance while 10% is dedicated to vocal warm-ups). He has told so many of them so often in his music classes and ensembles that students can barely keep track, but the stories get those students laughing every time.
Often the story will come with a vocal or teaching technique. For a few students, the stories are easier to remember than the techniques themselves. If they can remember how the technique helped Dr. Forbes in teaching, it could help the students remember what to do if anything like that happens to them when they go to their teaching careers. In turn, those techniques can help improve a student's performance as well as help them learn about the music they're performing.
When it comes to critiquing in Dr. Forbes's teaching, he's the kind of professor who uses good comments sparingly. He has even admitted this in Collegiate rehearsals on one or two occasions. He does so because he has a vision to go with the piece the choir is working on and to have students perform their best while executing that vision.
He won't be afraid to point out what needs work, yet he won't forget to point out what's being done right.
For Lab Choir, it's a meeting between the teachers to talk about what people did right and wrong. For Collegiate, it could be as simple as shouting, "YES!" when the choir sings a certain vowel to his liking. He may not always say how well the group is doing, but he's always honest and willing to relay his experiences in how he learned from his own mistakes.                   
Dr. Forbes has proven himself to be a guiding beacon for students who have needed it most, such as Collegiate's president Beth Heisz. Freshman year, she came in as a shy woman who had little to no faith in herself. In the two and a half years of working closely with him, not only has her philosophy in teaching changed, but she also built up some much-needed confidence.
"Music Ed is difficult. There are times where you feel you're not good enough or not know what you're doing in general, but Dr. Forbes has always been there for me and for all of us," Heisz said. "He's my go-to person when there's something I don't know and need help with. "     
There's no doubt, especially for his students, that what Dr. Forbes will be remembered for is how much he has meant to the students lucky enough to have him as a professor. "I want to be as open and encouraging as he is and just be there as a guiding force for my students," sophomore Music Ed student Shannon Miller says.
Walking into Dr. Forbes's office, there are a few things you can find hanging on his wall and cubicle: a few awards and a bunch of pictures of his family and his Music Ed family he's built up over the years. The awards are placed farther away from his computer, and his students are closer to where he works, so he can see them more often every day.
Dr. Forbes has been so impactful for Millikin students, and what's more, he loves his students as much as they love him back.
 "I like an opportunity to change [students'] lives through teaching and helping them grow and seeing them come into their own," Dr. Forbes said.
For junior Vocal Music Ed major Nikki Wiltjer, she was just one of those students. Starting out, she wasn't a Vocal Music Ed major at all, but that all changed during her sophomore year during Collegiate's 2018 winter tour.
Every year when Collegiate goes on tour over winter break, Dr. Forbes always includes a trip to the Kalahari, near Wisconsin Dells. There, all sorts of magical things can happen, and what happened next for Wiltjer, there was no exception.
"I knew [Music Ed Teacher] was where God was calling me to be, but I needed someone to push me there, and Dr. Forbes was that person," Wiltjer said.
After a few conversations between her and Dr. Forbes, Wiltjer decided to take a step into the Music Ed field. She hasn't looked back since. From time to time, he would constantly ask her if she's enjoying what she's doing in a sarcastic fashion, because he knows how much she enjoys it.
For Junior Vocal Music Ed major Christian Jackson, meeting Dr. Forbes was the experience of a lifetime. Throughout high school, he had described himself as a choir geek/nerd. Dr. Forbes compositions were part of the pieces his choir covered, so to meet him was a big deal. As luck would have it, after his audition with the School of Music, he got his chance to meet his hero for his exit interview.
Since then, Jackson had been growing and changing under Dr. Forbes's direction. He even discovered some things to improve upon. For instance, while he excels in engaging with students as a group, when it comes to one-on-one interaction with them, he falls a little flat. However, Jackson thrives on Dr. Forbes's approval, and thus, he'll take his advice to heart.
"If there's anything Dr. Forbes has taught me it's to engage with the students individually," Jackson said.
"It is my honor that I present you this gift for serving Millikin's choirs from 1995-2019."
Dr. Brad Holmes presented Dr. Forbes a surprise during Collegiate's spring concert on April 28, 2019, much to the delight of everyone in the choir and audience: a plaque commemorating nearly 24 years of service to the school of music. Before the choir began singing, the audience was giving Dr. Forbes a standing ovation.    
Every Collegiate rehearsal was leading up to that moment. In the two weeks away from the spring concert was one day closer to the inevitable. At the end of the Spring 2019 semester, Dr. Forbes will be retiring and moving to Virginia with his wife and family.
When he leaves Millikin, there are a lot of students who will be sad to see him go. Though his retirement is well-deserved, it doesn't make his departure all the less sad. Even Dr. Forbes was struggling to keep holding back tears when conducting "the Irish Blessing." He will be dearly missed, and he'll remain in students' hearts forever.