Who is Adam Rippon and Why Should We Care?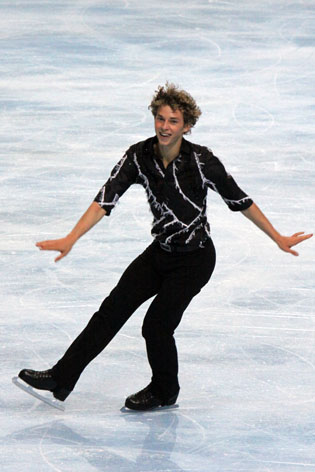 Adam Rippon is a name that will go down not only in LGBT history, but also in history for America and the Olympics. Announced in early January, Adam Rippon became the first openly gay American man to qualify for the Winter Olympics. According to Elite Daily, Rippon, 28, will represent the United States in figure skating along with Nathan Chen, 18, and Vincent Zhou, 17–all of whom will be first-time Olympians. As many websites, including Elite Daily, have noted, it has been 82 years since an American man has made his first appearance in the Olympics at the age of 28.
Rippon is receiving a lot of publicity in the last few weeks for a couple of reasons. To start off with, he is making history by being openly gay and the age he is entering the Olympics for the first time. Secondly, his interview with USA Today and twitter account has caused some controversy with the Vice President, Mike Pence.
Rippon told USA Today, "that he would prefer not to meet Pence during the traditional meet-and-greet between the official delegation." Rippon then goes on to say, "I do not think he (Pence) has a real concept of reality. To stand by some of the things that Donald Trump has said and for Mike Pence to say he is a devout Christian man is completely contradictory. If he is okay with what is being said about people and Americans and foreigners and about different countries, I think he should really go to church."
After the story was published, Pence's press secretary Alyssa Farah emailed a statement to USA Today.
"The vice president is proud to lead the U.S. delegation to the Olympics and support America's incredible athletes. This accusation is totally false and has no basis in fact. Despite these misinformed claims, the vice president will be enthusiastically supporting all the U.S. athletes competing next month in Pyeongchang." Farah said in an email.
Rippon turned to Twitter to reply to the statement issued by Pence's press secretary. Adam tweeted, "The VP's press secretary issued a statement that what I said to @usatodaysports has 'no basis in fact' and that my 'accusations are totally false'. Luckily, I brought #TheReceipts" and added an emoji with a frog and tea.
He then went on to tweet, "I will let the VP's words speak for themselves. You can very easily find these quotes and more online. His position and intentions are clear." The picture attached to the tweet included three different quotes from Vice President Pence. Statements made by the Vice President include: "Congress should oppose any effort to put gay and lesbian relationships on an equal legal status with heterosexual marriage;" "Congress should oppose any effort to recognize homosexuals as a 'discrete and insular minority' entitled to the protection of anti-discrimination laws similar to those extended to women and ethnic minorities;" "Congress should support the reauthorization of the Ryan White Care Act only after completion of an audit to ensure that federal dollars were no longer being given to organizations that celebrate and encourage the types of behaviors that facilitate the spreading of the HIV virus;" and, "Resources should be directed toward those institutions which provide assistance to those seeking to change their sexual behavior."
Rippon also tweeted, "I personally have nothing to say to Mike Pence. Given the chance to talk after the Olympics, I would want to bring with me people whose lives have been hurt by legislation he has championed." Lastly, he tweets, "The VP has had little effect on my own life. I did not speak up for myself, I spoke because it is important to give a voice to those who feel they do not have one."
Adam Rippon is a prime example of using a platform when given one. He has not only caused conversations around the United States, but also around the world.
Millikin students were asked what they do while the Olympics are on. All students asked said that they watch at least one event. Most students said that the opening ceremony is their favorite part of the Olympics, and they always watch it. Others had favorite events such as gymnastics and prefer to watch it other the opening ceremony. Some students said they just put it on the background and watch it when they are bored.