Netflix Review: F is For Family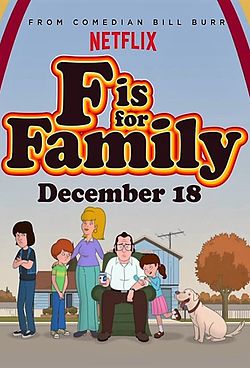 One of Netflix's hidden gems is the 2015 original animated series F is For Family. Released in December 2015, the show is currently finished with its first season consisting of six episodes, and according to the show's co- creator Bill Burr, it will be getting a second season coming to Netflix sometime soon.
The series, set in the early 1970s, follows Frank Murphy (voiced by show co-creator Bill Burr), a Korean-War veteran working as a manager at an airport. The show also follows his wife Sue (voiced by Laura Dern), a homemaker, his rebellious son Kevin (voiced by Justin Long), his daughter Maureen (voiced by Debi Derryberry), and his younger son Bill (voiced by Haley Reinhart). There are also several recurring characters over the course of the series. Over the course of the six episodes, there is an overarching storyline with each episode picking up where the previous episode ended. This style of storytelling makes it easier to binge watch the series in one sitting with each episode flowing into each other, and it works better for the viewer to keep concentrated on the plot of the series. Over the course of the episodes, things start one way and snowball into other events so it is a show that you have to watch in order to understand the plot, as well as the episodes different subplots that usually stay confined to one episode.
The show's animation is unique to the series which doesn't match up with other series the way shows such as American Dad and Family Guy do. This is mainly in part to creators Vince Vaughn and Bill Burr not working on animated shows, unlike Seth MacFarlane or Matt Groening. With this unique style of animation, it can be easier to identify it among other shows.
As far as humor, the show takes a less politically correct approach, due to the 1970s setting (shows that came out in the 1970s could get away with more back then than most shows on television today could) and the writing of Bill Burr. Like all of Netflix's original programming, due to being outside of FCC regulations, there aren't any filters on content on F is for Family, so the vulgar humor is allowed to stay in the show.
One of the drawbacks to the series is, because the first season lasts only six 30 minute long episodes, the entire season can be watched in about 3 hours. With this, it isn't as satisfying to finish and it leaves the viewer wanting more. And with the show's second season being worked on, it will still be a while before we get the second season released. However, at the same time, the length of the episodes and the amount of episodes make it easier to watch all at once. So if you are looking for a show to watch in an afternoon, it is a good way to kill a couple of hours.
So what is the final verdict on F is for Family? Well it is clearly a show on Netflix that is criminally underrated and unlike other Netflix shows like Orange is the New Black or Stranger Things, this one is not in the spotlight as much but deserves to be. It is highly recommendable to fans of more adult cartoons such as Family Guy or The Simpsons, as well as anyone who is a fan of comedian Bill Burr. While the show may not have as many episodes as other programming on Netflix, it is a good series to binge in an afternoon.