Professor Spotlight: Ngozi Onuora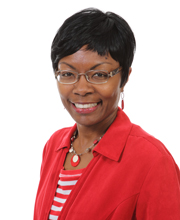 By  Ngozi Onuora, a professor at Millikin who calls Decatur her home, is most known for her position as Assistant Professor for the Department of Education. Being in her twelfth year at Millikin, Onuora is well known to the Millikin community, especially by her students in the education department.
"She [Onuora] is an excellent professor. She genuinely enjoys teaching; it's evident by her enthusiasm in class," Amanda Skopek, a sophomore Elementary Education major said. "She will go above and beyond to do things for her students, whether it's snacks in class or else. She is definitely an integral part of my education and I'm truly glad that she is one of my professors."
Onuora's love for teaching is evident in the appearance of her office located in Shilling 307. Rows upon rows of young adult and children's literature make up the interior, displaying one of her true passions: books.
She recently got her doctorate in curriculum and instruction at the University of Illinois in Champaign-Urbana. Her division there is language and literacy with a focus on children's literature.
"As you can see, I have always loved children's literature. And even as a classroom teacher, literature was a huge part of my teaching," Onuora says. "I want to [write a book]. That's one of my goals, I guess it's on my bucket list."
This desire and determination can be seen in all aspects of her life. Upon her graduation from high school, Onuora attended Richland Community College and then Illinois State University where she intended on majoring in Theatre. Discouraged from her major by more knowledgeable upperclassmen, Onuora switched to Junior High/Middle School Education with a specialization in mathematics and social studies.
However, her love for theatre remains a constant part of her life.
Onuora began integrating theatre into her classes, using it as a powerful method of instruction. However, once she began her master's program, she had to turn to other activities to bide her time. One of these activities was videography.
"Here's the thing for me with theatre: I love theatre, but I would find that when I got finished with a theatrical production and its run was over, I would be sad," Onuora says. "And there would be no ways to hold the memories of that. Then I thought, 'that's why I love movies!' Movies hold the memories of the performance forever."
Amateur movies and other sorts of film became a passion for Onuora, leading her to enter a film contest held by Good Morning America one February about love stories. While she did not win, the certificate she received was enough to spark a larger interest.
"My love for doing that kind of thing is what kind of brought the idea to say, 'I'd like to do an Honors Seminar on documentary filming,'" says Onuora. "I created the class. And the thing about it is, I am always learning."
Onuora teaches a variety of courses at Millikin. Among other things, she is the professor of the IN206 Creating Documentary Honors Seminar. The class, designed and taught by Onuora herself in 2008, is in its second semester being hosted.
A lack of time combined with a love of theatre and teaching blossomed into a career unimaginable. Truly, they helped Onuora become the professor that the students and faculty at Millikin know today.