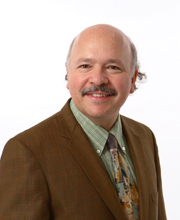 Dr. Eduardo Cabrera can be found roaming the halls of Shilling, a jump in his step, a smile on his face, and a student always at his side. He approaches each class with insurmountable confidence and excitement that his students can feel from the moment he walks into the classroom.  Cabrera takes pride in being the chair of the Modern Languages program here at Millikin and strives to teach his students not only the Spanish language itself, but also to aid them in developing an appreciation for the Spanish culture, literature, and fine arts.
Cabrera was born in Buenos Aires, Argentina. He received his B.A. in psychology, a Masters in psychology, and his Ph.D. from UC Irvine. Cabrera has been teaching at Millikin since 2004, and was hired as the chair for the Department of Modern Languages.
"My favorite part of teaching here is the close relationships between students and teachers, and also among faculty from different departments. Working in a small institution it is easier to make friends with faculty from other disciplines," Cabrera said.
Cabrera comes from a long line of teachers, his mother a teacher and principal in Argentina and his brother a high school math teacher. Cabrera has always been interested in dealing with people. Before teaching, his first career in Argentina was in sociology and his second career in psychology in California.
Story continues below advertisement
"I'm in love with dealing with people which is why I'm also involved in human rights affairs. In all my classes I try to put emphasis on the poor and try to encourage my students to feel solidarity with the poor," Cabrera said when commenting on why he decided to teach.
Cabrera is also very active in the Spanish community and the Spanish Academic community. In 2011 Cabrera was made the chief reader for the AP Spanish literature and culture program. He has also published two Spanish books, one of which is a critical book on theater, the other, "Teatro Breve para clase y el scenario," which contains seven one-act plays written by Cabrera and used all around the world in high schools and universities, such as Purdue and Carnegie Mellon. Cabrera uses Skype to collaborate with these institutions and teach lessons to these classes.
Cabrera also hosts a radio show in Spanish, Español en Acción, once a week at eight p.m. on FM 89.5. Cabrera covers interviews with community members, faculty and students here at Millikin, as well as news from Latin America and Spain and music. The radio show spans across the world and has even recruited students to Millikin from other countries.
Many students do not know that Cabrera has a passion for chess and made a living by teaching chess to universities and high schools for ten years in Buenos Aires, Argentina and ran a national chess radio show. While living in Hollywood, Calif., Cabrera owned and taught an acting studio for eight years.
Cabrera believes the best advice to Millikin students is to "follow the Millikin Mission and try to become a global citizen, and by doing so you will be better equipped to find a good job and to be happier. So the first thing they have to do is to travel outside the U.S. to learn about other cultures."