The Kenya experience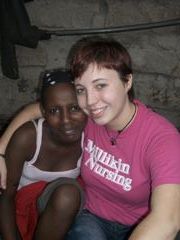 Stephanie Strick
April 15, 2013
Autumn Watkins, a Millikin University senior nursing student, spent her winter break working at St. Patrick Health Care Centre and By Grace Disabled and Orphans Centre in Kenya.
"Autumn's always been interested in stuff like this since being here," said Dr. Karla Luxner, associate professor in the nursing department.
Watkins first indicated she wanted to do work in other countries her sophomore year. Her time in Kenya started on Dec. 26 and lasted until Jan. 7. Her trip to Kenya was about $3,000, but thanks to the International Fellows and Adrian Koehler, a Millikin University nursing alumni who donated his own money, Watkins received $2,500 that covered most of her travel expenses.
Watkins was afraid that things would not come together in time, but with three days before she was to leave, the pieces fell into place and she received her passport in the mail. Out of the two weeks spent there, she spent five days at the orphanage and the rest at the clinic. The three story orphanage houses over 200 children. At one point, Watkins tried to explain the large units and number of patients in American hospitals, "but it was difficult since the people there only knew the small clinics where there is a staff of five health care professionals at a time."
Watkins said it all started when she met her friend Betty, who moved from Bomet, Kenya to Springfield, Ill. to get her education in high school. She had mentioned to Watkins about a plan she had to start a clinic in Bomet and asked if she would help her. They began planning and decided to help build up a clinic that is currently open, but can hardly do any procedures because of its lack of equipment and clean facility. Watkins and Betty currently have a possible church sponsorship and fundraisers going on to raise funds for the clinic.
Dr. Jo Carter, associate professor in the nursing department, said, "Global help is a university value and that students should choose to travel. Nursing terms are universal and by traveling to other countries helps to raises awareness on how everything affects everyone."
Watkins has also done a summer internship that Charlotte Bivens, an instructor in the nursing department and Watkins' advisor, does with Decatur Memorial Hospital (DMH) and St. Mary's Hospital.
Watkins has found her passion in the emergency room and has accepted a position at DMH as a float nurse on the intensive care, cardiovascular and emergency units. She says she might not have found her passion of critical care and would not have made the crucial connections without the DMH faculty members that helped to get the job.
"It is hard to survive the nursing program, but if it wasn't hard I would not be as prepared for the real world as the Register Nurse (RN) that I am," she said.
Autumn hopes to move to Kenya or go at least once a year in order to help out at the clinic.
Watkins wrote about her future plans with the clinic in an application for the Audrey Crutchfield Scholarship to help with tuition. Dr. Deborah Slayton, dean of the school of nursing, read her application and suggested she apply for the Cornerstone Scholarship and travel to Kenya over winter break. Since the clinic in Bomet is not well established, she got in touch with Professor Pixie Fennessey, who is involved with the orphanage.
When she first arrived, she was surprised at how natural everything felt. At the orphanage, one little girl clung to her. The girl became protective when others would want to play with her and it made Watkins realize "how the children felt that they had no one of their own; to grow up surrounded by 200 children rather than a parent that you could go to if you were upset."
At the clinic, Watkins was first only allowed to observe. As she got more comfortable with how things were done, she realized how similar it was to American health care and she was able to give injections, start IVs and deliver babies. She said the clinic was "an incredible opportunity for her along with the orphanage."