Going Vegan: Local versus imported food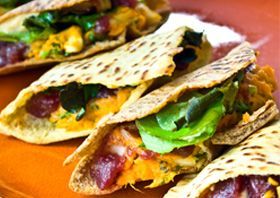 Olivia Heisner
April 4, 2013
Choosing a vegetarian or vegan diet is not the only way we affect the health of the planet with our diets. What I'd like to focus on in this week's article is local versus imported food choices. According to the peer-reviewed article "The Local Industrial Complex? Questioning the Link Between Local Foods and Energy Use," in recent years, on average, an item of produce travels 1,500 miles to reach the consumer. This amount has increased 25percent since 1980. The more miles our food takes to reach us the more fossil fuels are burned, the more pollution is put into the atmosphere, and the more global warming takes a toll.
Buying imported food not only affects the environment but also has dire effects on the people growing our food. According to Jules Pretty in the scholarly article "Some Benefits and Drawbacks of Local Food Systems," fifty years ago, 45-50 percent of the profits made from food sales went directly to the farmer. Now, in the U.S., only 3.5 percent goes to the farmer if it is conventionally grown and sold.
You can personally support local food systems in Decatur by shopping at smaller, locally owned grocery stores such as Mari-Mann, Ralph's (right across from the Woods Apartments), Country Nutrition and at farmer's markets when the weather gets warmer (check out Richland Farms, DIGG, and Golden Oldies Farms).
However, be wary. Have a conversation with the farmer about their growing practices and farm before buying at a farmer's market. Some vendors have been known to buy imported produce wholesale and re-sell it at farmer's markets.
If you are interested in these kinds of food issues join Millikin's club "Society of Ethical Eaters" on Facebook.
Without further adieu, here is a dish that was inspired by a local restaurant. I present to you my version of Donnie's Homespun Pizza's Vegan Sweet Potato Wrap.
Cooking time: 30 minutes or less.
Ingredients:
2 large sweet potatoes
1.5 oz. of spinach
1/8 c. water
1 can of garbanzo beans
½ t. chili Powder
½ t. cumin
1/8 t. cayenne pepper
½ t. salt
Instructions:
1.    Fill a large pot (Dutch oven size) about half full with water. Add a dash of salt and bring to a boil.
2.    Wash sweet potatoes (and peel if not organic) and cut into bite size pieces ½ in. thick. Place gently into the boiling water.
3.    Cover and cook for 15 minutes or until tender and fully cooked.
4.    Place spinach in a pan with 1/8 c. water over low-medium heat. Heat until leaves have just wilted and are slightly brighter green. Remove from heat.
5.    Once sweet potatoes are done, mash them and add the spinach and remaining ingredients to the mash.
6.    Place over a store-bought wheat pita bread or tortilla, brown rice, quinoa, or whole-wheat couscous. Adjust spiciness (with cayenne pepper) and salt to taste.
Enjoy.
Note: Buy local and/or organic if possible.