Caleb's Weekly Playlist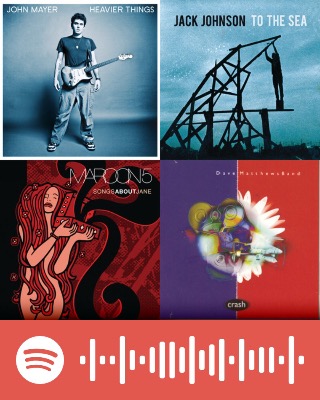 May is halfway over and June happens to be only a couple weeks away. With school wrapping up, summer is beginning and every student has been eagerly packing their rooms up and vying for the minute that declares their freedom for the next three months or so. The summer is a wonderful time to let loose, drive around, and roll the windows down. "June" is specifically for those summer days where the windows are down and the hands are up embracing the glorious, comfortable weather that is amongst the area. Relax and just drive to this playlist that's full of summer jams and the possibility of rocking out.
"Clarity" – John Mayer: A true classic from Mayer's repertoire, "Clarity" offers up charismatic flavors of clarity, beauty, and pure rock and roll. Mayer has always and will continue to do amaze listeners with his raw vocals, insane intelligence, and miraculous grooves. "Clarity" establishes a sense of lucidity whilst fusing in aspects of perfectly placed horn lines, a rocking groove, and lyrics of great truth.
"To The Sea" – Jack Johnson: Quite possibly the King of sunshine and beachy folk, Jack Johnson has stayed his course with his much beloved laid back grooves. "To The Sea" maintains those forever appreciated Johnson vibes while offering up harmonious keyboard riffs, an eclectic electric guitar solo, and mesmerizing lyrics.
"#41" – Dave Matthews Band: These guys always have the best summer day, roll down the window tunes and continue to do so with this repetitive yet abundant jam. The Dave Matthews Band have been around for more than twenty-five years, but haven't lost their touch. "#41" contains excess amounts of grooves, glorious horn lines, and some of the most random yet meaningful and truly hard-hitting lyrics ever sung all while invoking urges to graze an arm outside the car and soak in the gloriousness and true beauty of the world around.
"Shiver" – Maroon 5: When it comes to summer, the vibes change from sunshine folk to downright jams to Maroon 5-esque blues rock fused with bits of pop and soul. Maroon 5's sound today is much different and in nowhere of comparison to the sound that started it all. "Shiver" consists of fluctuations of tempo and groove, flourishes in vocals, and some of the catchiest lyrics of all time.
"I Need Your Love" – Albin Lee Meldau: Hailing from Sweden, Albin Lee Meldau released his English debut record in 2018 and took the indie/alternative world by storm with his eccentric harmonies, attractive vocals, and honest, truth-telling lyrics. "I Need Your Love" continues those trends with the additions of an infectious groove, wonderfully timed fades of the vocals and instrumentation, and the continuation of raw, catchy lyrics. Be ready to be singing the chorus by day's end.
"MOONGLOW CAROLINA" – The Way Down Wanderers: Throughout the summer, switches of genres and feels are sometimes needed. Folk is a great genre to switch to and The Way Down Wanderers are a wonderful example. The Wanderers have established themselves as local Peoria, IL heroes and native Illinoisan folk stars. "MOONGLOW CAROLINA" offers up many different grooves compared to the other tunes on the playlist, but continues that trend of feel-good vibes with the mixture of hints of bluegrass, a sense of togetherness, and wonderfully penned lyrics.
"How Far We've Come" – Matchbox Twenty: One of the best alternative rock bands from the early 2000s, Matchbox Twenty continues to periodically jam out from time to time. Their incredible vocals led by lead singer Rob Thomas helps establish their rock sound with tastes of country, folk, and pop. "How Far We've Come" provides senses of looking back, incredibly well-timed fluctuations in rhythm and mood, and beautifully yet simplistic lyrics that urge one to look back at just how far they have come.
"An Evening Dreaming" – Ruen Brothers: This duo of brothers from the land of England have found themselves to be quite the group of old-timey blues and rock and roll with hints of country and folk. "An Evening Dreaming" is the perfect way to end the evening off with this well-written and ironic title, gorgeous melodies, and vocals that leave the listener begging to stop the car and run about the interstate no cares in mind.