Caleb's Weekly Playlist: Gal Power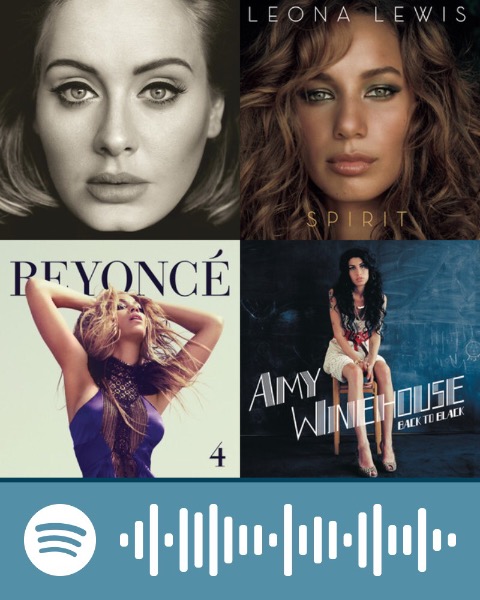 This week's playlist is soaring to new heights and features some of the top and greatest former and current female vocalists to ever grace the stage and hold a microphone in their hands. Expect to be bopping all week long with random key changes, groovy vibes, and vocals that melt one's heart with a single note. Be ready to be blown away by these stunning voices that make one want to fall in love, dance, and raise one's confidence.
With contrasting styles, this playlist garners everyone's attention and lures them with powerhouse vocals that are not easy to miss.
"Bleeding Love" – Leona Lewis: Coming out of nowhere, Leona Lewis arrived to the U.S. and showed every American just how not only beautiful, but incredible she was and continues to be to this day. "Bleeding Love" happened to be about the only hit that really amounted to anything for Lewis in the U.S., but that didn't stop the country or the world to fall in love with this vocal goddess. "Bleeding Love" features gorgeous vocal runs, catchy lyrics, and a hook that will always be remembered.

"Love On Top" – Beyonce: The Queen herself brings this playlist to a whole other level. "Love On Top" creates this atmosphere of ravishing texture, exquisite instrumental tracking, and heavenly vocals that only make the abrupt key changes near the end of the tune even better. Beyonce shows her skill and range with this Top 40 bop that should be played every single day.

"Send My Love (To Your New Lover) – Adele: Off her most recent record, "Send My Love" captures Adele's graceful tone and ability to compose and establish this ambiance of resplendence and awe. The listener becomes attracted to the lovely vocals that emerge from the vocals suddenly and the chorus that pleads for them to stand up and dance along. The hypnotic groove generates this sense of pride by being able to move on and grow up. Adele always finds herself a step ahead of just about everyone and continues to do so with this hit.

"You Know I'm No Good" – Amy Winehouse: The forever adorable and dearly missed Amy Winehouse will never be forgotten and her music only makes one wish she was still here to this day. "You Know I'm No Good" incorporates that wonderful soul feel and Amy's jazzy vocals that had the ability to steal the crowd's hearts in a heartbeat to help fuse and piece this tune together. With a constant groove and lyrics that resonate through one's ears, this tune charms the listener with it's sleek and mellow feel that seems to never leave the brain.

"My Love Is Your Love" – Whitney Houston: Oh yeah, there isn't any way this playlist couldn't feature some Whitney Houston. "My Love Is Your Love" instantly shows off a R&B feel with soulful and pop-esque vocals that sends chills down the listener's back. Houston demonstrates her talent to the listener with simplistic and unsophisticated vocals and lyrics that are filled with gold.

"Confident" – Demi Lovato: There isn't really an easier way to get into this song without just doing it. Yes, Demi Lovato is on this playlist and she deserves it. Especially with "Confidence," Lovato showcases her capability to woo a listener and not being afraid to touch on her past and recent struggles in life and tackling them with a little bit of confidence. Her vocals stun the listener with how intense the chorus become in such a hurry and with lyrics being spat out of the speakers and right into one's ears.

"Give Me One Reason" – Tracy Chapman: It doesn't get much better than Tracy Chapman and look at the other tunes on the playlist because that's a bold statement. "Give Me One Reason" possesses this feeling of pure soul mixed with that good old light rock and a hint of pop that barely pops out of the speaker. Chapman's vocals guide the listener in their pursuit to correctly jam out to this classic, groovy, and mesmeric tune that proves just how superb Chapman is and even shows the different worlds that her vocals can lead one to.

"Dancin' In Circles" – Lady Gaga: From her record that really seems stripped down compared to her other albums, Lady Gaga turns up the heat with "Dancin' In Circles" by enamoring the listener with her infectious vocals and grooves that seem to never get old. Along with appealing lyrics and an extremely contagious vibe, "Dancin' In Circles" reveals to the listener it's creativeness and form that exhibits Lady Gaga's raw vocals to every listener.

"If I Ain't Got You" – Alicia Keys: Another take on soul and pop with a hint of R&B, Alicia Keys' "If I Ain't Got You" casually approaches the listener and suddenly appears and enters into the brain without even asking. Keys' scratchy yet so silky smooth vocals assembles this easy-going, small set up tune that does the job and ends up leaving the listener wanting and begging for more.

"Rise Up" – Andra Day: Not much to say rather than let Andra Day's marvelous and astounding vocals do the trick and control one's attention. Chills will start to trickle down one's back and find themselves crawling down the arms and legs of the listener as well. Featuring celestial vocals, "Rise Up" contains momentous lyrics that enter one's brain and will never be shown a way out as the positivity and assurance repeated by Day becomes instilled into the listener and will soon be incorporated into their everyday lives.
Leave a Comment