Decatur's live music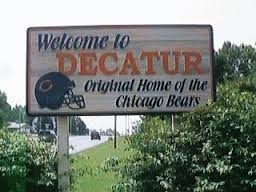 Caitlin Husted, Editor in Chief
September 21, 2015
It's Friday night, classes are done, and all you want to do is go out with some friends, eat some food and listen to some great, local music. For those of us who aren't native to Decatur, the problem lies in finding what places have live music.
Thankfully, Decatur has a few places to go out and enjoy food and live music.
The most obvious place with live music is Lock Stock & Barrel, located right off Millikin's campus. Known for their taco bar and karaoke Wednesday nights, LSB also has some live music attractions. For the month of September, LSB had five different shows for people interested in getting out of their houses and swinging their hips to the sounds of the locals. On Sept. 11 Chris Bradley and Jen Hood took the stage from 6-9 p.m., while SugarTree took over Sept. 12 from 9 p.m. to 1 a.m. Plan B performed the next week on Sept. 18 from 6-8 p.m. LSB finishes off September with Billy Galt on Sept. 25 from 6-9 p.m. and Trent Ginger on Sept. 26 from 9 p.m. until close. In addition to these names, they have karaoke every Wednesday along with a patio performance by Billy Galt.
Probably the second most popular place for live music in Decatur is Donnie's Homespun Pizza. On Saturday Oct. 3 alternative folk music listeners should make an appearance to see Jessica Jolly Band. With no cover charge, doors open at 9 p.m. and the show begins at 10 p.m. Following this band is a performance by various artists on Saturday Oct. 17. At 10 p.m. is The Strange Remains, 11 p.m. is Onward Forward and at midnight is Vanilla Gorilla. The last show on Donnie's website is Black Wednesday with Matt Livasy on Wednesday Nov. 25 at 9:30 p.m.
While Donnie's and LSB are the two main places to hear live music, there are many others that have live music as well. Paco's Sol Bistro and St. Nicholas Grille have live music every Friday night.
Not only do all these places have live music, but their menus are all reasonably priced and their atmosphere's fun and relaxing. For those college students who don't want to break the bank, these places are a great place to spend an evening for fun and entertainment.
If you're interested in live music in Decatur, it also helps to look out for bigger one-time events that happen in town. The Oakwood Street Festival took place on Sat. Sept. 19 from 5 p.m. to midnight. Their headliners included Aaron Kamm and the One Drops, Create 2 Crate Sound System, Bric-a-Brac, Dem Dare Burdick Boys and Puff Puff Poseidon. Even though it may not be live music, the Ees'abella Bellydancers also performed. With food, entertainment and community, this event is a great way to get the live music you crave.
While these are the places this reporter could find, there are always new places popping up with live music performances. So keep your ears open to keep up to date on live music in Decatur.