Faculty Spotlight: Dr. Mark Samples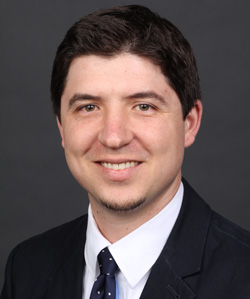 Dr. Mark Samples is the new Music History Coordinator in the School Music. He is very excited to be at Millikin University and to become a part of our comMUnity.
Samples went to Point Loma Nazarene University and studied music theory and composition. Once he got his bachelor's degree, he went to the University of Oregon for graduate school.  There, he studied musicology and ethnomusicology. He stayed at University of Oregon to get his PhD.
Samples chose to study music history because, as he said, "I guess what it boils down to is knowing that music is not understood the same way by all people at all times. It makes me interested to find out how music was looked at in the past. I'm interested in how people found music meaningful in the past so that my students can see why it's meaningful now. What is music? What is art? We ask those questions in music history, and when I started studying music history, I realized I had a very limited view on those questions. When you study music history, it's like you pull back a curtain. When you pull back that curtain, your whole world opens up. I also wanted to teach college students. Studying music history allowed me to use both of these passions."
As for his favorite kind of music, Samples does not have one. "One of the reasons I'm a musicologist is because I can't pick a favorite," he said. All kinds of music are interesting in their own ways. There is something to be learned from each genre, and as a musicologist, he can study each of those ways.
Samples' goals for Millikin's music history department are to just expand on the foundation that has already been laid. He said, "I have the benefit of a having a wonderful predecessor. The program Dr. Stimeling put together is fantastic. I just want to show all of the music students that music history can be a key piece of their musical education."
Samples' favorite song is "Autumn Leaves," as done by Cannonball Adderley, featuring Miles Davis. "I could listen to that one over and over again. Well, I could listen to that whole album over and over again, but that song specifically," he said. His favorite movie is "The Royal Tenenbaums," as well as anything else by Wes Anderson. "If you haven't seen his earlier stuff, you definitely should," he said.
Dr. Samples currently teaches Survey of Western Music and Ethnomusicology. In the near future, he will be teaching various musicology electives.