'Machinal' a killer of a time

Last week, Millikin's Department of Theatre and Dance premiered its first play of the semester, "Machinal," in Albert Taylor theatre. Directed by Denise Myers, "Machinal" is an expressionist stage drama that isn't like a typical theatre performance.
"It's trying to show play in a particular character's point of view," Myers said. "In many plays, you're seeing the story from the outside from your point of view. In "Machinal," we're experiencing the story from one character and how the world revolves around her vision of all the characters. That's why things are heightened and exaggerated.
"The woman at the center of the play is not a typical protagonist. Main characters are usually some type of rebel actively trying to change the system. The young woman in "Machinal" wants out of the system; she doesn't want to follow it. She doesn't care how others follow the system. It's not right for her. The system that is there won't let her out. That's her frustration – she must have a baby, she must get married. All she wants is to be left alone, but can't find freedom. The threat us not that she wants to change something, she just doesn't want to do what everyone else is doing."
As a part of the German expressionism movement, "Machinal premiered on Broadway in 1928. The young woman, also known as Helen is based off real-life murderess Ruth Brown Snyder. Snyder was tried, convicted and sentenced to death for the murder of her husband. She was executed in 1927 via electric chair, making her the first woman to be electrocuted in the U.S. 
At the time of her execution, a reporter secretly strapped a camera to his leg and shot a photo during the electrocution. This photo is one of the most famous shots of history.
Throughout the rehearsal process, Myers worked with the cast on how to act in an expressionist style. Her lesson is for the cast to use the set and their own movements to tell the story while still maintaining some sort of truth. She hopes they will have learned a different style of play and learn to work together in a different kind of way.
"I think what I did was try to give the actors a sense of style of play and then once they understood it, they brought in themselves," Myers said. "I could then shape what they were doing opposed to giving it to them. It was exciting to watch them go. I just needed to get them started."
When it comes to the audience, Myers hopes the message of "it's okay to step outside the box without being a threat or inconvenience" will be conveyed.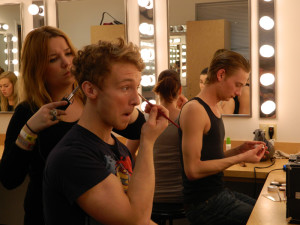 The cast of "Machinal" included Anna Dvorchak, Rachel Reiniger, Kristen Brintnall, Jordan Caulk, Kyle Simonz, Ryan Hickey, Cory Robinson, Joseph Bezenek, Zach Minder, Quinton Sledge, Terrance Hodge and Jacqueline McNaughton who played the lead role of Helen. McNaughton is a freshman who says "Machinal" was an overwhelming, but incredible experience. This is her first main stage production.
"It's been an incredible challenge," she said. "I don't think I've ever worked so hard in my life, but I'm so glad it was, I fully believe it's made me a better actor. I've had to do things I've never done as an actor and at this point, I feel like I could talk to you about the show and the Young Woman for hours because I've worked with Denise so much and have delved into it so deeply. It's been an incredible challenge, but the best one of my life so far."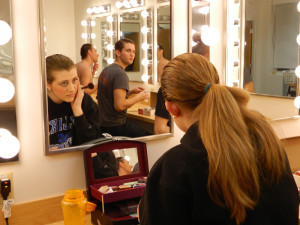 McNaughton says she has gained and learned a lot from "Machinal" and plans to put her new skills and techniques to use later in time.
"I've learned so much about style and expressionism," she said. "I've just learned so much about how to move as an actor and how to hold myself in a way that furthers the scene and so many little things that you never think of that can be so important to an actor. Overall I just feel like I've gained an incredible amount of confidence and the knowledge that I never want to stop learning more about my craft."