The different sides of Bach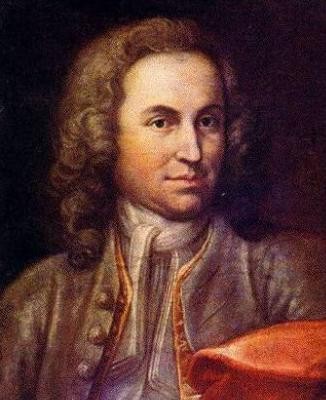 This semester, Millikn's opera selection is a created production entitled "Sacred/Secular: Cantatas by J.S. Bach." The opera is composed of three different Bach cantatas.
"The first cantata is a comedy about a girl who works in a coffee shop," Tyler Hixson, freshman theatre administration major, said. She's addicted to coffee, and her father's goal is to get her to stop drinking coffee. After she stops, she starts looking for a husband."
Hixson is the opera's stage manager and is working alongside director, Terry Stone and musical director, Matt Leese to put the show together.
"The first cantata is called the Coffee Cantata, and it will be in English. It is good with comedy to have it in a language that people understand. Bach was really sensitive with the way he set words to music," Stone said. "The Coffee Cantata was written about 1730. It's now close to 300 years later, and we still have coffee crazes. We see the secular side, and still see parents trying to control their children when the children are already a step ahead."
Jacob Laughhunn, sophomore vocal performance major, plays Peter in the first act.
"Peter is a nerdy hipster," Laughhunn said. Liesl, the girl who works in the coffee shop falls in love with me. I also own the coffee shop."
Every other year, the department of theatre and dance runs the opera. Since this year is the off-season, it is up to the school of music to put it together. The department of theatre and dance provides stage managers, designers and publicity.
"The opera this year is a creation of what the opera workshop class can do," Hixson said. "As stage manager, I facilitate anything that the directors need done, and I am a liaison between them and the theatre department. I'm like the central hub of communication. I have to make sure the director's vision is technically flawless, I call the show, help with lights and sound and I am up in the light booth on headset.
The second act of the opera includes two sacred cantatas that will be performed in German. There will be subtitles in both German and English so that the audience will be able to understand.
"The two cantatas in this half of the show are religiously intended. They are more of an art piece. There are aspects of choral movement, the movement is artistically intended, and towards the end the piece is really joyous. It's like a celebration of Bach's sacred spirituality," Hixson said.
According to Stone, "The texts don't tell a story in the two sacred cantatas. They show a progression, which was meant to illustrate the church service. The message is that the sorrows of earth, if we will stick together and we believe that God has shown us what to do, will be gone and we will get our reward in heaven. In the second one there is more exuberant joy. It announces the presence of God throughout the world. It tells us that we must be grateful. There is no plot, but movement that will be reflective of the changing emotions in the text.
Sophomore vocal performance major, Marguerite Mahoney plays a character in the second act. Her character is the mezzo soloist who tells the cast to be true to themselves and to God.
"It's a staged cantata. Normally this would be done standing up with binders at a church, but we're staging it. It's sacred, and centered around the catholic religion. It's choral, but different voices speak out as a solo voice and affect the rest of the cast," Mahoney said.
Directors, stage managers and performers have all agreed that rehearsals have been going very well. The opera team had to put rehearsal on hold over Thanksgiving due to Macbeth rehearsals, and many of the performers were involved with Vespers. Rehearsals began back up once students returned to school after winter break.
Even though Mahoney believes that rehearsals are coming along, they are also difficult. "It's the hardest I've ever had to work in my entire life. It is just a lot of paying attention and trying to get as close to perfect even in rehearsals. Most of the time it's like 'do this, do this, do this, and then run it again,'" Mahoney said.
The team recently added the orchestra called sitzprobe. It's the first time the singers and the orchestra are put together.
"In regards to rehearsal, it's always hard to know," Stone said. "You can't be too insistent before break, because then it comes back a little stale. We get a basic skeleton put together before, but add the detail when we come back. The cast kept up over break. Everyone remembered what he or she was supposed to be doing. In opera, singers aren't used to choreography, and we have all 12 singers on stage all the time. No one ever leaves. Everybody has to be engaged, but not take attention away. It was a challenge to get the choreography to balance. I'm happy with how that's going."
Everyone has a favorite part about working on a certain show. For this opera, Hixson said, "I like the freedom of stage managing a show that is not run by the theatre department. Not to say that main stage shows don't have their place, but this way it's more hands-on. I don't have any technicians, so I'm right in the action."
"My favorite part has been getting close to the cast members and the directors and being able to come together and make this incredibly hard music come to life. I made stronger relationships than I would have it if I wasn't in this. Working with Dr. Leese is always fun. He's my voice teacher, so I see him all the time, but working in an environment where he's in charge of me rather than trying to help me is fun," Mahoney said.
"I've always loved Bach's music, but it's not vocal music that I've performed myself," Stone said. "He wasn't an opera composer. This was the first time in my life that I've been able to really work on a couple pieces and see how his musical language reflects the text he's setting. It's something I've always wanted to do. I've sung a lot, but not Bach.
While there's always a favorite part, there are also challenging parts such as the time crunch that comes from having to cease rehearsals and come back at the new semester and the singers having difficult music.
"For me because we're not dancers, it was difficult to find movement that non dancers can do that reflects what the text and music are saying, but doesn't overshadow it," Stone said. "The music and text are so good; I don't want the choreography to take away from it. It's been hard to find the balance.
"Sacred/Secular: Cantatas by J.S. Bach" will run Feb. 7-10 in Albert Taylor. Shows begins at 7:30 p.m. except the Feb. 10 performance which will begin at 2 p.m. Millikin students are able to use their ID for one free ticket.