Just a Prick Can Save a Life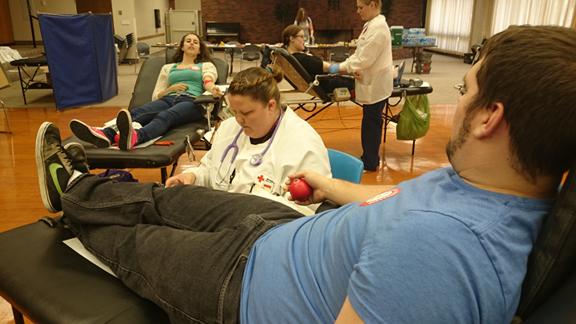 Caitlin Husted, Senior Editor
October 8, 2014
At the end of a busy week, many Millikin students' only concern is what they're going to do over the highly anticipated weekend. However, some students, instead, took the chance to help save a life.
On Friday, Sept. 26, Millikin's service fraternity, Alpha Phi Omega, hosted a blood drive in LRTUC from 9:00 a.m. to 3:00 p.m.
While many students rushed off to class or let their fear of needles keep them from donating blood, many brave students stepped up to the challenge.
Freshman musical theatre major Rachel Jackson was one of those students. She began donating blood during her high school years due to the high attendance at her school's annual blood drives. Once she saw the table in front of RTUC advertising the blood drive, she didn't waste any time signing up.
"It doesn't really harm you or cost you anything to do it, and you can end up saving a lot of lives because blood transfusions are really important," Jackson said.
While many students filed in to roll up their sleeves, other students were helping make sure the event ran smoothly.
With only one class to attend the day of the blood drive, sophomore Megan Kushner, an athletic training and pre-physical therapy major, arrived at 7:30 a.m. to help lay out snacks and set up tables and chairs. A member of APO, Kushner wanted to help with the event because she understands the benefits of giving blood.
"I think it's really cool that you can help someone that you're never really going to meet," Kushner said. "So it's kind of like giving without expecting much in return."
Naomi Jacobs, another member of APO, agrees with Kushner's statement.
"It seems like it takes a lot out of you, but really it's just an hour of your time," the senior business major said. "You can help so many people just by giving an hour of your time to sit there and donate some blood. Your body replenishes itself, so I think it's a really good opportunity to help people."
While the concept of donating blood is daunting to some, people who have donated blood insist that the anticipation is far worse than the actual event.
"It's really not painful and the people are really nice," Jackson said. "If you're nervous, they're really good at calming you down. And you get food out of it so that's always exciting."
For those considering giving blood, there are some helpful tips in order to have a successful donation.
First, maintain a healthy iron level in your diet. If a person's iron levels are too low, he or she will be unable to donate. You can increase the iron in your diet by adding foods high in iron such as red meat, fish, poultry, beans, spinach, iron-fortified cereals and raisins. This will keep your iron levels normal, permitting you to donate.
Stay hydrated. Try drinking an extra 16 ounces of liquid before and after your donation.
Make sure to have a healthy meal before donating. Try to steer away from foods high in fat before donation. Try to avoid fatty foods—including hamburgers, fries or ice cream—since these foods can affect the tests done on your blood. If there is too much fat in your blood, personnel will be unable to run the necessary tests and your blood will not be used.
Don't forget to bring your identification. In order to ensure that you are who you say you are, the personnel working the blood drive will need one form of primary ID, such as a donor card, driver's license, or state ID, or two forms of secondary ID, including a student ID, credit card or bank card, social security card or a voter registration card.
Millikin will be hosting another blood drive on Dec. 5. While it may be unnerving to imagine a pint of blood being drained from your body, the truth of the matter is that while your body can replenish it, another's may not. With around 41,000 people needing a blood donation every day, the more people who donate to the cause, the better. As December approaches, consider giving an hour of your time and a little prick. It's not a lot, but it's enough to save a life.