Album Review: Skillet's Rise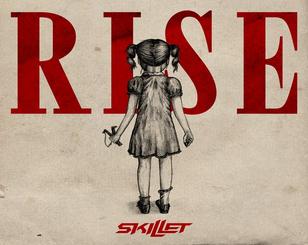 Last month, Skillet released their newest album "Unleashed;" however, their ability to create music all listeners can connect to has spanned ten studio albums including their 2013 album "Rise."
When a song comes on the radio, most people have an instant reaction to either change the station or relax and enjoy the song. Looking at each song in "Rise" individually, there is always something good to take away. It could even be said that a majority of the songs could be released as singles. With their catchy tunes, each song could easily capture listeners, but the instruments and overall songwriting makes for an amazing experience. While Skillet makes use of traditional instruments used in rock bands, the violin is featured in many songs. This is a sound traditional rock fans are not used to, but it leaves an unforgettable impression. However, the use of this mainly classical instrument provides a beautiful sound that classical musicians and even hardcore rockers will enjoy.
The biggest issue for this album is that most music lovers will not take out the time to sit and listen to the full album in order. Everyone that doesn't take the time to experience "Rise" is missing out on one of the most thoughtfully arranged albums from the past few years. When creating "Rise," Skillet put a lot of thought into how to arrange the songs and what each song should be about. Listening to the album from beginning to end, there is a story that is slowly pieced together.
People will argue that because Skillet identifies as a Christian Rock group not everyone can take something away from the music, but that isn't true. A lot of songs in "Rise" have lyrics that discuss issues in America. The first song, which is the title of the album, begins with a call to the nation to stand up for what they believe in. One line that everyone can relate to states, "Am I safe today when I step outside in the wars we wage?" For a song that was released three years ago, it is still relevant to what many people think about on a daily basis. The relatability continues with the theme of standing up against something that is wrong in the second song, "Sick of It." Skillet is trying to show people that they can fight things they are sick of and stop regretting staying silent.
Skillet continues to push their listeners to feel empowered with the song "American Noise." Some of the lyrics talk about how to cut through this noise, but the most striking lyrics are the chorus, "Times will be bad, times will be good. Things I wish I hadn't done and some I wish I would. Cutting through the American noise, you've got a voice and a song to sing." Everyone has their rough times, and it can be difficult to remember that each person is unique and important in their own way.
Although it is important to see how everyone can connect to this music, "My Religion" is clearly targeted at modern Christian Rock fans. Clearly Skillet isn't a typical Christian band since they cover serious world topics, but they also approach religious topics in an atypical manner. While most of the song would be deemed acceptable to the Christian community, the chorus may cause some concern, "I don't need to stare at stained glass and a steeple. I don't need to dress to impress all other people. Don't need no priest, don't need no pew. You are my religion, my religion is you." Even though this comment may terrify traditional Christians, there is an audience that will find a connection with this thought that religion should be based solely on the relationship between the person and God.
While not everyone is going to enjoy listening to rock music or want to be associated with religious music, this is an album everyone needs to give a chance. Even if it is just a single song, Skillet has incorporated messages that everyone should be able to draw upon. With all the time spent listening to random songs on the radio that people may not even like, it isn't much of a step to take an hour to potentially find comfort and inspiration by listening to "Rise."