Album Review: Midnight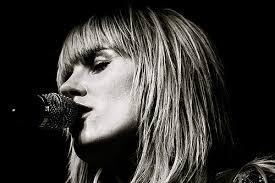 Caitlin Husted, Editor in Chief
September 14, 2015
For those "Tangled" fans out there, Grace Potter is known for her single "Something That I Want" that plays during the credits of the Disney favorite. For other, she's known as the lead singer in Grace Potter and the Nocturnals. However, her new solo album Midnight shows listeners how she's broken off on her own.
Potter began her musical career as the lead singer in the group Grace Potter and the Nocturnals in 2002. Drummer Matt Burr, guitarist Scott Tournet and Potter herself founded this band. The band began by self-producing their albums and touring in the jam bands and music festivals circuit. It wasn't until 2005 that they signed with Hollywood Records. In the time since their signing, they have published four studio albums, which encompass subgenres such as blues-rock, folk rock, hard rock and alternative rock.
Potter announced her solo album in April and released her single, "Alive Tonight" in that same month. Hollywood Records released her full album, Midnight, on Aug. 14 of this year. Consisting of 12 songs, this album encompasses Potter's pop rock sound.
For those familiar with Potter's work with the Nocturnals, this new album will remind you of their sound, but with a very pop-esc feel. The album begins with the song "Hot to Touch." The beginning of the song almost has an Egyptian like feel before it dives into the typical bass of pop songs. This beat transitions nicely to her "Alive Tonight," which has become the most listened song on her album. Although this song stays true to the normalcy of pop songs with a lot of repetition of the chorus, it's catchy and makes you want to get up and dance.
The next big song on the album is "Empty Heart," which begins with some acoustic guitar, clapping and something that sounds a little bluegrass-y. When the piano joins in with some electric guitar the listener has no choice but to be hooked. By the time, Potter begins singing, your foot is already tapping and ready to listen. This song has some catchy one-liners that snag the attention of anyone casually listening to the song. One in particular is, "We all make promises we can't keep/ They're paper thin but cut so deep." It's this kind of imagery that adds an extra layer to Potter's songs.
The next song that caught this writer's attention was "Nobody's Born with a Broken Heart." This was closer to the feel of Potter's work with the Nocturnals, and laid off a little on the typical pop sound. This song had more narrative lyrics, telling stories about different situations. The first one talks about a father who left his only son and wife to, assumedly, be a rock star or singer of some sort. After a break with the chorus, it then goes on to talk about a young homeless man and what he goes through for having to stand on "Beggars' Corner." This song takes hold of your heart strings and just pulls. It makes you think about more than just the beat or the chords, but really what the song itself represents.
Overall, this writer thought the album was put together well and will definitely catch the attention of listeners. However, the songs enjoyed most were the ones that lost the severity of her pop rock and slowed down a little more, allowing the listener to not only hear the words, but understand the lyrics.