Women's Basketball Secures Bid to NCAA Tournament
February 28, 2023
On Saturday evening, the Millikin women's basketball team won the College Conference of Illinois and Wisconsin (CCIW) tournament championship to advance to the NCAA tournament. This is their second consecutive year attending the NCAA tournament, after making it to the Sweet Sixteen last year with an at-large bid.
The Big Blue hosted Illinois Wesleyan on Friday for the semifinals, defeating them 82-65 to advance to the championship game. In the championship, they faced Augustana College in a tight contest that ended in favor of the Big Blue, 57-52. There were nine lead changes and eleven ties throughout the game. With 1:40 left in the game, it was tied at 52-52. A layup and a free throw by sophomore Emily White put them up by three points, and two free throws by junior Sophie Darden sealed the game for the Big Blue. The team improved their record to 23-4 with the win.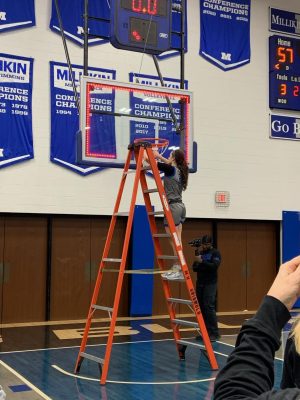 The selection show is on Monday, 2/27, at 1:30 p.m. on NCAA.com. The Big Blue will learn who they face and where they play, with a strong chance of hosting the first round of the regional. Last year, Millikin defeated Wartburg College and The University of Wisconsin-Eau Claire to advance to the final round of regionals, before falling to Hope College. 
The team has their sights set on an Elite Eight berth, with the ultimate goal being a national championship. The last and only time the women's basketball team won a national title was in 2005 under head coach Lori Kerans. Current head coach Olivia Lett helped Illinois Wesleyan win the title in 2012 as a player, and now looks to lead her Big Blue team to one as a coach.