The Newest Big Blue Hotspot
August 17, 2022
With the Brand New Big Blue Campus store now open, students can find quality Millikin gear without the hassle. The store features Millikin apparel, water bottles, shot glasses, and more.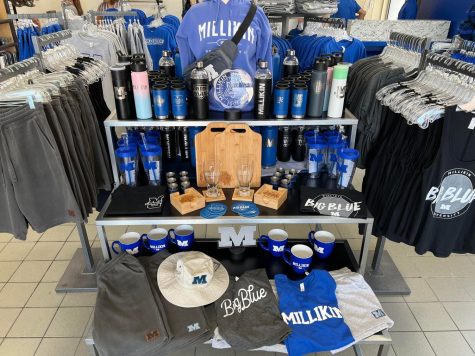 "We're just trying to provide good quality sound products that advertise and market Millikin well," Katie Tenboer, one of the store's managers and Millikin Co-head softball coach, said. 
The store is located at 1125 Westwood street, next to Domino's and University Dogs, attached to The Woods. It features a unique walkthrough window for students in The Woods to use.
With the new campus store in place, the bookstore is no longer located in Dolson Hall. According to Tenboer, the book part of the previous store will be run through the CAPP office.
The space in Dolson has been converted into a new training space for the Millikin Swimming and Triathlon teams. 
While the campus store is filled with Millikin-themed merchandise, they have partnered with Big Blue Energy Drinks. Big Blue Energy drinks is an affiliate of Station One Nutrition. 
Due to the stores sharing one location, they have similar hours. The stores will be open Monday through Friday 7:30 am – 5:00 pm and Saturday through Sunday 12:00 pm – 5:00 pm. 
To stay up-to-date on the Big Blue Energy Drinks and Big Blue Campus Store news and menu, follow them on Instagram and Facebook.