Rapper Rico Nasty Comes to Millikin for the 2022 Big Event
April 27, 2022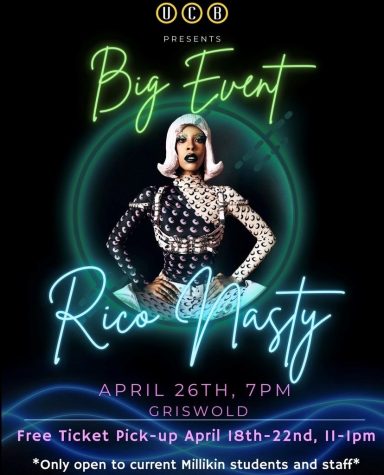 Millikin students packed the colorfully lit-up gym last night as the University Center Board (UCB) hosted rapper, singer and songwriter Rico Nasty in the Griswold Physical Education Center for Millikin's semi-annual Big Event. Big Event is a Millikin University tradition where the UCB brings a medium-sized musical artist to campus to perform a free concert for students.
"Big Event is a big deal because Millikin doesn't often bring musicians as popular as Rico Nasty or T-Pain (who we brought in 2018)," UCB president Alyssa Hennessy said. "Big Event only happens every two years. This year was an even bigger deal because it was everyone's first Big Event due to the pandemic having canceled the 2020 show."
Students have been eagerly anticipating Big Event, especially since it was the first one every student has been able to attend. UCB has been hinting at Rico Nasty as the Big Event artist for the past few weeks by giving clues on their Instagram account. Comments from students on these posts included "rico nasty for sure" and "so it's rico nasty? slay."
Despite a late start to the event yesterday evening, the concert ended up starting shortly after 8 p.m. Rico Nasty brought the energy along with her official DJ, DJ Miles, with pounding bass, smoke machines and bright lights.
She kept the student audience hyped the entire time by performing some of her well-known songs like "Smack a B***h," which is popular from the social media platform Tik Tok, and "Tia Tamera," the collaborative song with Doja Cat that Rico Nasty is featured on.
"It's awesome that she was able to come here," Millikin junior and Big Event attendee Caroline Welte said. "I can't believe that a small school like Millikin was able to get her here. And it was so fun."
Rico Nasty also performed some her lesser-known songs like "Countin' Up" from her 2018 album "Nasty" and "STFU" from her 2020 album "Nightmare Vacation." Although fewer students knew these songs, she did a spectacular job at keeping the audience involved by holding out the microphone to those closest to the stage and interacting and waving to those farther back in the crowd.
"I enjoyed it," student David Jones said. "I didn't know what to expect forreal. It was a different experience for sure."
Jones explained he helped set up the event and that his experience of working with the crew and the event itself went well.
For one student, junior Gwen Klinkey, all she had to say about Rico Nasty was, "I thought it was so good. I'm losing my mind. Rico, here in Decatur?"
Much like the students' response, Hennessy, along with the rest of UCB staff, agree that overall, Big Event and Rico Nasty were a success.
"We made sure that everything was as perfect as it could be," Hennessy said. "I think those who were there really enjoyed it and had a fun time so all hard work paid off."
With Big Event back on and a successful event for 2022, it finally feels like the equilibrium of the MilliBubble is returning to normal. Especially as a senior, from my standpoint, it feels incredibly rewarding and worthwhile to have the opportunity to attend an event such as this.
As Rico Nasty would say, "I said, 'Thank you very much.'"