Russia Attacks Ukraine
February 24, 2022
The Decaturian is receiving its information from CNN. 
Russia launched a premeditated attack on Ukraine early Thursday morning. A team affiliated with CNN reported air raid sirens just before 7:45am in Lviv, which translates to 12:45am ET. 
While the United States and its allies have expressed their intent to intervene, Ukrainian forces are standing their ground. Ukraine's Foreign Minister Dmytro Kuleba has been posting updates to his Twitter account @DmytroKuleba.
 In a Tweet around 9:30 pm CST, Ukraines Minister of Foreign Affairs
 Kuleba announced the invasion, asked for reinforcements, and insisted that Ukraine would not back down to Russian forces. 

Since his initial post, he has posted to the social media platform in English three times. Just hours before the attacks, he had been publicly asking for support from other countries. 
While there's limited information about what is currently happening in Ukraine, Kuleba has done his best to provide more specific information about the attack. 

At 5:48am Ukrainian local time, tanks were reported crossing the Belarus border. The reports come from what appears to be traffic cameras. It is unclear if the tanks are only Russian, or if they are Russian and Belarusian. Russian forces are claiming they did not face any resistance at the border. In the same statement, the Russian military denied Ukraine's claims that Ukraine had downed multiple Russian aircraft. 
Since the attack began, nations around the world have asked their citizens to evacuate or shelter in place. China has instructed its citizens to stay indoors and place the Chinese flag on their vehicles for safety. 
After Russia launched the attack, Russian President Vladimir Putin broadcasted an address live. In the address, Putin spoke directly to other nations and threatened, "Whoever tries to interfere with us, and even more so, to create threats for our country, for our people, should know that Russia's response will be immediate and will lead you to such consequences that you have never experienced in your history.
"We are ready for any development of events. All necessary decisions in this regard have been made."
Ukraine is reporting that more than 40 soldiers and up to 10 civilians are dead since the invasion began. 
Countries have begun planning for refugees as people flee the new warzone. Germany has promised safety to refugees from Ukraine. Images of roadways display large-scale evacuations taking place. 
French President Emmanuel Macron has declared the event "the most serious attack on peace" in decades. 
As the morning has continued, more reports from Russia and Ukraine have become available. According to CNN reporter Matthew Chance, Russia has taken control of a Ukrainian airbase. Chance also reports that Russian forces are wearing orange and black armbands to signify that they are with Russia. 
Air raid sirens could be heard as Kyiv was placed under an air raid warning Thursday morning. With the exclusion of drills, many of the air raid sirens in Ukraine have not been sounded since WWII. Multiple cities utilized their sirens Thursday morning to warn citizens about the incoming airstrikes launched by Russian forces.
9:36am 2/24/2022 Update:
Ukraine's President reports that Russian forces are attempting to seize control of the Chernobyl Nuclear Power Plant. "Russian occupation forces are trying to seize the Chernobyl. Our defenders are sacrificing their lives so that the tragedy of 1986 will not be repeated," Zelensky tweeted.
10:03am 2/24/2022 Update:
A Decautrian staff member saw a sign expressing support to Ukraine resting on Millikin's statue of Abraham Lincoln.  The sign reads, "Peace in Ukraine/ Stop Russian Aggression."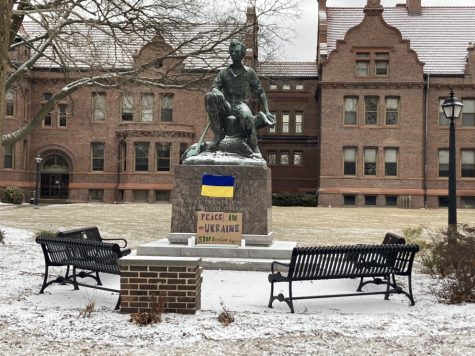 This is a developing story. Please check back here for updates.