Millikin Reacts to Reverend's Transphobic Remarks
December 14, 2021
Reverend Walter Carlson made transphobic remarks at the opening of Millikin's graduation Sunday. 
The remarks caused an uproar among students and faculty at Millikin, as many became concerned about the safety of Millikin's trans community.
"I am deeply sorry for the hurt caused to our students, faculty, and staff," Provost Mary Black said. 
Carlson began his speech with a fake phone call from God. The speech took a turn when Carlson pretended to end the phone call and then began discussing God's gender. 
"Alright, well, I don't know how he got the number but that was [God]," Carlson said. "And he (with an emphasis on the word he) wanted to say a few things. First of all, let's take care of the gender issue. He understands and he is sharing with you that there is no theological justification for it, but he is choosing he/him today. Doesn't like them/they. Just because this is probably irritating enough people that it is coming out this way, we are going to stay away from she/her."
Carlson was unavailable for comment.
A few professors walked out of the graduation ceremony in protest of the dialogue that had been delivered. 
Black says she didn't understand where Carlson's remarks were coming from or why he was saying them.
 "Once I processed his remarks, I was deeply saddened, embarrassed, and angered," Black said.
Black said she is sorry for the pain caused to the students, faculty, and staff for the Reverend's remarks. 
The University was unaware of his remarks in advance. 
Students took to social media to express a wide array of criticism of the University and Rev. Carlson. 
Crys @thepangemini tweeted, "im sorry but HOW did millikin let this happen??? @MillikinU im confused about the transphobia, literally everyone except this school is past this apparently…how disappointing #whereareyoumillikin" with a recording of the speech.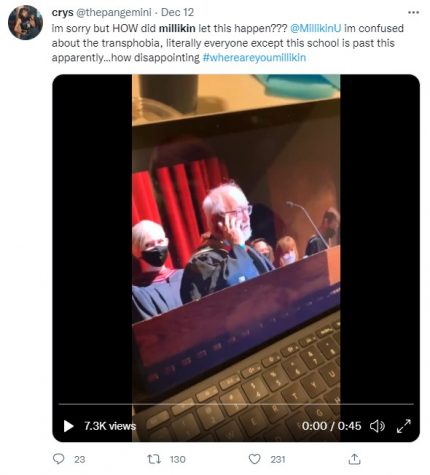 Other students have taken a comical approach to the scandal, such as izzy ♈︎  @legallyizzy who tweeted, "hey millikin whatever happened to peer review huh?"

While the graduation ceremony was live-streamed to Millikin's social media, Carlson's opening speech was cut out of the video clip. 
Black said the University removed the reverend's speech in an attempt to "disassociate Millikin from the remarks of Rev. Carlson that do not reflect our values."
People accused the University of covering up the controversial speech, but Black says the speech was removed, not only in accordance with the University's social media policies but also because the University "… didn't want to implicitly support Rev. Carlson's comments by leaving them publicly available and linked to the institution."
Black believes the public campus-wide apology and reaffirmation of the university's support for transgender and nonbinary students, faculty, and staff was a good start.
The apology, sent via email from President Jim Reynolds, appeared as follows: 
"Please accept this heartfelt apology from myself, Provost Black and all at Millikin University for the comments made by Reverend Carlson in the invocation at the ceremony today. His comments regarding gender do not reflect nor represent the values of our university. We were not aware of his remarks prior to the ceremony and were surprised and disappointed by them, just as many of you were. In the future, we will make certain we have vetted copies of all prepared remarks to be made at important ceremonies such as Commencement. We are very sorry for the hurt this has caused.
Via this email, we affirm our support for our trans and nonbinary students, faculty and staff. Please know that you are valued members of the Millikin community, and we would never have caused intentional harm to any of you.
We are very proud of all our graduates. We celebrate your accomplishments today and in the future, and wish you continued success.
With sincere apologies, 
Jim Reynolds
President
Mary Black
Provost"
Reaction to the email was swift.
A Tweet from It's Watch all Christmas Carol adaptations Season! @kestrel_feather reads "I think we as a campus should start rating the damage control emails on a scale of 1-10 like a goodreads review"

Black said Millikin must do better. She wants the University to heal from Calson's words.
"Moving forward, we need to be more proactive in vetting the remarks of our public speakers prior to events to avoid causing further harm," she said.  "We also need to be more proactive in offering training and education on trans inclusion across campus." 
Resources for support are available on campus and in the community. Student Mental and Behavioral Health Services, The Trevor Project, and the Trans Lifeline are available to students, faculty, and staff who have been impacted by this event.